Last week the lineup for the sixth annual 2015 OVO Fest in Toronto was announced. Expanding from the two-day format the organizers successfully implemented for the first time last year, OVO Fest has now become a three-day event. It kicks off with a live show from oversaturated comedian Kevin Hart on August 1, followed by a J. Cole group-nap/concert on August 2 where he'll be joined by Big Sean, before The Boy finally closes out the festival by performing on August 3. Within minutes, all tickets for the third day at the 14,000 capacity Molson Amphitheatre were sold out. This isn't surprising: Every OVO Fest since the inaugural 2010 event induces premeditated FOMO in potential concert-goers, who fear missing out on another surprise appearance from Jay Z, Eminem, Kanye West, or hologram Aaliyah. This FOMO is the crank that powers ticket sales, and the murmurs and speculation leading up to the event are as much a part of the show as the songs being performed. But this year's scheduling seems to be an effort to stretch the concept of a "festival" to its limits, and the seams are starting to show.
As the profile of the main attraction of OVO Fest continues to grow, it's time to ask if what's best for Drake's annual festival is what's best for the city of Toronto. There's no question that Drake has put his city on the map in a lot of ways over the course of his career, both with his musical endeavours and his involvement with the Toronto Raptors. But OVO Fest is one thing that he does directly for the sake of Toronto's entertainment industry, and by leaving most of the city out by refusing to grow with demand, OVO Fest risks collapsing under its own self-burdened weight.
After the 2013 OVO Fest came to an end, Drake stood on the stage and told the audience that next year's show would be at the Rogers Centre, formerly known to Torontonians as "the Skydome." But when the 2014 OVO Fest was announced, it appeared that nothing had changed from previous years, and that Drake would now be joined at the Amphitheatre by Outkast, who would be performing on day one of the festival along with YG. Landing a ticket to the festival, which now had the same featured performers as festivals five times its size, would prove to be more difficult than ever. Shortly after the 2014 OVO Fest was announced, a government grant for $300,000 was awarded to the festival for the purpose of drawing tourists to Ontario's communities, attracting significant media exposure, and profiling Ontario's destinations nationally and globally (this year's grants have yet to be distributed). The increased media exposure clearly worked, but it's hard to imagine how much the city could benefit from a tourism boosting event where tickets are guaranteed to sell out. If it's increased tourism or increased exposure that OVO is looking for, why not move from a 14,000-capacity outdoor amphitheater to a 54,000-capacity stadium? If it's due to a scheduling conflict with the Toronto Blue Jays, why not make use of the Air Canada Centre? Kevin Hart, who is ostensibly the smallest draw for music fans wanting to go to OVO Fest, will kick-off the 2015 OVO Fest with a stand-up special in that stadium, meaning a comedian will be the only person playing a suitably sized venue during this music festival. Not only does the Air Canada Centre hold more people and is more centrally located than the Molson Amphitheatre, but as global ambassador to the team that plays in the venue, you would think that Drake can get a discount.
Popular opinion states that OVO wants the concert to cap off Caribana, a festival of Caribbean culture and traditions that features a parade running along Toronto's lakeshore every Civic Holiday. This theory would be applicable if it were still 2010, but things have changed. Not only has Drake now reached a tier of success that allows him to headline real (i.e. multiple stages, full lineups announced) music festivals all over the world, but Caribana is no longer the festival it once was, undergoing a name change in 2011 to reflect that it's now brought to you by a bank. If legacy and tradition are so important to OVO Fest organizers, why not set the festival apart from any other event taking place in the city instead of piggybacking off an existing and floundering tradition?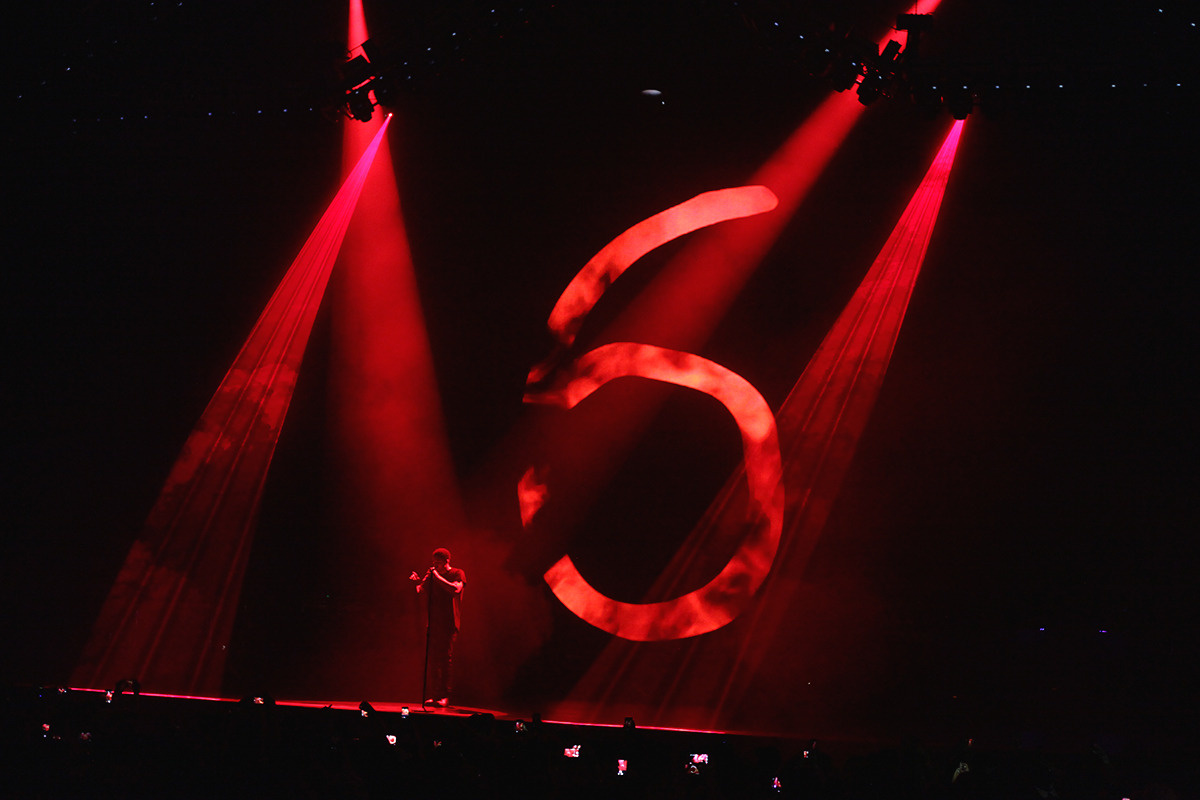 Photo courtesy of Aaron Power
Comparisons have been made between OVO Fest and Lollapalooza, which was created in 1991 by Perry Farrell to act as a farewell tour for Jane's Addiction. However Lollapalooza didn't become the summer festival staple it is now until 2005, when Farrell partnered with C3 Presents, a company that would go on to be bought by Livenation. Similarly, OVO Fest is run by a small group of individuals who choose to keep the team as bare as possible to avoid potential surprises from leaking to the public. The details about any official partnerships between OVO and larger players has never been publicly disclosed, but prior to the 2013 OVO Fest, Livenation's logo never appeared on the flyers. It has, however, appeared on the promotional material every year since.
We're past the point of pretending that this festival is brought to the public by a team of scrappy underdogs working toward a common goal. When the biggest rapper in the world is putting on a festival aided by his extensive rolodex and the largest concert promotion company in the world, you expect things to change and become more accommodating. By purposefully throttling the attendance by choosing the smallest large concert venue available, OVO Fest ensures that the sense of FOMO that it was built upon continues to be felt. However now that government grants and the world's premiere concert promoter are involved, why not increase the scope and allow as many fans as possible to see the hometown show? It's beginning to look like OVO isn't as interested in pleasing as many fans as possible as they are in building a legacy—they just don't seem to know what that legacy is. You can either be too cool for the city or you can represent it, but you shouldn't pretend to do both.
Slava Pastuk has been to every OVO Fest, including the 2009 one that was just him and his friends listening to Drake in an unfinished basement - @SlavaP