The Polaris Music Prize is one of the most prestigious awards in Canada, and we're pumped to see that two of our favorite Noisey artists have been nominated!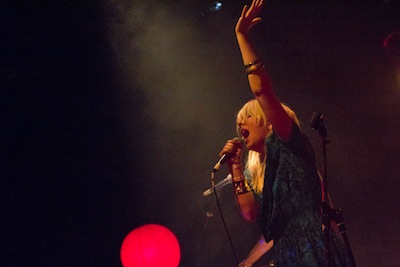 [Austra]
The competition is "a not-for-profit organization that honours, celebrates and rewards creativity and diversity in Canadian recorded music." Run by a fairly large committee, the record celebrates the best Canadian albums of the year.
Austra and Braids have both been shortlisted as final contenders for the 2011 award, alongside such heavy hitters as Arcade Fire, Ron Sexsmith, and Destroyer. But before you worry about the competition being weighted towards monetary success, remember that, remarkably, the voting process isn't impacted by record sales or live performances either. So, you know, keep our favorite canucks in your thoughts and prayers.
AND THE NOMINESS ARE:
Arcade Fire – The Suburbs
Austra – Feel It Break
Braids – Native Speaker
Destroyer – Kaputt
Galaxie – Tiger et Diesel
Hey Rosetta! – Seeds
Ron Sexsmith – Long Player Late Bloomer
Colin Stetson – _New History Warfare Vol. 2: Judges+
Timber Timbre – Creep On Creepin' On
The Weeknd – House of Balloons