Prison Soul: The Edge of Daybreak Recorded Their 1979 Album Behind Bars in One Take
This is a thing that really happened.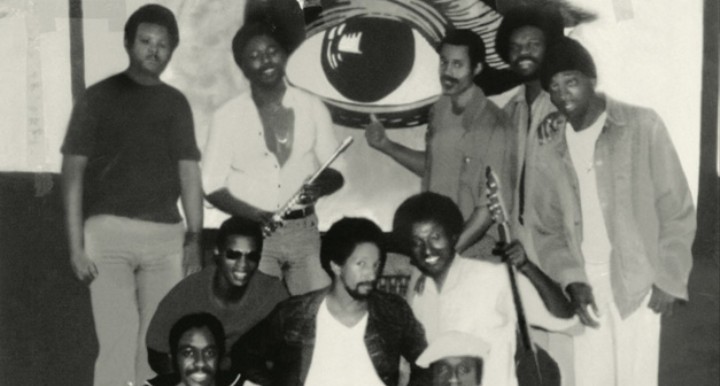 Jamal Nubi was at a party in Roanoke, Virginia, in 1975 when he lent his Buick Skylark to some acquaintances for a beer run. They never came back. Nubi reported the car stolen two days later and was told he could pick up his ride at the courthouse in a neighboring town. Upon arrival, he was informed that the Skylark had been used in the robbery of a local convenience store. The 24-year old singer/drummer with the sweet falsetto had already been convicted of armed robbery as a junior in high school, so the court never doubted his guilt.
Nubi was sent to the hard-as-nails Powhatan Correctional Center 30 miles west of Richmond, where he would meet keyboardist James Carrington, former Otis Redding bassist/flautist McEvoy Robinson (incarcerated under the fake name Robert Glover), guitarist Cornelius "Neal" Cade, singer/percussionist Harry Coleman, and a handful of other musicians who would play together in the prison recreation room as The Edge Of Daybreak. In addition to covering the R&B and soul hits of the day—Sly and The Family Stone, Earth, Wind & Fire, the Isley Brothers, etc.—the band wrote eight originals which they eventually recorded in the Powhatan visiting room on September 14, 1979, thanks to a Richmond record store owner named Milton Hogue. Recorded front to back in a single take, Eyes Of Love soon received radio airplay and became a minor media sensation in the Richmond area but was consigned to history's unforgiving dustbin before any of the band members were released from custody. Recently reissued by the Numero Group, this incredibly smooth and deeply affecting album bears the band's mission statement on the back of its sleeve: "With our original music and sound we hope to spread our thoughts and feelings as far and wide as possible. Our bodies are in prison, but we want our hearts and minds to be with the free world. The Edge of Daybreak symbolizes the morning when each of the band members will be free."
How did you end up playing in The Edge Of Daybreak?
Jamal Nubi: When I got to Powhatan, I was in receiving and I heard music. When I got out into the main population, my first thing was to find out where this music was coming from. Come to find out they got a recreation room. So I go down there and there was two guys there—Edward Tucker, he played bass, and a guy they called Lucky. They needed a drummer because the guy they was playing with just went home. So we formed a group called the Cosmic Conception. We came up with that name because during that time I was into Pyramid Power and meditation. I met with a guru that trained under Gandhi. He came to visit me in the chapel at Powhatan. We did a meditation together and he picked up some pretty good vibes, so the name came out of that meditation. Anything that has matter and occupies space, that's atoms just like us. We're just like the moon, the stars, the sun. So we became the Cosmic Conception.
How did Cosmic Conception eventually become Edge Of Daybreak?
While we was doing Cosmic Conception, Neal Cade came into the group on guitar. We were doing stuff by Sly and The Family Stone, Slave, Funkadelic—you name it, man. We were just pumping the funk up, you know what I mean? After that, James Carrington came in because they shut down the correctional facility at 500 Spring Street, where he was at. They condemned the whole penitentiary system over there so they had to move everyone out. When Carrington came in, he had equipment that we didn't have—a PA system, two keyboards, and some microphones. At that time in Powhatan, there was a blues band, a country band, and our R&B band. Carrington wanted to join our R&B band. We let him but we said, "Look, man—we already established." [Laughs] So one thing led to another and then Harry [Coleman] came in and then McEvoy Robinson came along. That's when we changed the name from Cosmic Conception to Edge Of Daybreak. My idea for that was simple and plain: When you get out and step back on the street, that's the edge of daybreak. And our music was right at the edge. When we pop off, that's the daybreak.
Were you surprised that Powhatan allowed prisoners to play music?
No, I wasn't surprised at that because I'd seen it once before. I knew they had gospel groups and other groups in there. At that time, they had a rehabilitation program, and that was one thing to keep you out of a negative environment. If you could do music or arts and crafts or leatherwork or anything like that, it was something to take you away from the negative part of the prison.
From what I understand, Powhatan was pretty rough when you were there.
At the time, Powhatan was a maximum-security penitentiary. It was off the loop, just haywire. There was murder up in there every other day. People were getting killed, stabbed all the time. I hadn't been on the yard a week and a guy got stabbed. They used to show movies in the mess hall on Saturdays, so first Saturday I'm on the yard, we're looking at The Night Of The Living Dead. I heard somebody holler, and then I saw a shadow comin' towards me so I crawled up on the window ledge—they had those little crank windows, you know? There was a stampede. So when the lights came on, several correctional officers had broken legs, broken arms. Several inmates were hurt. Just imagine—you sitting in the midst of about a thousand guys in the dark looking at a horror movie on the screen and all of a sudden all you see is people comin' towards you. Man, there was knives everywhere—all up under the tables and everything. Everything from six inches to maybe 20 inches—homemade knives. Come to find out someone had been stabbed in the middle of the movie. That was the first week, and I was in there with a 35-year sentence. I thought, "How in the world am I gonna make it outta here with this mess going on?"
You ended up doing seven years. That's a long time to be locked up.
Oh, lord—tell me, tell me. But I accomplished some pretty good things while I was in there. I got my GED, I got two years of college in small business management, I got my barber's license, and what topped it off was this album. I think that's the first time that ever happened, that an album was recorded in prison like that. And for me, that was my dream all my life. So for me to go into a place like Powhatan—like another planet—and for that to happen…well, you can imagine! Dreams come true in some strange places.
How did you end up recording Eyes Of Love?
James knew a guy named Milton Hogue that had a record shop in Richmond. He said, "I got a friend who wants to know if we can do some recording." I said, "How we gonna do a recording in a penitentiary?" We only had three originals that we had put together at that time. So James, he put a couple songs together. We had "Let Us," "Eyes Of Love," "Our Love," and our title song, "Edge Of Daybreak." Milton Hogue came out to hear a cassette we had recorded in the band room and he liked the songs. So he asked if we wanted to do a professional recording if he could get us to the recording studio. We wrote the administration, but that was a no-no. In order for us to go to Richmond to do a recording, that meant you had to have security guards. Somebody had to pay them by the hour, and Milton Hogue didn't have that kind of money. We definitely didn't have the money, so it was out the question. So we went back with another proposal: If there was a portable studio, could they come out and do a recording at Powhatan? And they said yeah because I don't think they really thought there was such a thing as a portable studio.
What do you remember about the day of the recording?
It had been so long since we asked that we forgot about it. I'm coming out of the kitchen one day—I was working there as a cook—and a guy from the recreation department said, "Jamal, we need to get y'all together, man. People here in the visiting room wanna do a recording." I said, "What?" When Milton showed up, they asked at the guard quarters about the band and they didn't know anything about it. Then they went to the James River Correctional Center on the other side of the river, and they said they didn't have a band over there. So on their way back to Richmond, they happened to come back by Powhatan and the recreation manager happened to out there to see them and he said, "Yeah, the band is here." So we had to pack up everything from the band room, take it to the visiting room, set up and do a soundcheck. I counted off 1-2-3-4, and we did eight songs in a row, nonstop.
One take.
One take. But you know what made us do that? Every time we played functions for the Jaycees—they'd give dances every other weekend with the families in the visiting room—or at the women's correctional center or at James River Correctional Center, we played all of our own songs, too. So when it came time to do our songs, we already knew them.
Before the recording, how often was the band allowed to rehearse at Powhatan?
We practiced twice a week, sometimes on Saturday too if nobody else wanted the band room. I think the recreation room opened at 6:30 'til about nine in the summertime, when the sun started going down. In the wintertime, you could go in there from seven o'clock 'til about eight. If the blues band or the country band didn't want the room, we took it. So we got ample practice time.
When did you finally hear the album?
I'll never forget the first time I heard it. We recorded it in September of '79 and I heard it in about July of 1980. I had made it to minimum-security custody by that time, and a friend of mine came down from Richmond. She said, "Jamal, there's some group out the penitentiary that's got a record playing on the radio." When she told me it was Edge Of Daybreak, I said, "That's the group I was in!" She said they were playing "Let Us" to death on [legendary D.C. radio show] the Quiet Storm. I said, "Stop joking." And at that time it came on the radio. It was about 90 degrees out, smokin' hot, but I looked at my arms and I got chill bumps. Can you imagine the first time you ever hear your song on national radio? It was the most requested song off the album, too. It's funny because we didn't pull too many punches on that song, neither. You got the moans and groans—there's everything going on but the physical. [Laughs]
But you hadn't actually seen a copy of the record at that point?
Funny thing about it, I hadn't heard anything about it and then bam, there it was on the radio. There it was in the Richmond Times-Dispatch. There it was in the afro newspaper. I'm from Roanoke, and it was in the Roanoke Times, too. All of sudden, once they started playing it on the radio, everything come out. The Department of Corrections was surprised as we were. When people asked them about it, they said, "It was a rehabilitation program we were experimenting with." But they had nothing to do with it.
They were trying to take credit for your success.
Yeah, that's right. They even put a little article about us in their correctional newsletter. There was mention of doing a second album, and we did a thing with [syndicated TV news program] PM Magazine out of Richmond—they came out and asked us about it. So mention of a second album hit the papers two, three times, and next thing you know we gettin' called for transfers. They transferred us right after that to make sure it never happened again.
How long was it before you held the record in your hands?
Shoot, the record hit the street in 1980, and I got out in '83—so about three years. They sent three copies home. By the time I hit the street, all the fame and glory gone. [Laughs] But it still meant something to me, and I still got a copy of the original. I got to keep that. That's history right there. If it never happens again, at least I can say I was part of it. And if I never do another recording, that one came through at the strangest time under the strangest circumstances.
J. Bennett usually writes about rock music but is a sucker for smooth soul jams.
--