I'm driving to Rhode Island in a Toyota Camry that's held together with tape. With me are my friend and roommate, Matt DeCaro, and two other 20–something comedians from New York, Ben Wasserman and Alyssa Limperis. The three of them are going to perform at a weekend called Hope and Healing, a grief retreat run by Hope Hospice & Palliative Care, the second-oldest hospice in the country.
It takes place at Aldersgate, a wooded campground in North Scituate, a Rhode Island town about 30 miles south of Boston. The men and women who attend have all lost someone close to them. They're trying to learn to live again. In that way, the audience and the comedians are just alike. Everyone in the car but me has a dead parent.
The Camry belongs to Ben, and quite miraculously, it just recently passed inspection, despite the fact it appears to have been in no fewer than three accidents, half the tires look like spares, and the hood is so rusted that it's transformed into a color I've never seen before. I guess it is probably a cheap narrative trick to say the car is some extension of Ben, or some symbol of his personality, but the analogy holds: There's something charming about how broken it is and how it continues to run so uniquely well. Before I can ask about smoking cigarettes inside, he lights one.
In the span of the four-hour journey, Ben reveals himself to be the funniest person I've ever met. Mostly, though, he's mourning: He constantly talks—and jokes—about his father's death. The entire time, really, everyone is talking—and joking—about death. Alyssa's in the front seat, cracking sweet one-liners and offering advice that grew out of her tragic loss. She's responsible for bringing us all together, and she loves her role. Matt's in the back with me, discussing the pillows his mom used to make for sick babies.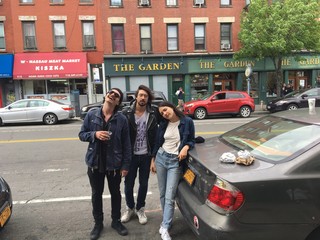 This past April, Paste magazine featured Ben and Alyssa in its post "10 Comedians Who Make Grief Funny" with Patton Oswalt (whose wife unexpectedly died way too young) and Pete Davidson (whose father was a victim of 9/11). Meanwhile, Neal Brennan's newest Netflix special, 3 Mics, wades into some very deep and personal history, and the New York Times describes Chris Gethard's new solo show, Career Suicide, as "much more about [his] uncomfortable if often mordantly funny relationship to self-willed death" than his career. Finding comedy in grief—or "grief comedy," as I'll call it—is currently having something of a moment.
Ben's on Paste's list primarily for his Facebook statuses, these confessional and cathartic displays of emotion that both hilariously challenge the innocuous nature of the medium and make the generally private act of grieving public: "i used to deal weed in college," reads one, "but now i'm just dealing with my dad's death." Ben lost his father to lung cancer the day Trump was inaugurated. He has a homemade T-shirt that says so and now performs a dad-centric set once a week.
Alyssa made the list for No Bad Days, a one-woman play that centers on the brain cancer that took her dad's life, as well as her blog posts and Twitter account. During Christmas of 2015, the first without her father, she posted a holiday-themed newsletter, summarizing the last year of his life—and what he, and the rest of the family, had accomplished.
Matt's not on the list, largely because he so rarely mentions his mother's passing (also from brain cancer) in his act, which mostly features a Paul Baribeau–influenced blend of folk punk and emo songs about a breakup that might have been a mistake. He pitches his music as "mostly sad, kinda funny" (called his debut album that, too, in fact), and I once heard a stranger tell him he had never witnessed anything like it: "You're singing the craziest shit, but you're laughing the entire time."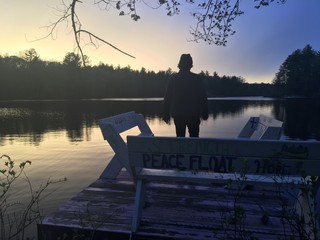 The comedy slot, from about seven to nine, is just one of many activities at this community-building event. Truly, it's cope camp, and it's both overwhelmingly positive and depressing: There's zumba, a clay workshop, yoga, meditation, kayaking, a medium, and lectures on loss, self-compassion, and comfort.
"[Alyssa's mother] Linda invited me to see Alyssa in Providence, and I loved her," Deanna Upchurch, the grief support and volunteer programs manager at Hope Hospice, tells me, when I ask why she booked this particular trio as the entertainment. "I wanted everyone to know—there's room for laughs, even among the tears."
Ben's hosting. Just before he takes stage, a number of the attendees begin wandering outside to see why several people are holding their phones to the sky, taking pictures. Naturally, we all follow. Above us is the clearest, most colorful rainbow I've ever seen. There are two of them, eventually. Everyone's whispering that the awe-inspiring turn in the weather is the presence of a person they've lost. It's surreal.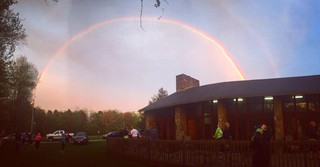 Once the campers return to their seats, Ben begins. Behind him, a giant cross hangs.
"Ever since my dad died," he says, half screaming with a nervous, unrestrained energy, "people seem to feel bad for me. I'm not heckled anymore. And I want you to heckle me."
He hands out folded index cards, numbered one through 15. (He leaves the one that says "What about Benghazi?" on the table.) They are meticulously arranged, and when Ben calls out a number, as instructed, the person with the respective card yells out the heckle written on it.
"At least he's not suffering," one woman shouts, when her number, seven, is called.
"He's not suffering," Ben says, pointing at himself, seemingly getting angrier. "I'm the one suffering. Heckler number eight."
"Shut up!" a man responds.
"Heckler number nine."
"No, you shut up, lady!"
After the bit ends, he has the crowd stand, hold their hands over their hearts, and recite the Pledge of Allegiance. Later, he does a thing with a Russian sock puppet.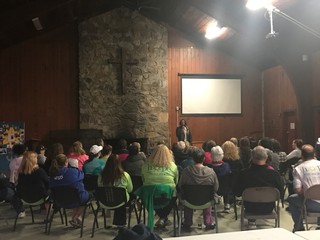 Matt's up next, and along with his tunes about being alone, a high school crush whom he recently failed to court, and drinking, he's got a brand-new one. It's about his mom. (He's never written lyrics like these—he practices in front of me almost every day—and I'm not sure he ever will again.) The chorus: "Everything's going to be fine, unless it's not, and that's fine, too." A verse:
I don't believe in God,
But I still prayed for you,
I hope you're looking down,
Saying, Matt,
Make this song more funny
Alyssa closes with a hilarious 30-minute stand-up set.
"Most of you have dead spouses," she says at one point. "Well, listen, I hate to say that my situation is worse, but I can't find a new dad, can I? I mean, yes, of course losing a spouse is terrible, but I can't go to a bar and pick up a new dad. I can't just come here and be like, 'So do any of you want to be my dad?'"
Three audience members raise their hands.
"Oh, wow, three of you. OK, cool, never mind. It worked."
In the most poignant moment of the evening, the lights go out, and Alyssa counts, slowly, to seven. The lights come back on. She's mirroring the number of days her dad was in a coma: He was unresponsive for a full week before passing away, and she explains how, really, the goodbye was much too long and strenuous. She pokes fun at her mom for believing in signs. (She, along with Ben and Matt, all reference the rainbow.)
When it ends, the guests clap and cheer. Ben waves a clipboard around, asserting that he's having a sign-up for a new dad. There are handshakes, congratulations, embracing. Ben is hit on more times than the number of accidents his car has been in. A 70-ish-year-old woman named Arlene comes over, on her way to get a slice of one of the three cakes that are being served, and tells us she won't reveal to anyone how her husband died: "I say a piano fell on him," she claims, chuckling. After a 20-plus minute conversation with the comedians that spans everything from loss to her hatred of pastrami, Arlene says she hopes she can hang out with the three in Brooklyn.
I've been to countless comedy shows in New York, and have never witnessed such camaraderie afterward. The city's a constant contest, and it sometimes feels, from an objective outsider's perspective (mine), that so much is done with professional advancement in mind, because it has to be. All that is absent here. In its place are hugs, and understanding.
"Imagine if they all started fighting over the rainbow," Ben says as we're heading home, clearly joking. "'That's my wife!' 'No, that's my brother, you dick!'"
"Grief," he'd told Arlene earlier, "isn't a competition." Before that, she had come up to heckle him again. She was number seven. "At least he's not suffering," she repeated.
We all laughed.
Follow Alex Norcia on Twitter.