Jérôme Bocuse inherited more than a name.
His father Paul's status is mythical. Arguably the first chef to step out of the kitchen and into the international spotlight, Paul Bocuse not only made cooking a respectable profession, but he elevated peasant classics like pot-au-feu to gastronomic heights at L'Auberge du Pont de Collonges in Lyon, the oldest three-Michelin-starred restaurant in the world.
Naturally, we thought it apt to bring Jérôme Bocuse to Paul Patates, a classic Quebec "pataterie."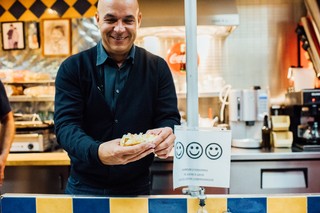 Jérôme Bocuse about to crush a Montreal steamie. Photos by Alison Slattery.
This wasn't just an exercise in irony. Jérôme was in town as part of Montréal en Lumière festival to showcase Lyonnais cuisine, one of the cornerstones of which is the bouchon. A bouchon is a casual restaurant where Lyonnais of all classes gather for a quick, hearty meal and a glass of wine.
Replace those items with steamed hot dogs, poutine, and spruce beer and, essentially, you have Paul Patates. "A bouchon is like a diner in the US or like this place," Jérôme says, pointing to the colorful tiles, steam, and regulars surrounding us. "It's a few tables with Lyonnais classics like macaroni, andouillette, tripes, and saucisson—fast and casual."
Read more on Munchies.