Andrew Stoeten answers your questions in our Blue Jays Mailbag, which runs weekly at VICE Sports. You can send him questions at stoeten@gmail.com, and follow him on Twitter.
September is fast approaching and the Blue Jays are... pretty much what we thought they were? Though, I suppose that could mean anything, because there have been times this season where they've looked like world beaters (remember that 9-1 stretch in late May? Me neither), times they've looked like the worst baseball team in history, and all points in between.
Still, though, the AL wild-card race is a mess, and the club remains theoretically in it—with a bunch of September call-ups to look forward to, some of whom could even be game-changers. Will it matter? What does the offseason hold? Should I just give up and embrace the sweet release of death? Answers to some of these questions and more are straight ahead in this week's mailbag!
If you have a Blue Jays question you'd like me to tackle for next week, be sure to send it to stoeten@gmail.com. As always, I have not read any of Griff's answers.
Hey Andrew.
With September 1st this week and the rosters expanding, does a September callup need to be on the 40-man roster or just in the system? Who should we expect to be called up. Cheers.
Bob
Who should we most look forward to seeing during September call-ups?
Kate
For obvious reasons I've paired these two questions together. First, to Bob's: a player does have to be on the 40-man roster in order to get called up. There's a chance that the Jays will add someone to their 40-man just ahead of the deadline in order to bring him up for the final month of the season—something we might see with guys like Carlos Ramirez and Michael Saunders—but I'm not sure we'll see too much manoeuvring, because to get those guys onto the 40-man will mean having to move somebody off it.
Who do I think will come up? Luke Maile and Teoscar Hernandez, for sure. Almost certainly Anthony Alford and Dwight Smith Jr., and a bunch of pitchers, many of whom we've already seen cycled through the big leagues. Leonel Campos, Chris Rowley, and Nick Tepesch are currently on the 40-man but in Buffalo, though that will almost certainly change by the end of the week. We might also see a Lourdes Gurriel call-up, perhaps even Richard Urena, and maybe Devon Travis activated off the 60-day DL. It would be nice if Dalton Pompey was deemed fit to get a call-up, too, but I'm not holding my breath on that one, unfortunately.
As to Kate's question on who we should be most excited for, for me it's Alford, Hernandez, Gurriel, and Carlos Ramirez, if he ends up getting the call.
The first three are obvious, I think. Alford is at the very top of the tier behind Vladimir Guerrero Jr. and Bo Bichette when you talk about the Jays' top prospects—and some of the big prospect watchers still have him ahead of Bichette. Gurriel is a highly-rated prospect and might help the club next year, as is the case with Hernandez.
---
---
And Ramirez, though he's only pitched in 24 games, and thrown just 35.2 innings, hasn't allowed a run all season. And he's put up impressive strikeout and walk numbers, too: 29 K and just 7 BB in 23.2 innings at New Hampshire, and 12 K and 2 walks in 12 innings for Buffalo. He's a converted outfielder who has been with the Jays since 2009, so if they don't put him on the 40-man, he'll either end up a free agent or likely be claimed in the Rule Five Draft this winter, as Blue Jays From Away explained in August. I don't think those minor league stats matter much, but a hard-throwing right-hander who can maybe legitimately claim a place in the bullpen next year? Sure, let's see it!

---
What does our starting outfield look like in 2018?
Randy
This is a really tough question, because I'm not sure the Blue Jays know the answer to it at this point.
I think there's really only one certainty in the Jays' outfield going forward, and that's the fact that Jose Bautista won't be back. Teoscar Hernandez is maybe more of a centre fielder, but he's reportedly got a strong arm (can't say I've seen it yet myself), and could handle any of the three outfield positions, so he's a pretty decent internal candidate to replace Bautista. Though that's hardly a given.
Hernandez might be a candidate to replace Kevin Pillar, too. Anthony Alford also fits that bill, though the club may prefer to start him in the minors and let him force their hand as far as that's concerned. Which is to say: while I'm not sure that the Jays will be looking to move Pillar in the offseason, if he isn't going to produce otherworldly defensive numbers, like he did in 2015 and 2016, and is going to slash something in neighbourhood of .250/.300/.400 (as he's done this year and last), his job isn't going to be terribly difficult to steal.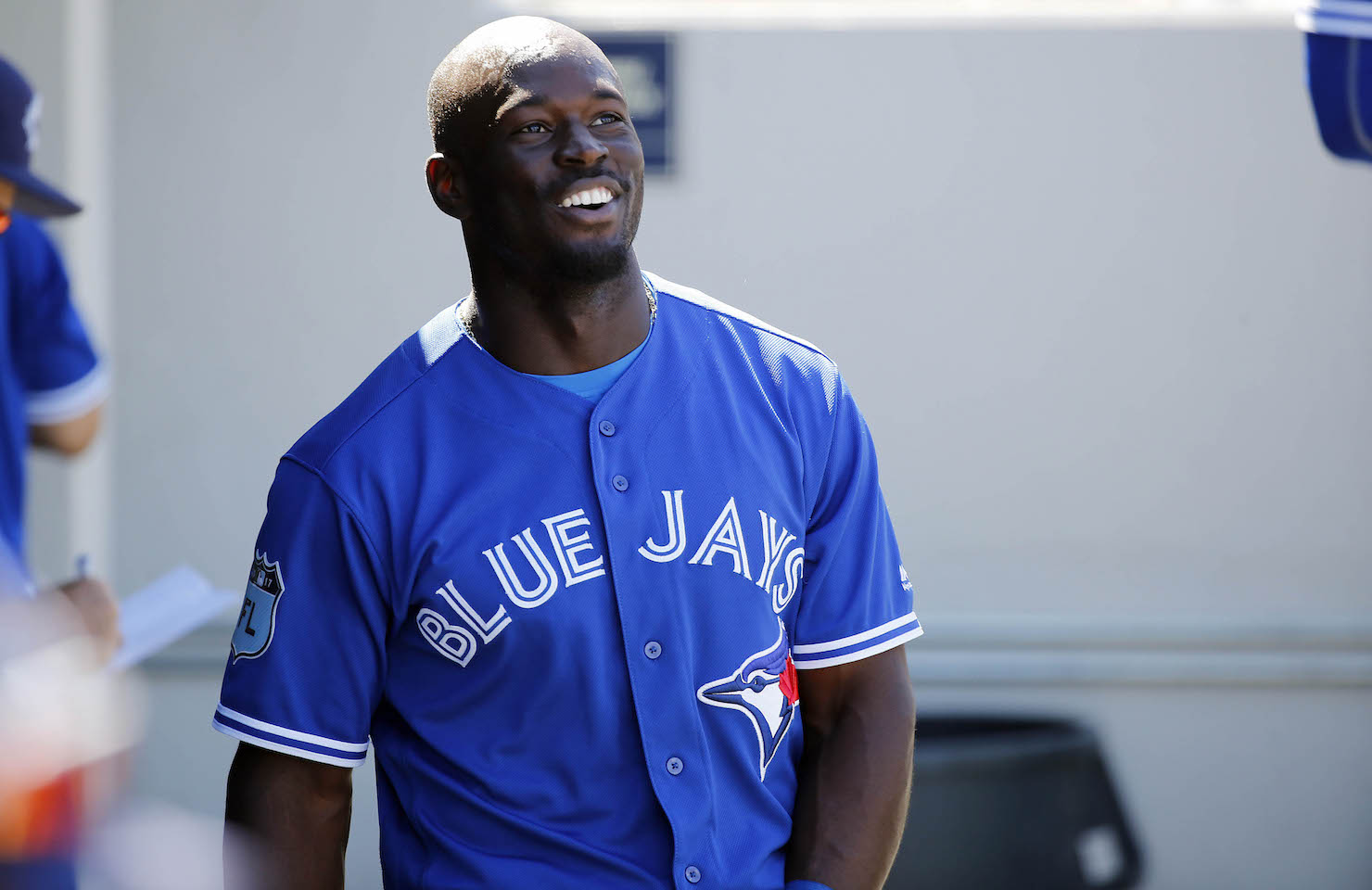 A big part of me would love to see the Jays do something different in left, though I have to admit that, ugly as it's been defensively, the Carrera-Pearce combo has actually been quite effective. Pearce is better suited to DH, especially because he is versatile enough to man a position every once in a while in order to give guys like Josh Donaldson or Russell Martin or Troy Tulowitzki days off. But unless the Jays find a taker for Kendrys Morales (which seems unlikely), or simply eat what's left on that contract (even less likely), I don't see what else they can do with Pearce.
I'd love to see a second baseman brought in, for example, who could either play in left himself, or who would shift Travis to left, which I think would make the club much better equipped to handle a potential Travis injury, because they'd still have Alford, Hernandez, Pompey, Smith Jr., etc.—depth they don't yet have up the middle. But the safe money, for now, is on Carrera and Pearce in left, Pillar in centre, and Hernandez in right—at least to start.
I'd expect that the Jays will at least try to be a little more imaginative than that, though.
---
I'd be curious to hear the names you have ahead of Roberto Alomar in terms of the greatest Blue Jays ever, and what metrics you're working with to decide that?
Seth
This question has come up because it's the Jays' 40th anniversary season, and Sportsnet has spent a bunch of time this summer pushing the idea of naming the 40 best players in franchise history. Over the weekend, Stephen Brunt capped off this project by writing that Roberto Alomar is the club's greatest ever.
I wrote about this back in June at Blue Jays Nation, after noticing that Sportsnet had put together an interactive page allowing fans to vote on their choices for the top 40 Blue Jays ever, and that Alomar was the fans' choice as No. 1. This is, of course, wrong.
---
---
Alomar was an incredible player, a rock star, a crucial player in the Jays' two World Series wins, and is a deserved Hall of Famer. But whole lot of his Hall of Fame career was played elsewhere. His two best seasons (by Wins Above Replacement) came when he was in Cleveland. Of his 63.6 career WAR (per FanGraphs), only 20.3 came with the Blue Jays.

The myth and the narrative simply doesn't live up to the reality.
And that's not just me relying on advanced stats to denigrate a great player. All that intangible stuff is why I'd happily say Alomar was a greater Blue Jay than a huge number of guys who compiled more WAR as Blue Jays than he did. Per FanGraphs, he sits behind Devon White, Ernie Whitt, Edwin Encarnacion, John Olerud, Lloyd Moseby, and Vernon Wells, none of whom I'd put ahead of Alomar on such a list. I probably wouldn't put Jesse Barfield ahead of him, either, though he was worth nine more wins to his Blue Jays teams than Alomar was. But Carlos Delgado, Tony Fernandez, and Jose Bautista were worth 15 more wins as Blue Jays than Alomar was. All the intangibles in the world can't reconcile placing Robbie ahead of them—at least not for me.
And those are just the position players! Juan Guzman, Jim Clancy, Jimmy Key, Dave Stieb, and Roy Halladay all top Alomar's WAR total as Jays, too.
Sure, some of these guys were just "compilers," or guys who played here long enough to rack up more wins that Robbie did in his five years. But if you want to look at it on a rate basis, Alomar's WAR per 150 games still falls just short of Bautista's, and well short of Halladay's mark on a per-30-start basis. Plus, if you start playing that game, they're all going to get dwarfed by Roger Clemens and Josh Donaldson.
---
---
Of course, we're not playing that game—the idea of the list isn't about which Blue Jays player provided the most wins above replacement, nor am I making it that. I honestly believe Alomar was better, "greater," bigger, and more important to the franchise and his teams than his WAR totals show. But I don't think it's right to penalize guys like Bautista and Halladay for not having better teammates. They were better players here and for longer.

---
Who would you be willing to trade Vlad Jr for?
Tom
Pretty close to no one. Maybe precisely no one.
I mean, OK, I'd probably do it for Mike Trout. But even then, you have to think: Trout's only under contract for three years after this one, and at $33.25 million per season. That's an enormous chunk of any club's payroll. And Guerrero, who in no way should be compared with Trout, and in fact, still has a very, very real chance of not turning into anything, really does look like he's going to be a hell of a special one, and will be a Blue Jays player for six or seven years (if they manipulate his service time right) for a fraction of that kind of cost. There is just so much surplus value to potentially be had there.
Let's just keep him, OK?
---
I'm thinking about taking a couple games off from watching & caring this week, for sanity sake, does that make me a bad fan?
Shawn
Whoa, whoa, whoa. Wait a second, wait, wait. You mean to tell me you've actually been watching this shit???