Montreal's Vibrant Boxing Scene Doesn't Exist Anywhere Else in Canada
Boxing is part of Montreal's DNA. But its fight culture hasn't fully been embraced by English Canadians, leaving one of the world's great boxing scenes largely hidden within its home province.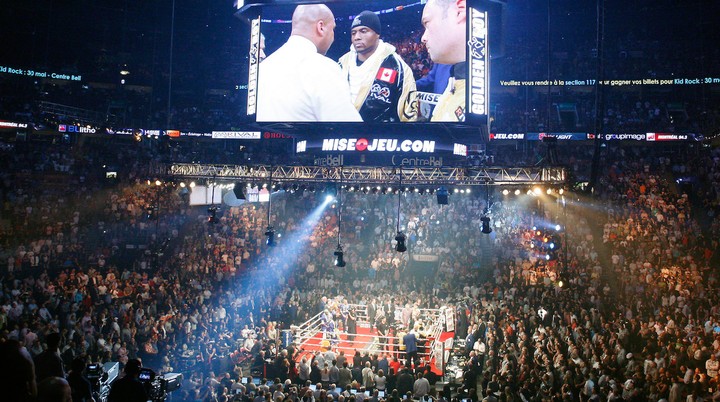 Photo by Richard Wolowicz/Getty Images
"Nothing exists like this in North America. Nobody has this. Nobody can put these shows on and bring this kind of crowd."
This ordination of the Montreal boxing scene was made in 2011 by the late trainer Emanuel Steward. He was speaking to Michael Griffin, the well-credentialed referee and Notre-Dame-de-Grace native who oversees many of the city's biggest fights. As leader of Detroit's Kronk Gym, Steward proposed creating a "Kronk North" in Montreal so that boxers could make use of both gyms and benefit from the tutelage of trainers in Michigan and Quebec. Griffin was interested in the idea but it never came to fruition because Steward passed away the following year.
Montreal is without question the capital of Canada's boxing and combat sports scene. Even before New Brunswick's Yvon Durelle waged a historic war with Archie Moore at the Montreal Forum in 1959, prizefighting and professional wrestling had long found a home in Quebecois society. Then, in 1980, Olympic Stadium hosted one of the great bouts in boxing history between Roberto Duran and Sugar Ray Leonard. Though Leonard had won gold at the 1976 Montreal Olympics, it was the macho, crotch-grabbing and ultimately victorious Panamanian who the Quebecois fans gravitated toward.
In the 1980s and 90s, the city saw large-scale domestic fights, like Davey Hilton's classic 12th round TKO of Stephane Ouellet at the Molson Centre in 1998. A promoter's dream, this match pitted native sons on opposite sides of the linguistic divide only three years after the province's referendum. Last month, the city hosted another anticipated bout when England's BJ Saunders whipped Montrealer David Lemieux in front of the HBO cameras at a packed Place Bell. In spite of Lemieux's poor showing, the atmosphere sparkled.
While boxing is part of Quebec's sporting soul, in a more general sense this could be extended to fighting. The province has long been home to belligerent semi-professional hockey leagues like the LNAH (and, more so now, the LHSAAAQ), where players engage in choreographed pre-fight rituals before meeting at center ice to rocket bare knuckles into one another's faces. As the UFC saw its surge in the mid-2000s with the mainstream popularity of The Ultimate Fighter, Montreal became the company's first Canadian destination when, in 2008, superstar Georges St. Pierre defeated Matt Serra in what, at the time, was the UFC's fastest-selling and largest show. The city has hosted six UFC events since and is also home to the TriStar gym, acknowledged as one of the world's best.
(A surprisingly large number of players in the province's semi-pro hockey leagues have also boxed or fought in MMA. The most successful of these is Steve Bosse, who transitioned from the LNAH to the UFC and recently signed a professional boxing contract with Groupe Yvon Michel, thus completing the Quebecois tough guy's Holy Trinity.)
---
Watch our profile on the LNAH
---
For Canadians outside of Quebec who don't have HBO or French broadcasters RDS and TVA, one of the world's great fight scenes remains largely hidden within its home province. Boxing has scant profile on Canada's two biggest sports TV networks, TSN and Sportsnet, unless it involves one of Floyd Mayweather's bloodless exhibitions. While TSN showed Guillermo Rigondeaux quit against Vasyl Lomachenko on Dec. 9, rarely does the network feature original live broadcasts of Canadian fights. In a nation eternally concerned with its cultural strength, it's unfortunate that one of our storied sports milieus often resonates outside of Canada more than it does within.

To describe it as "ours," however, may be inappropriately possessive. French is the first language of the Montreal boxing scene and its flag is a Fleur-de-lys. But while these elements tie the milieu to a place and culture English Canadians may not feel a part of, they are precisely what have allowed for its existence.
If culture is born of history, the Quebecois' love of boxing is a natural outgrowth. Members of a "nation within a nation" who'd long battled for their territorial and cultural sovereignty, fighting, for some, has been a potent means to express their individualism. And while it would be reductive to situate Quebecois culture simply as a response to English power, the historical circumstances from which French-Canadians fashioned an identity are essential to understanding their love of combat sports. During my reporting on the LNAH two years ago, one thoughtful hockey fan from Quebec City, when asked why unruly semi-professional leagues still existed in Quebec, saw fighting as a form of self-actualization, once denied to French men by English rule. "On the ice," he said, "we are not your servants."
Showy self-assertion, and in many ways, anti-authoritarianism, permeate many alleys of French-Canadian life. It seems natural, then, that fighting would resonate with those for whom strength is sacrosanct. To attend a Bell Centre show is to observe a parade of flash and flesh, where boxers duel before a ringside sea of beefy men and bronzed women. A knowledgeable group, many fans know the trajectories of each fighter's career and are keen to show contentment and disapproval, swelling with each successful attack by a favoured boxer, booing when the show turns banal. The loudest cheers have always been for those who leave themselves in the ring: from Durelle to Hilton, Arturo Gatti, and countless sluggers from across the decades, the expectation, always, is that prizefighters come to battle.
It is a scene constantly evolving. Camille Estephan, who leads Eye of the Tiger Management, has emerged as Montreal's most powerful promoter and is enthusiastic about the upsurge. "The level of talent we have now has never been matched in Canada before," he told VICE Sports. "If you want to look at it from a pound-for-pound basis, the talent level we have is starting to rival some of the best firms in the US. I think we'll challenge them very soon and attract more HBO fights and Showtime fights to Canada."
---
---
Estephan traces the strength of the fight scene partly to the fans and media coverage it receives. These twin facets make Montreal a premiere destination for international boxers. One such aspirant is Batyr Jukembayev, an overwhelmingly gifted lightweight who migrated to Montreal in search of stardom. "We have fighters such as Jukembayev, a fantastic talent who could be the next Gennady Golovkin and he's chosen Canada as home," Estephan said.

"[International fighters] choose to come here because they can develop properly and become stars, and the financial rewards follow."
The international flavour of Montreal's boxing scene is one of its most striking features. Light heavyweight champion Adonis Stevenson and super lightweight prospect Yves Ulysse are Haitian-Canadians, Jukembayev is from Kazakhstan, Artur Beterbiev was born in Dagestan, heavyweight Oscar Rivas (a former Olympian) comes from Colombia, and rising super middleweight Erik Bazinyan is Armenian. With the exception of Stevenson, who arrived here as a child, these men chose Montreal as a city in which they could launch lucrative careers.
While the success of these fighters is necessary for Montreal's ongoing relevance, the recent development of foreign boxers has reduced the old emphasis on local rivalries. Francis Paquin, a boxing writer for RDS, told VICE Sports that "we used to have the obvious matchups with English versus French, but I think that from the beginning of the 1990s it has become more international... with the goal of developing world champions. But, on the other hand, it had the effect of slowing down the local scene."
Paquin thinks there are few domestic fights on the horizon that could inflame passions like Lucian Bute's bout with Jean Pascal four years ago. And he doesn't know if there are any up-and-coming fighters from Quebec who are poised to take the sport by storm.
"There is not necessarily, at the moment, a young boxer who will become the next big star," he said.
Paquin recommends putting more emphasis on local clashes, preferably between younger fighters since early exposure to new talent allows fans to track development. Finding an audience during this developing stage was crucial to the popularization of Pascal, for a while one of Quebec's top draws, who fought in the 2004 Olympics for Canada and already had a name before he turned professional.
---
---
There is credence to this theory. If Montreal was at one time the world's hottest boxing market, it has been supplanted in recent years by the United Kingdom, which WBO middleweight champ BJ Saunders is a product of. Boxing is as much or more a part of British sporting culture as it is Quebec's (the Marquess of Queensbury Rules, which govern the sport, were drafted in London in 1865).

The recent ascent of British boxing is due in no small part to the domestic rivalries it has nurtured. Last April, over 90,000 fans watched Anthony Joshua win the heavyweight title from Wladimir Klitschko at Wembley Stadium, a fight that, as time goes on, might take its place among the best in heavyweight history. But the stage may not have been set without a recent precedent: four years ago, in front of 80,000 fans at Wembley, Carl Froch knocked out countryman George Groves in a rematch of their controversial first fight.
Creating local rivalries between young fighters brings valuable exposure. Ariel Shnerer, director of programming for Anthem Sports & Entertainment Corp., the parent company of Fight Network, cites the spectacular rise of GSP as an example of how combat sports stardom is forged. "A reason he really took off and took Canada by storm was because so many Canadians saw him grow up fighting for TKO MMA—which aired on the Fight Network in the early days—and become that star that [took the UFC] promotion by storm," he told VICE Sports. "Then he just kind of exploded and became this global phenomenon. The more viewers [that] can watch their talent grow, and grow with them, I think the bigger attachment they develop and the bigger star [the fighters] ultimately become."
The Fight Network doesn't produce original live broadcasts, but it has had past licensing relationships with promotional companies like Groupe Yvon Michel and Interbox (now owned by Eye of the Tiger Management). Shnerer said his company is open to showcasing more boxing assuming the production quality is up to par, and is adamant that Fight Network, which has Canadian and international subscribers, is committed to giving local promoters opportunities. "I think there is absolutely an appetite for [Quebec boxing]," he said. "From a Fight Network perspective, it's just a matter of getting content that meets our production thresholds."
---
The media's impact on the popularity of combat sports cannot be overstated. In Quebec, boxing receives regular coverage on television stations RDS and TVA, and is featured frequently in French newspapers like the Journal de Montreal. Shnerer raved about the media's regional promotion of fights, noting how even smaller-scale events receive mainstream attention. "It seems that they've always been a lot more comfortable covering combat sports or giving combat sports prominent placement in a local newspaper or a local sports section, whereas that often gets usurped in other markets in favour of other more mainstream sports. Any kind of local coverage really does go a long way to not only legitimizing the sport but also building the fandom."

HBO, which has a strong working relationship with Estephan, has long been the sport's most important broadcaster. But despite a handful of entertaining—and expensive—pay per view fights in 2017, the network didn't have a banner year. Last November, promoter Bob Arum lambasted its leader, Peter Nelson, to Ring TV. "I just think he's not competent," Arum said. "They need professional people over at HBO. It's a great network, they have great entertainment, but they have a guy who is running their sports department who has no experience and who is an amateur."
Over the last two years many have speculated about HBO's future in boxing, given the network's reportedly reduced budget. And while Jim Lampley et al., still provide boxing's finest North American telecast, ESPN, the leviathan of sports media, made an interesting move last August when it signed a four-year deal for exclusive rights to matches promoted by Arum's Top Rank. So far, the returns have been impressive, and two of these bouts—Manny Pacquiao's controversial loss to Jeff Horn last July, and Lomachenko's victory over Rigondeaux on Dec. 9—were the year's highest-rated boxing broadcasts on cable television.
As part of the ESPN deal, TSN and its French sister station, RDS, will also broadcast Top Rank matches, but neither TSN nor Sportsnet seem interested in covering the high-profile fights taking place within this country. Estephan said he's spoken to the networks (neither of which responded to VICE Sports' requests for comment), and that the Toronto media had shown interest in Simon Kean, the gargantuan former Olympian from Trois-Rivieres who fought for Canada in the 2012 Olympics. While Kean has the looks and personality adored by television cameras, he still has much to prove.
It will be fascinating to see if Estephan, Yvon Michel or another budding impresario can attractively market their product to English Canadians. As Emanuel Steward said, the Montreal boxing scene is a singularly vibrant one, and if packaged correctly this exoticism might appeal to new audiences. As a long-time follower who's groused over its anonymity on English platforms, I return, then, to the same two questions: will this ever happen, and who might be its torchbearer?