Chad VanGaalen Is the Jim Henson of Acid Dreamlike Creations
"Listening to my own voice makes me feel horrible. So the less I have to do it the better."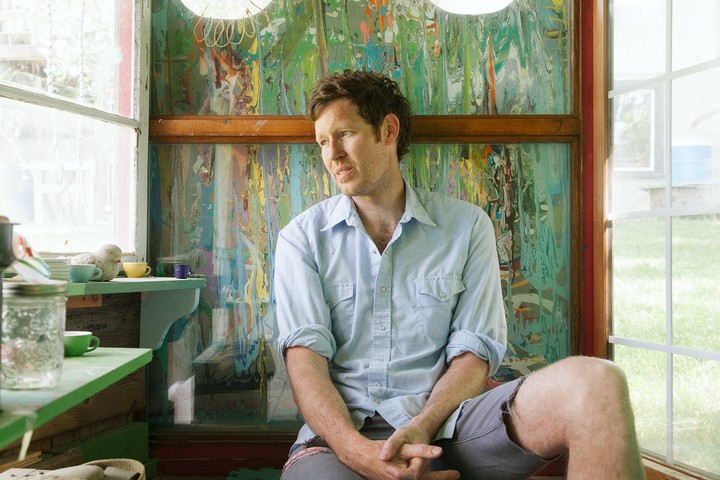 Photo provided by artist
If you were to ask Chad VanGaalen what he'd really like to be doing with his life, he'd probably say spend most of his time growing vegetables in the backyard of his Calgary home. "Sometimes I just lay in it, and I get down on my knees and eat from it like a deer," he explains. "I don't even touch it with my fucking hands sometimes. It's fucking awesome!"
Unfortunately for VanGaalen, he's an extremely talented singer-songwriter with actual fans that want him to keep recording albums. He's been nominated for the Polaris Music Prize three times and calls legendary Seattle label Sub Pop his home outside of Canada [he still releases records on Flemish Eye here], so things have been going pretty good for him. But growing fuck-loads of Brussels sprouts and making eccentric, fuzzy psyche-pop are just two of the projects he is regularly tending to.
VanGaalen's new album, Light Information, was born during a very busy time time for him. In that stretch the father of two finished and released a different album, 2014's Shrink Dust, recorded a collaborative album with Dog Day's Seth Smith, produced the debut album by Alvvays, and won the Prism Prize for directing Timber Timbre's "Beat the Drum Slowly" video. Then in 2015 he was offered a job that he has described as "pretty close to a dream come true (minus being able to kickflip down a set of stairs)." Emmy-nominated director, writer and editor Daniel Stessen asked VanGaalen to write music for his spaced-out Adult Swim series, Dream Corp LLC, which premiered on the network last October.
If you're at all familiar with VanGaalen's work – any medium – Dream Corp LLC is a perfect foil. Set in an unsanctioned, makeshift hospital, the series follows the unhinged Dr. Roberts (Jon Gries), who mind-fucks patients through psychotherapeutic experiments in his "dream therapy facility." With its use of trippy animation and screwball antics, it's even more absurd than you could possibly imagine. Once in development, Stessen realized he had the genius of VanGaalen at his disposal, and put his multi-dimensional imagination to work. In no time VanGaalen designed a haywire robot named T.E.R.R.Y. (voiced by Stephen Merchant), which was then brought to life by the Jim Henson Company, the studio that gave us Fraggle Rock, Labyrinth and The Dark Crystal.
Noisey caught up with VanGaalen as he was taking a break from his vegetable garden to talk about Dream Corp LLC and how it didn't stop him from recording one of his best albums yet.

Noisey: How did you get involved with Dream Corp LLC ?
Chad VanGaalen: My now friend Danny – I didn't know him at the time – came out to a show in Brooklyn and was like, "Hey man, we really want you to do the sound for this show." I'm pretty reluctant to do anything ever. So I was like, "Yeah… I kind of believe you." I've been in that situation before where people pitched me what seemed like rad ideas but at the end of the day they don't get the funding or something. This sounded really cool, but it also sounded impossible. Like, as an animator the premise in itself sounded nearly impossible. I never thought it was gonna happen. But then months later he ended up coming to a show L.A. and told me the show got a green light and they really needed me to sign off on it. So I did it and I've gotta say it's one of the best things I've ever decided to do. Everyone that works on it is so sweet. It's one of those projects that just turned out. I'm sending them these weird sounds and they're always like, "Perfect!" Every time! It's so great.
You're doing more than the music too. You designed the robot, T.E.R.R.Y. , which is voiced by Stephen Merchant.
The best part about it is that when they were coming up with the interiors and the character designs Danny said to me, 'Oh shit! VanGaalen can you draw up some ideas for T.E.R.R.Y.' So I just started geeking out droid-wise. I said that they needed to keep him simple and have him know almost nothing. And he asked me to draw it up. So I did and originally they were gonna get it done by whoever made the Iron Man suit at the time, which was fucking crazy! And then he said, 'Well, it's gonna cost as much as a brand new Honda Civic.' So it wasn't quite in the budget at the time. Then they took it to Henson, and they asked me to create an animation of T.E.R.R.Y. and show how he moves, so I was just like, 'Fuck it, I'm just gonna turn him into a cartoon.' I guess Henson Studios saw the animation and were like, 'Oh fuck yes! We're totally doing this.' Danny was pretty stoked. Eventually I got to go into the studio to help with the season two characters. I don't know if I can explain them without ruining them, but it was exciting to just be there and see my drawings in the flesh.
The show is a lot of fun. I especially like that Jon Gries, who I always remember as the bum that steals Kramer's Tupperware in Seinfeld, plays Dr. Roberts.
Right! He's been in everything. He's such a hero, man. He seamlessly integrates himself into these roles.
You began Light Information before your last album, Shrink Dust , and the music for Dream Corp LLC. How important is it for you to write songs with a specific project in mind?
The way that I work now is so scattered. I was working on a bunch of different albums, and mostly trying to flesh out this more minimal, electronic record, which just kind of fell apart. But then I realized there were a couple of these songs that I really loved that didn't find a place on Shrink Dust, and I just built it around those songs, which were more kind of rock'n'roll paranoia.
Did any of the music you made for the show cross over into what you were doing with Light Information?
A challenge for me lately has been to not feel schizophrenic while I'm in my studio working on stuff. To tell you the truth, I feel like the Dream Corp music is more like the stuff I would be making if it was up to me. It's not like I have to write songs. It's always a crazy experiment to make a song now. If I'm left to my own devices I usually lean more towards cinematic soundscapes-type stuff. Listening to my own voice makes me feel horrible. So the less I have to do it the better. I feel like it started off as an experiment anyway. That's not to say I don't enjoy doing it. I just find it hard at times. There's no pressure on multi-tracking a bunch of cello drones. But if I make a song with lyrics, it gets harder, especially because people beyond my friends and family will be able to listen to it.
Do you feel a responsibility to your fans to write more singer-songwriter stuff?
I do feel a responsibility, sure. I don't know who to, but I get a different type of enjoyment out doing it. Especially if it's really psychedelic and crazy. I can translate emotion clearer through [lyrics]. It's just really nerve-wracking to get to the point where I can open yourself up like that. I'm just way more vulnerable. And that's cool too. I probably wouldn't have done it for this long if I didn't feel this uncomfortable. Feeling that uncomfortable keeps me really attentive to the detail of it and how special it is. The human voice can do crazy things, y'know?
Cam Lindsay is a writer living in Toronto. Follow him on Twitter.