After years of stop-and-start progress on an organization-wide rebuild, the Houston Astros, led by a core of young stars, are firing on all cylinders.
There's still time for everything to fall apart in Houston, but this team—now 29-15 and a commanding 5.5 games ahead of the second-place Texas Rangers in the American League West—has a real shot at winning that world title Sports Illustrated predicted for them three years ago.
Leading the charge is second baseman José Altuve, the diminutive All-Star whose elite bat-to-ball skills and emerging power have transformed him, in just a few years, from a high-average, low-pop slap hitter into a perennial MVP threat. He's hitting .307/.377/.509, with seven dingers and a career-best 8.7 percent walk rate.
But it's not just Altuve. Pretty much every single Astro is hitting out of their mind right now. In fact, an astonishing eight Houston hitters—that's a quarter of the AL total, and nearly their entire lineup—have wRC+ figures 115 or higher, meaning they've been at least 15 percent better than the league average hitter to date.
That won't last, of course—Marwin Gonzalez, of all people, is slugging .625 right now, which is a cool 200 points above his career average—but to a certain extent it doesn't matter. The Astros can play .500 ball the rest of the way and still be a 90-win team.
Before the season began, I wrote that the Astros squads of the last few years "have always seemed to be a little bit less than the sum of their parts"—always a dizzying collection of talent but always just a hair below what they could be.
No longer. Baseball Prospectus's adjusted standings tool, which attempts to strip out luck and sequencing to project how many games a team "should" have won, given their components, has the Astros at a 27-17 record right now, which means Houston has found a way to scratch out three wins above expectations.
Maybe it's Marwin, but maybe it's just that the league couldn't hold Houston down much longer. For a while there, it was mostly Altuve, stud shortstop Carlos Correa, and outfielder George Springer anchoring the offense. Now there's sophomore Alex Bregman, too, as well as a host of high-performing veterans in Evan Gattis, Josh Reddick, and Jake Marisnick.
Hitting is contagious, as the saying goes, but it's probably more accurate to say that hitting has non-linear returns to scale. Having five good hitters is more than 25 percent better than having four good hitters, and having six is more than 20 percent better than having five. The Astros have eight good hitters right now.
In fact, Bregman, the No. 2 overall pick in the 2015 draft, is most notable these days for being one of the few Astro hitters who isn't performing especially well (though he's hardly performing poorly, either, especially for a 23-year-old). If his dormant power swing wakes up over the summer? Watch out.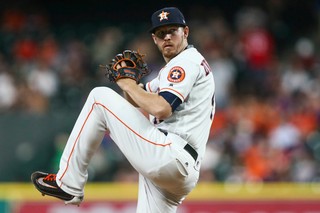 Houston's pitching came into the season with serious question marks, but that has performed well, too.
Dallas Keuchel is pitching like he did back in his Cy Young season, with a 1.84 ERA and a 22.7 percent strikeout rate over 63.2 big-time innings. Rotation-mates Charlie Morton and Lance McCullers are doing even better in the K department, each whiffing more than a quarter of batters faced.
And then there's Chris Devenski, who in just his second big-league season has struck out a truly stupendous 46.8 percent of the batters he's faced out of the bullpen. That's the third-best mark in the American League—better than Aroldis Chapman, better than Dellin Betances, and better than Andrew Miller.
Again, not all of this will last—but some of it will. Morton's whiff rate this year is in line with the new normal he established in a breakout campaign with Philadelphia last season. McCullers has always had the stuff to be elite, as, of course, has Keuchel. This rotation can absolutely keep this up.
As for the bullpen, outside of Devenski, who never did anything quite like this in the minors, and maybe Will Harris, who's dominating hitters with a two-pitch mix at age 32, it seems to be performing basically at career-average levels.
So the future in Houston looks bright. None of their division rivals have been anything close to dominant in the early going. Texas is red hot, and the Seattle Mariners could make a run for it if things break right, but both teams are majorly flawed. So the hot summer will likely wear on without much competition in the A.L. West, which could lead the Astros to prime position come October, when anything could happen.
The Astros haven't been past the ALDS since 2005, when they almost won it all with the last vestiges of the great Houston teams of the 90s, plus a thickset Roger Clemens. They've never won a World Series. A deep playoff run would be a major achievement for the 2017 squad. So far this season, there's been little evidence to suggest that this Houston team won't be up to the challenge.
Want to read more stories like this from VICE Sports? Subscribe to our daily newsletter .