Astral Swans Wants You to Know He Didn't Make a Willie Nelson Tribute Album
Matthew Swann talks about the troubling charm of Willie Nelson on the new album 'All My Favourite Singers Are Willie Nelson'.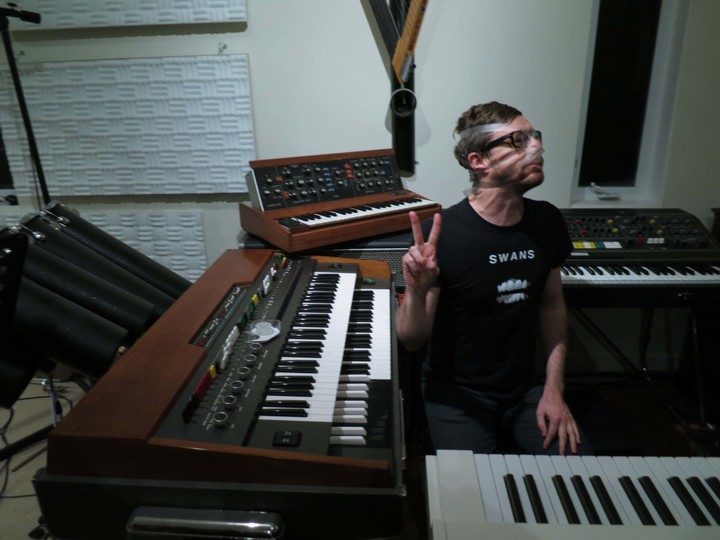 Mr. Matthew Swann on the boards
For Matthew Swann, the spectre of death is never too far away. It may be hiding in the gust of wind that ruffles his hoodie, or even lurking behind the creaky radiator in the empty room he recorded his debut album with Astral Swans. Out February 24 on Madic Records, All My Favourite Singers Are Willie Nelson is steeped in 60s psych-folk mythology and loner punk iconography. Framed against the certainty of death, Astral Swans' albums emerges as a stark, beautiful project; one that embraces this darkness rather than shying away from it. "It's a way of coming to terms with pain, sorrow and loss in human lives, and that even in the most beautiful moments in life, those themes are always lurking in the backdrop of the human experience," says Swann. "Simultaneously, to flip that, it's also what creates depth and is something that is unifying—the process of being vulnerable as a person."
As the title of the record suggests, Willie Nelson stands as one of Swann's primary songwriting influences. By no means is Swann a country troubadour, but the idea of Willie Nelson as a character forms the foundation of Astral Swans' sonic aesthetic. "He's this really bizarre character who epitomizes Americana and he's loved by everyone, yet he's this total womanizing, stoner weirdo, left-wing socialist dude. At the same time he's also an incredibly humble figure in light of these seemingly detrimental character flaws."
A natural evolution of his past work with Calgary mainstays Hot Little Rocket and Extra Happy Ghost !!!, Swann's knack for earworm-y hooks and lo-fi hymns that pluck '60s folk, '80s no-wave, and the '90s experimentalism are all on display throughout the album's 12 tracks. "I wanted to make a record that put the songs before the experimentation, whereas in the past, when I was doing the Extra Happy Ghost !!! stuff, I put experimentation first."
Case in point, "Beginning of the End," opens with spry yet sparse rhythms before Swann sings, "Who told the kids in the yard that they're mostly dust? / Now they just stay drunk / Keep getting more fucked up." The track is a two-minute pop song at heart, but by the end, Swann can't resist adding distorted flourishes and squeaks of experimentation. Somehow, he creates a mood that feels both indifferent and deeply human. A showcase of Swann's growing ability as songwriter to balance abstraction and autobiography.
"[All My Favourite Singers Are Willie Nelson] is a paradoxical, nonsensical statement," he laughs. "I guess, in a sense, it's sort of an allusion to the certain nostalgic sentimentality of this character [in the songs] singing these heartbreaking stories. It's an almost postmodern play on the romantic sentimental sorrow of the country balladeer."
"I remember when I was in Hot Little Rocket, I got really into Willie Nelson and I was trying to make those guys listen to him in the van on tour. I think it's hilarious, he's this really bizarre character. He's always got a giant bag of mushrooms on his tour bus, he's a crazy pothead, but he's also an incredibly humble figure in light of a lot of seeming character flaws. He seems like a very gentle, genuine character. There's a real sentimentality, beauty and death to these songs that I really love."
Sebastian Buzzalino is a writer living in Calgary - @strychninebuzz