At the entrance of the world leaders room at Madame Tussauds in Times Square, Abraham Lincoln sits pensively behind a desk. To one side, Ronald Reagan and Bill Clinton stand together with big toothy smiles. On his other side, there's George Washington, looking forlorn in a way that caused me to mutter "same" under my breath, alongside Martin Luther King Jr., Malcolm X, and Helen Keller. There are multiple popes in one corner; Gandhi and Fidel Castro lurk close by. Richard Nixon, looking dismayed, stands beside a plaque explaining that he was the only president ever to resign from the office, with a quote from him below: "The word 'politics' causes some people lots of trouble."
In the back, Michelle and Barack Obama stand a couple feet apart from one another, the White House press podium separating them. And on the other side, Donald and Melania Trump stand behind a replica of the desk in the Oval Office. Donald's hands are clenched around his belt, his stance signifying a primal dominance—"get at me," the statue seems to coo—while Melania stands close to him with her signature stoic gaze.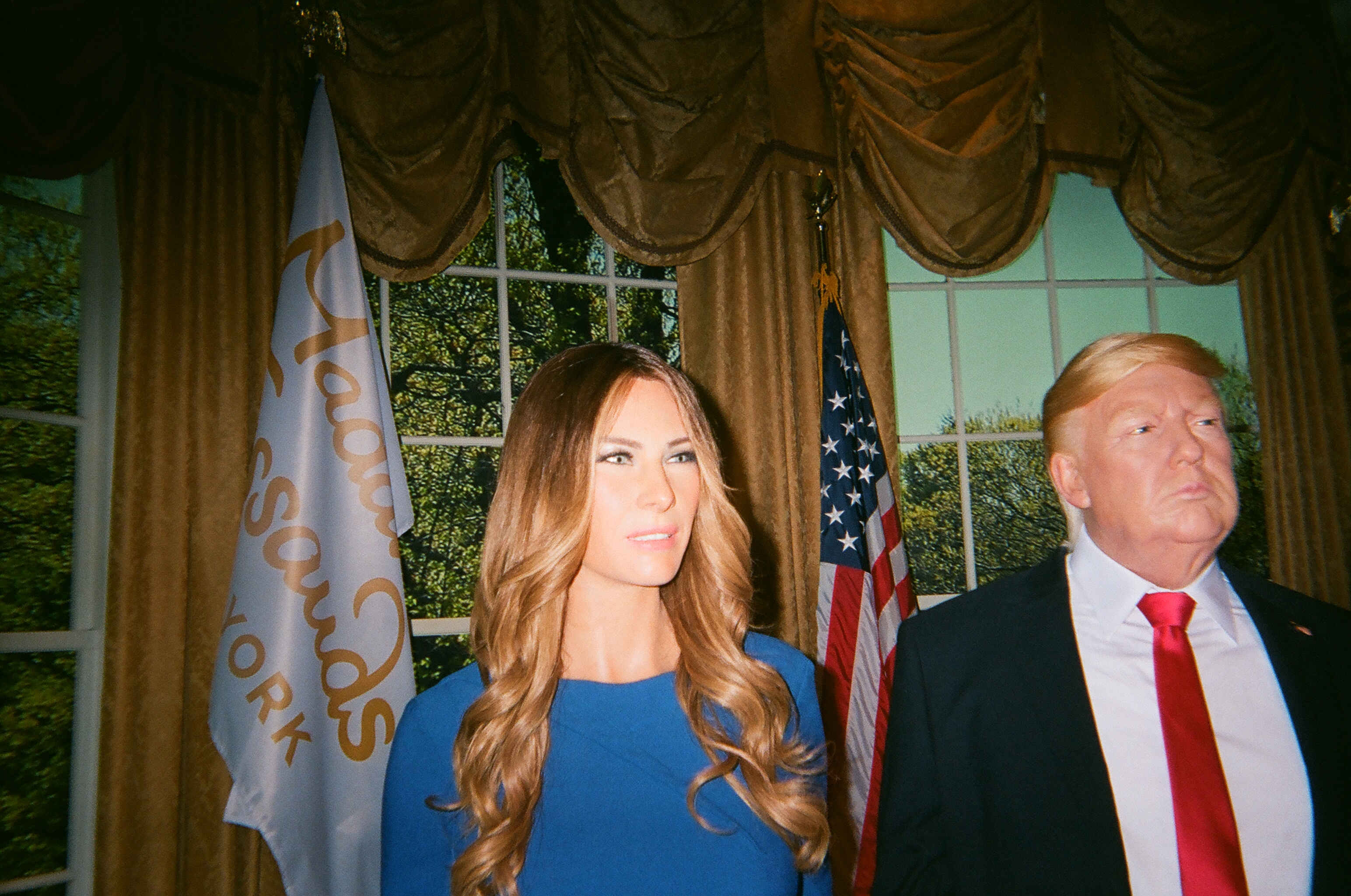 According to one employee I spoke with, Madame Tussauds wasn't more crowded than it usual for a Wednesday afternoon—it was pretty crowded—but this wasn't any ordinary day. It was the official unveiling of the wax Melania. Earlier that day, former White House press secretary Sean Spicer had made a special appearance to welcome Melania's statue into the world leaders room and to promote his new memoir, Briefings. "She's a very caring and gracious woman, and our country is grateful to have her," Spicer said, according to the New York Times.
In order to get really close to the Melania and Donald statues, you're required to pose for a picture sitting behind the Oval Office desk. You can either purchase a professional photo from the museum or have a companion snap it for you. When you visit a wax museum solo, you experience a kind of humiliation particular to people who visit wax museums alone. I walked up to the Melania and Donald statues and snapped a picture of Melania before getting scolded by an employee—doing that is against the rules and the only pictures you're allowed to take have to be from behind the red ropes marking off the fake Oval Office. That led to me meekly asking a random teen to take one for me.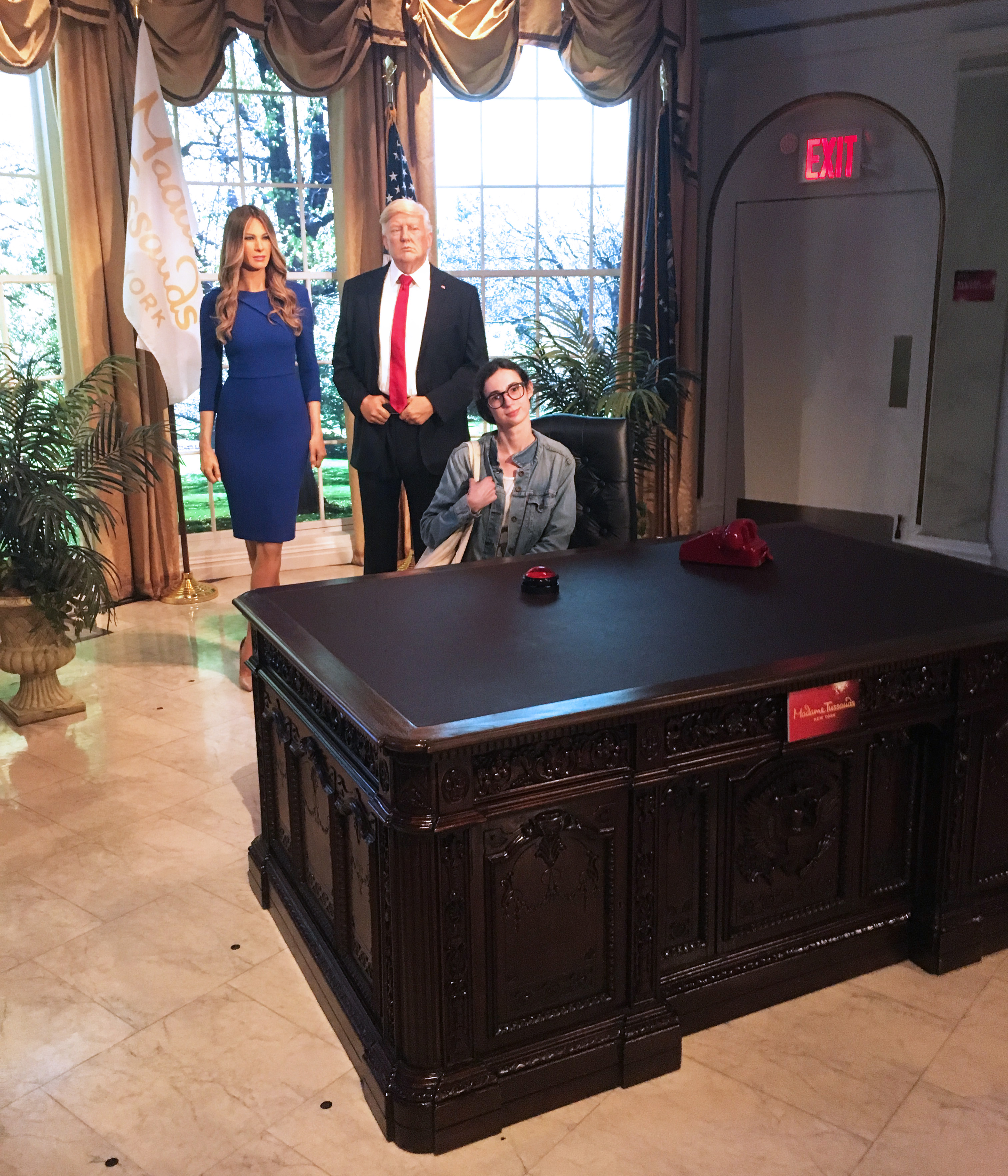 Madame Tussauds is maybe the last place in America where you really do leave politics at the door. If someone is famous enough, they'll end up immortalized in wax, regardless of ideology. And the guests weren't hung up on factionalism either: The same people who posed for pictures with the Trumps happily snapped selfies with the Obamas. I asked some people who posed for a picture with Donald and Melania if they came to the museum just to see them. "No," was the answer I received. They were mostly tourists, visiting Madame Tussauds because that's something you do when you're a New York City tourist.
The new exhibition that no one was there to see was titled "Give Melania a Voice," an apparent unsubtle allusion to the fact that we rarely hear the first lady say anything. Beside the Oval Office facsimile, there's a kiosk with a large monitor displaying tweets from visitors, an opportunity to give Melania a voice. "Have you ever thought of what it would be like to be Melania Trump?" the copy printed on the kiosk asks (yes, I have) with the following instructions:
1. Select the tweet button
2. Select a GIF of Melania
3. Tweet your heart out!
4. Have fun but please don't be mean!
5. Use the hashtag #MTMelaniaMoments
Christine Haughney, a spokesperson for Merlin Entertainments, Madame Tussauds's parent company, told me that they wanted to do a "Give Melania a Voice" exhibition because of its interactive elements, which is new for the museum. Basically, they want to give visitors the opportunity to effectively cosplay as the celebrities.
The New York Times and various other publications reported that tweets from visitors would be sent to the @MTMelaniaMoment Twitter account, but they were actually sent to a locked Twitter account with the handle @MelaniaMoments1. "Tired of this Trump guy," a tweet sent a half hour before I got to the exhibition read. "Lol we are here at Madame Tussaud's and we are looking at your figure and you look greattttt!" said another. For my part, I tweeted, "I love my curvy husband #MTMelaniaMoments."
I felt a little ripped off—is it fair to say I got the opportunity to give Melania a voice if it's a tweeted by a private account with a single follower?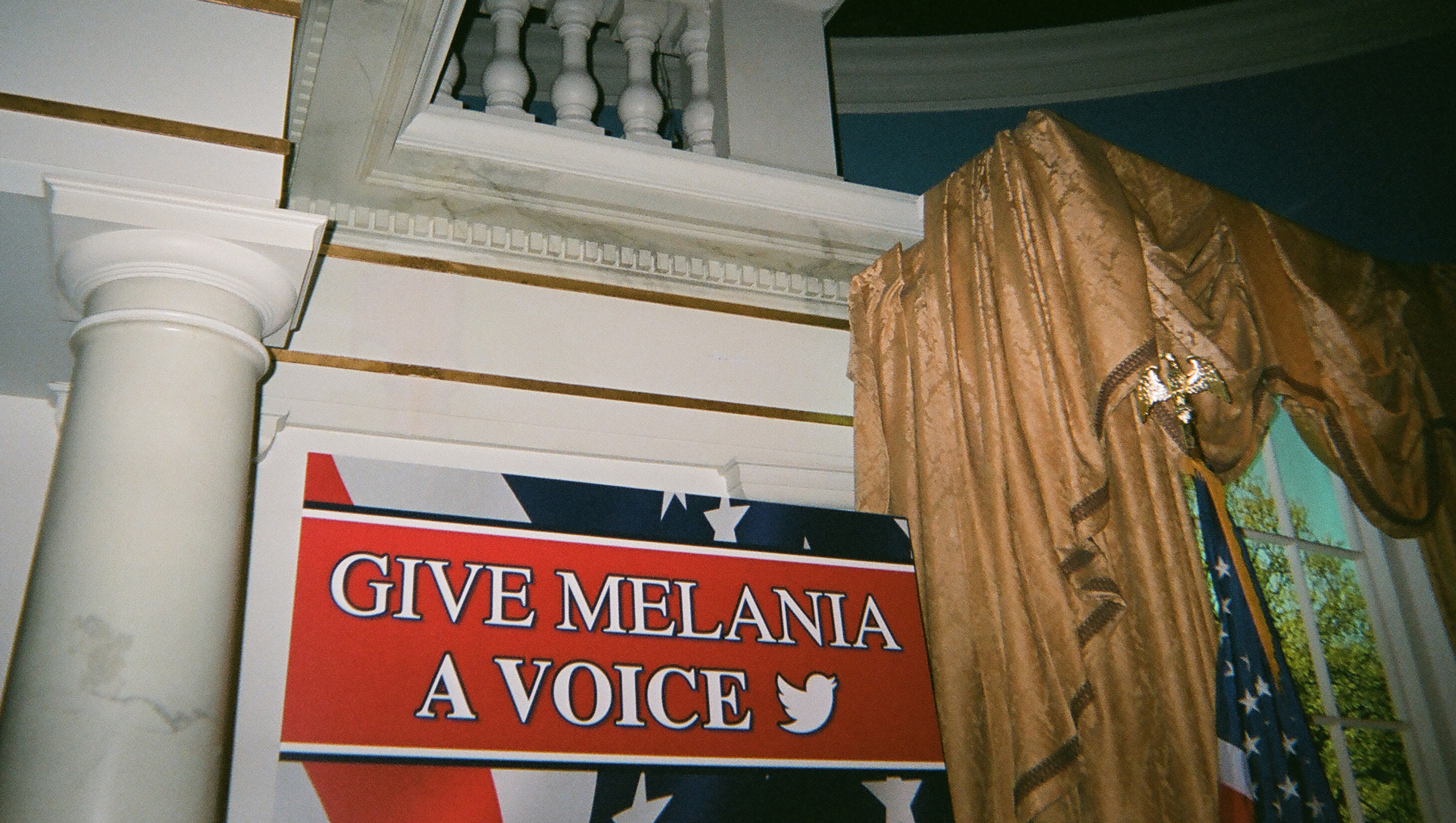 When I asked Haughney about this, she explained, "When you're actually on site….you can leave your mark directly into the attraction." Those tweets are then vetted by Madame Tussauds, so only "the most fun tweets will get pushed live."
Haughney told me that she reached out to Sean Spicer for the launch because they wanted "authenticity... to make sure there was a cool tie-in…to [personalize] the celebrities."

Spicer's appearance, which was reportedly unpaid, served to promote his new book, but I wanted to know more about his relationship to wax museums. I asked him if the figure does a good job representing her likeness, why it was important to him to attend the event, and if it bothered him that the exhibition's title suggested Melania didn't have a voice.
He, unfortunately, did not return my requests for comment, so I suppose Spicer's take on wax museums is a mystery that can never be solved.
In the very elevator on the way out, the attendant asked the crowd what their favourite part of the museum was.
"Trump!" a girl, who was maybe 12, exclaimed, as if she was saying a dirty word.
"OK then," the attendant replied, deadpan. The girl and her friends giggled maniacally.
Sign up for our newsletter to get the best of VICE delivered to your inbox daily.
Follow Eve Peyser on Twitter and Instagram.
This article originally appeared on VICE US.