Among the many things Mumbai-based producer and singer Radhapriya Gupta learned at her year-long stint at recording school in Vancouver last year was the inherent "complex" that male students got when they saw women doing better than them. She says, "They try not to let it get to them, but it does bother men when they see women do better than them in a more technical field. It's everywhere, though."
A student at the Nimbus School of Recording and Media, Gupta spent the last four months of 2018 working under the moniker Noni-mouse on her debut EP Noni-pop, which started off with the moody, shape-shifting trip-hop song "Closer To You." While the beat was born out of a sampling exercise in school early on, the lyrics detail a story of longing, how communication may not always make up for distance.
Gupta, who has been part of New Delhi electronica group Tankbund and is also part of choirs (carrying forward a college-bred interest from Delhi University's Sri Venkateswara College), is a fan of everyone from Courtney Barnett to Ty Dolla Sign. While the plan is to focus on releasing more material, she's got an eye on taking Noni-mouse live. And as much as she's seen men are prone to a little envy, Gupta is keen to collaborate with "good people."
Interview below.
VICE: What is "Closer To You" about?
Noni-mouse: The lyrics are a lot about being far away from everything you like. I had a lot of time to kill in Vancouver, a lot of empty days. It's not just about relationships.
How did the idea to crowdsource a music video come about?
I found this song generally hooky and anyone can sing it. It does stay with you. The idea was to show that whoever has heard it wants to sing it. That's one of the things we tried to do with this video.
My goal was to make a zero budget video and we've done that. I haven't paid a single person – I'm not taking pride in that fact – but it's all out of generosity of close to 15 people, including people who participated and reached out.
There are more women than men in this video. Is it because more women sent in entries? What was the editing like?
I think there were more women, and at some point I definitely wanted to make it all-women. But videos were still coming in, but then Venky (Venkataraghavan Rajagopalan) who was editing it and Nikunj (Patel, co-editor) too said that it wouldn't be fair to the others who had sent in footage. Those guys took the time out to do this, so we should include as many people as possible, especially if the footage is good.
The first idea was to make it all-women because that would have been very close to my perspective of the song of just sitting far away and making a little video for someone you like who's sitting on the other side of the world, and you can't be in the same room.
You have another vocalist on this track as well.
Matt Dumas is someone who used to sit next to me in class at Nimbus. I think adding another person to a song is like adding another perspective to it. It's almost like a conversation then. I felt like somewhere, it needed that, somebody else saying those words, to make it more believable. It fits in with the idea of the song. It's not just about me feeling this way. There are other people who feel this way.
What influences inform your sound? It was made in the one year you spent at Nimbus taking in a new environment.
In terms of percussion—and I've used quite a bit of that in percussion sections in both those tracks —I think I took a lot from the Paul Institute, which is the Paul Brothers, A.K. and Jai Paul. I wanted to do something like that. I definitely sat down and studied a bunch of their songs and the how and why of what they did.
In terms of vocals, I think I took inspiration from artists like Spooky Black and Ty Dolla Sign, I love their sultry vocals and I think I wanted to go for contemporary R&B vocals. As mainstream as Ty Dolla Sign might be, I think he does a fantastic job of whatever he does.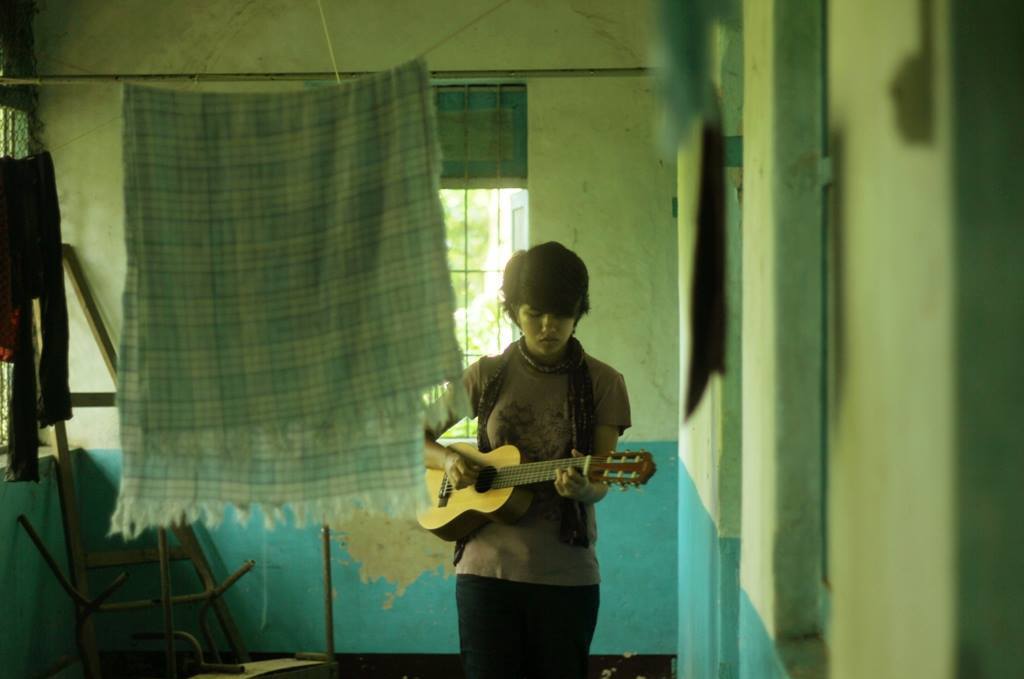 What has your experience been like as a woman in the producer field?
I know women producers should be… since I've been going to interviews in a lot of industry places, like studios, the people there say, 'Oh you know, there aren't a lot of females in this industry'.
How do you feel when you hear that?
Why should it matter? I know we're trying to push females in the industry, but at the same time, let's just talk about skills. Shouldn't it be just about that?
I'm not saying females don't need that push, they definitely do, but finally it should be about what you can bring to the table. I don't specifically look out for female producers or DJs to see what they're doing. I'm more concerned with what the music sounds like.
I'm pretty sure there are enough women doing this, you just haven't noticed. If people haven't noticed, maybe they need a little more spotlight. More than opportunity, the gender ratio needs to be corrected.
What's coming up?
Once the video is out, I want to put out the EP in the same week and then hopefully some visual material for the second song. Then yes, definitely going to gig. I want to take it live, but being the person I am, I wouldn't want to half-ass it. It requires a lot of planning and details and it's a task to manage people. It's definitely going to be three or four people, I shouldn't be the only one up there.
I want good people to become a part of it and collaborate and perform with me. Everyone brings something different to the table, something I haven't thought of, so why miss out on that? And it makes things more fun. Standing alone out there is boring as fuck.
Follow Anurag Tagat on Twitter.