SWIDT don't mean to brag—but they mean to brag. Since Aaradhna rightfully declared the group "the future of hip hop", they've done nothing but put numbers on the board, chalking up a clutch of Top 10 iTunes and NZ Heatseeker entries, releasing their devastatingly cohesive debut album STONEYHUNGA, and an ever-expanding merch line.

SWIDT's slick talker par excellence INF explains why the Onehunga collective is only just getting started.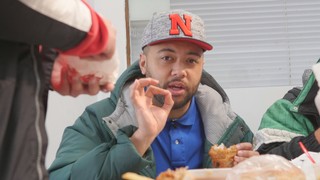 VICE: Your manager's Instagram alerted us to the fact that him and SmokeyGotBeatz have been in London and Paris while the rest of SWIDT are back home. How come you didn't get the invite?
INF: Oh man, I think it's just like Smokey is the pinnacle of our team and the trip is more focused on the production side of things. But we're happy for him—he's the main guy and the reason why we're here is because of him. He's done a lot of work and we're just grateful to be part of the wave.

Smokey's been working with Gappy Ranks and a handful of grime artists like Novelist and Jevon in the UK. Is this part of a game plan to find new markets for your sound?
Exactly. It's a step towards goals and it makes that next move feel much more achievable. He's been telling us he connects with those artists a lot easier than he did with people in LA because the age gap is real close. I was like, make that connection and then everything can go from there.

You might have to step up your syllables to spit over some of those grime riddims…
I know, I know! We might have a track with Jevon or Smokey might have a placement on one of his tracks. I think Smokey's with him right now. They went to Paris, hung out, and I think their connection is pretty strong.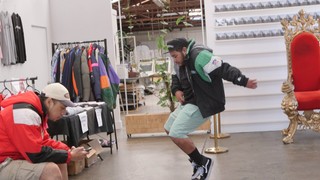 Sounds like an opportunity for a 'Polys in Paris' track?
Bro, I was thinking that the other day—we've got to do that!

And then perform it 12 times in a row…
Yeah, yeah. Just do it 12 times like Jay-Z and Kanye, whether the crowd wants it or not.

The photo of Smokey in front of the Eiffel Tower holding a STONEYHUNGA T-shirt is killer. Now that SWIDT's made a bold claim to the throne in NZ, what's the next territory you want to take?
Well, we want to do a tour in New Zealand for sure because I think we've got Auckland sorted, but we've got to step outside of our boundaries and go up north and down south and spread the word about the most electrifying rap group in entertainment! After that, we're going to hit Australia as well.

Collaborations with TDE and Pro Era, impressive co-signs , blanket multimedia coveragethe STONEYHUNGA campaign has set the benchmark high. Is the next move to pull a Flight of the Conchords and approach HBO?
You know what, we want our own TV series. We want to do it all man, there's no limits.
Funny you mention Pro Era—I was just on the phone with CJ Fly last night and he's like, "Yo man, we've got to do more things than music. We should do a US vs NZ gaming stream." Pro Era needs some competitors to challenge them on like GTA or Tekken or the latest fighting game and just stream it. And I was like, man, that's a good idea, that'd be cool.
But TV is the goal really, going straight to the big guns. You've also got to stay ready and keep in mind that there may be a few detours on the way.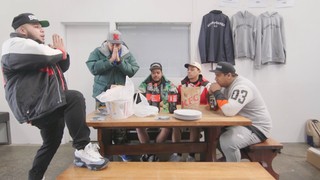 Last up, you opted for a "Last Meal with..." feed at the Royal Oak KFC, spitting distance from Onehunga. You don't want to rethink that and grab a steak and cheese from Penny Lane's Bakery?
The thing with Penny Lane's is you've got to be quick. There's only two bakers in the bakery whereas there's a lot of staff at KFC, so you're more likely to get some fresh, hot chicken than a hot steak and cheese pie because they just sell so quickly.
READ MORE: Rappers SWIDT Are Repping a Fast Disappearing Suburban Auckland

Follow Sam on Twitter.