National has announced a new policy that will cut benefits in half if beneficiaries fail a drug test and don't go to rehab—but experts say the measure could risk worsening addiction issues and drive people onto harder drugs.
The policy, announced today by Minister of Social Development Anne Tolley, came wrapped up in a $72 million package designed to get more young people off the benefit and into jobs.
"Job seekers without children who refuse work experience or training or recreational drug rehabilitation will lose 50 percent of their benefit entitlement after four weeks of not meeting their obligations, with further reductions if that continues. This will also apply to those who continue to fail recreational drug tests, where these are requested by prospective employers," the press release reads"The lower benefit payments will only be able to be used for essential needs such as rent and food."
The latest announcement comes despite concerns raised within the Ministry itself about the efficacy of drug testing. Documents released under the Official Information Act show staff raised concerns with the Minister that workplace drug testing had considerable scientific limitations, could drive people with drug problems further into addiction, and may be pushing people to use harder drugs with shorter detection times.
"Increased drug testing may be leading to the use of more harmful drugs, such as methamphetamine, that have a shorter detection period," the report to Minister Tolley states.
For a regular user, cannabis be detected in your system for up to a month after use, but amphetamines only have a detection period of one to four days. As a result, the report says, there are accounts of some employees turning to meth rather than weed to get around tests.
While there is little data available measuring this as a consequence of workplace drug testing, there is "anecdotal evidence that increased testing has led to employees and job seekers using drugs that have a shorter detection time, but are more harmful," the report says.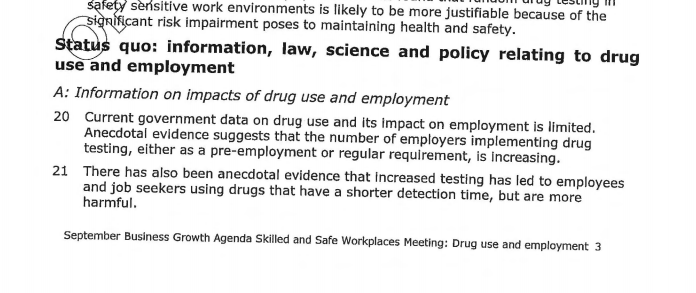 Ross Bell of the NZ Drug Foundation told VICE that international research conducted in the welfare sector and in prisons demonstrated the introduction of drug testing resulted in a shift to more harmful, but harder-to-detect drugs. "In New Zealand, that means methamphetamine, but we've also seen people shifting to synthetic cannabis, which isn't picked up by most drug tests," he said. Synthetic cannabis has killed 10 New Zealanders so far this year.
The report goes on to note that employees failing a drug test may not actually be impaired by their drug use: "The science of drug testing has considerable limitations. Current drug testing methods detect drug residue, rather than impairment. As a result, it is difficult to determine whether an employee is impaired at work."
On health outcomes, the briefing states that while for some people drug-testing may work as a deterrent, it could end up further alienating those with serious drug problems, and worsen the addiction spiral. "Where an individual has a serious drug problem, testing can act as a barrier to employment, which can in turn exacerbate the problem," the report says.

Bell said the policy makes the assumption that treatment would be available to those who sought it. "We already know NZ drug services are overwhelmed," he said. "There are 50,000 people in New Zealand every year who seek help with alcohol and drug use and can't get it."
He said it currently cost roughly $150 million to treat the approximately 50,000 New Zealanders currently in drug and alcohol rehabilitation services. "Doing some rough maths, that means you could need another $150 million just to meet the current unmet need," he said. "This policy risks identifying a whole lot of people with problematic drug use, and then having nowhere to send them."
He said drug rehabilitation services were particularly lacking in areas with high youth unemployment—where there were likely to be large numbers of young people on benefits, who would be affected by the new policy.
Tolley said in a release that the $72 million, spread over four years, would also go towards more rehabilitation services and more work experience and training for beneficiaries under 25. In a statement to TVNZ, Tolley said those on waiting lists would not be sanctioned.
The latest announcement follows National's new policies of boot camps for young offenders, fines for kids out at night, and new powers for police to search the homes of gang members without a warrant.