Welcome back to Doin' Work: Flash Interviews with Contemporary Photographers. Here, I celebrate the photographers who inspire me every day and offer an easily digestible bite of their personalities and work.
This week, we have Carl Gunhouse. He received his BFA from Fordham and his MFA from Yale. He contributes to publications like VICE and the New York Times, and his work has been exhibited all over the world, from the Rhode Island School of Design Museum of Modern Art to the Fotogalería FCE-UNC in Córdoba, Argentina. He also co-founded and directs Transmitter Gallery in Bushwick and runs a small photography book imprint called Waal-boght Press.
His current project involves wrestling, punk rock, and Downtown Brooklyn.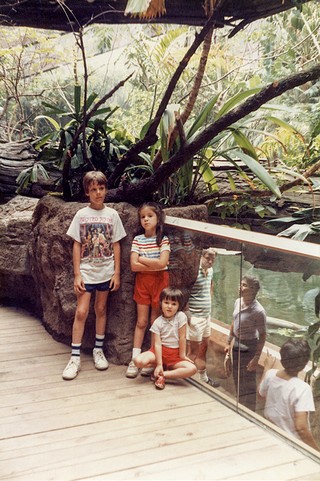 VICE: Where do you live and work and how does it impact your photography?
Carl Gunhouse: I live in Greenpoint, Brooklyn, and for the past couple of years, I've been making pictures in New York and New Jersey. My most recent work, about men, is the first time in awhile that I've made something locally. It's been a mixed blessing. It's great to be able to photo without a lot of planning or travel expenses, but having everything so accessible leaves me guilty. I feel like I'm not doing enough.
When and how did you get your start in photography?
My mother was a photographer, so I always got to play with her camera and take pictures. But I didn't start to photograph seriously until I was in high school. I got into punk rock, specifically a sub-genre called hardcore, but wasn't musically inclined. So photography provided me an opportunity to participate.

What compels you to pick up your camera?
My wife doesn't feel the need to break down and debate movies after we see them, or for that matter, get into long conversations about why she does or doesn't like things. At some point, it occurred to me that feeling a constant need to share how you feel about things is specific to artists (or emotionally unstable people). I've always felt a compulsion to share what I thought about stuff, and the camera allows me to do that.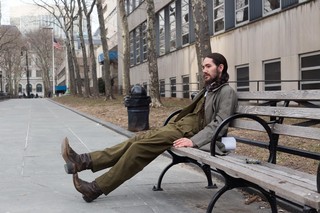 What are you working on now?
Over the past three years or so, I've been photographing professional wrestling and hardcore, and doing a project on the development of Downtown Brooklyn with Jason John Würm and Matthew Schenning. All three have dovetailed into a body of work on men.
If you had to explain your work to a child, how would you describe it?
Probably how I describe my work to adults, in a rather self-deprecating way. I am taking pictures of men.
Do you make a living as a photographer?
No. Making art drains my bank account. I teach college kids photography for a living. Between the gallery and teaching, I don't get much art done during the semester. I am working on trying to force myself to do more art during the school year. I am not sure I've found a balance yet, but I am working on it. But even when I am not taking pictures, teaching and the gallery keep me thinking about art, and that feeds back into my practice.
Is there an image you feel you're best known for?
I'm not sure, but this picture of a homeless street preacher ICryTheProphet has found a large life on Tumblrs dedicated to naked men. I photograph him a bunch. Some people have even commented that they see this homeless man every day. Which, for me, is fantastic: Somehow, my work is someone else's porn. I find it amazing that when they're looking at porn, they recognize a local homeless man.
What, if anything, frustrates you about photography?
I'm not sure I have any complaints. Photography seems like a large nebulous thing that is a tool more than anything else. It is applied for good and bad. And certainly, it has provided me with a purpose. I wish I was better at it.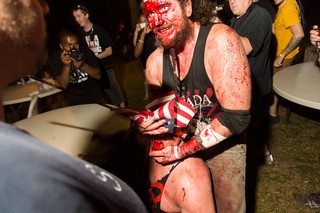 Describe your working process.
I try to go to places where there will hopefully be things to photograph and generally try not to think and just respond. I find the more I try and do something the worse it turns out, so I do my best to stay out of my head. I've been making more portraits, which doesn't come naturally to me, so every time I shoot, I try to force myself to ask at least one person if I can take his or her picture. I also tend to beat up on myself when I chicken out and don't approach people. I try to remind myself I can always go back and approach them.
Describe the approach you take when establishing a relationship with a subject.
I try and hover and let people see me take a random picture or two. Then I usually start with small talk like, "Hey, I like your shirt, hat, hair, etc. Can I take your picture?" If someone approaches me or starts chatting, I try to finish the interaction by asking to take a picture. But most of the pictures of people I take have been of strangers, so the relationship is brief or only as long as the person wants to keep talking to me.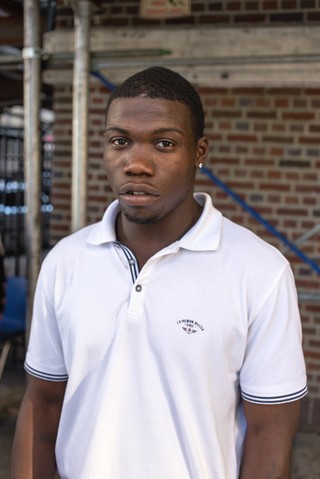 What do you think of the vast sea of online photography?
I have mixed feelings as most do. I think the internet has certainly provided a platform for all kinds of pictures to get out in the world and for photographers to find a following and a community, which is great. It has certainly created a greater public interest in the medium, which is good. But man, it can be depressing how many good photographers are out there who I've never heard of. And it can be very easy to feel that I am just one of an endless supply of good photographers who doesn't necessarily stand out. I am not sure I've done anything different, but I do my best to at least get my work out there. I follow a bunch of websites in hopes of staying current and continuing to be involved.
What are you most proud of in terms of your work?
It's weird. I tend to think of my work as what I get out of doing it more than what I am proud of in the result, which tends to feel imperfect. For instance, I don't have my own work up at home. I guess I've been proud that people have been willing to publish books of my work, that other people believe in what I've done enough to put up their money. I always find it touching.

What are you doing when you're not making pictures?
Working and spending time with my wife and family. And with photographing stuff, I would do for fun, like hardcore shows or professional wrestling. I am photographing when I used to not be photographing. I have Yankee season tickets and thankfully haven't started photographing that yet.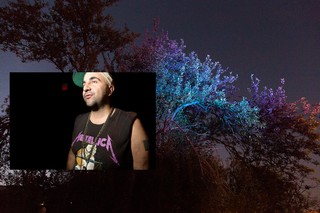 What do you think the future of photography might look like? I don't know. That's a good question. I remember getting out of grad school in the early 2000s and things seemed almost frustratingly open and chaotic. But looking back, I think you can say, yeah, Alec Soth or Roe Ethridge were very important and shaped how things were going. But now it seems like any coherent photographic history narrative has broken down, and anything is possible. I am excited to see how history will make sense of what is going on now. So I am going to play it safe and say that it will be like it is now, that people can be contemporary and make straightforward pictures, or staged narratives, or cameraless pictures, or curate vernacular images, or whatever.
Name three contemporary photographers who blow your mind. Scott Alario, Matthew Connors, and Stacy Kranitz
The most important question of all: dogs or cats? I grew up with dogs, and I am still a fan. But between my wife and me, we now have three cats—Princess Wonder Kitty, Juan, and Winnie. They are as affectionate as dogs I've had, but I like that I don't have to walk them, much as I would like to, and that we can go away for a weekend and not have to worry about having someone look after them.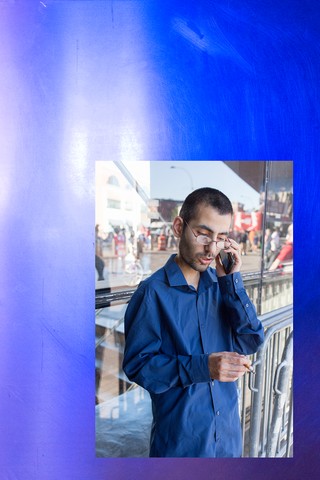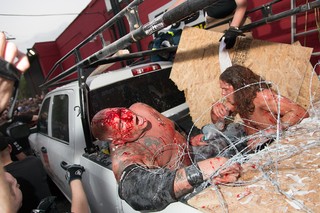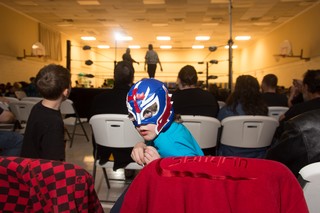 You can find Tara Wray's work on her website.