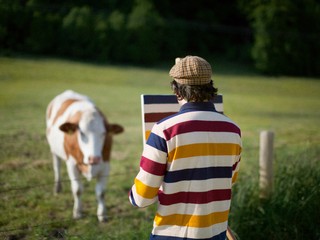 It's rare to see photos that are as clever as those in und im sommer tu ich malen, a new book by Hank Schmidt in der Beek and Fabian Schubert. Fabian is the photographer, Hank is an artist and the man in the photos. The book's title translates to In summer, I paint.
The whole escapade was Hank's idea. He wanted to visit all the places where Europe's most highly regarded plein air painters made their best work — Cezanne, Monet, Van Gogh — and, while looking out over the same vistas, paints the pattern on his own shirt.
Often, the most brilliant art isn't earth shattering, it's much simpler: just a very good idea that's been very well executed. That's certainly the case here. Und im sommer is that special type of funny, where the jokes aren't made at anyone's expense. Even Hank, in the pictures, looks like he's chuckling along too.
Now that he's wrapped the series, finished the paintings and put them all in a hardcover book, we've heard Hank is spending his newly acquired spare time writing poems in the Bavarian dialect. He plays them live with Franz Ferdinand's Nick McCarthy. They have a reggae band together.
Hank and Fabian's und im sommer tu ich malen is available through publishing house Edition Taube here. If you really like it, there's also a special edition.
Words by Isabelle Hellyer. Follow her on Twitter.