The amount of times I've had to sit there and listen to someone from a different generation lament for everything that our generation is lacking. We all know what you think of us, we have heard it many times before. Factor in the word Māori and you will propel yourself into a whole other avenue of negativity. Māori youth are apparently, at risk, disengaged from education, causing mischief, and falling victim to teen pregnancy.
Of course, this is not an accurate portrayal of young Māori, but for the cast and crew of Waiora (Te-U-Kai-Po), such rumours have been incredibly motivating. Waiora (Te-U-Kai-Po) started last year as their Year 13 theatre project at Whangarei Girls High School. It is a tweaked version of Hone Kouka's well known play Waiora, which has toured internationally. The play follows a Māori whānau from the East Coast of the North Island, after they have moved to Christchurch. As a result of disconnecting from their homeland, their language, their people, the family at the centre of the play feels a lot of hurt. It's a story that many Māori have heard from their own parents and grandparents who have a similar story to tell.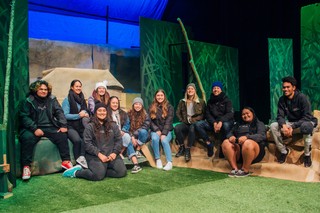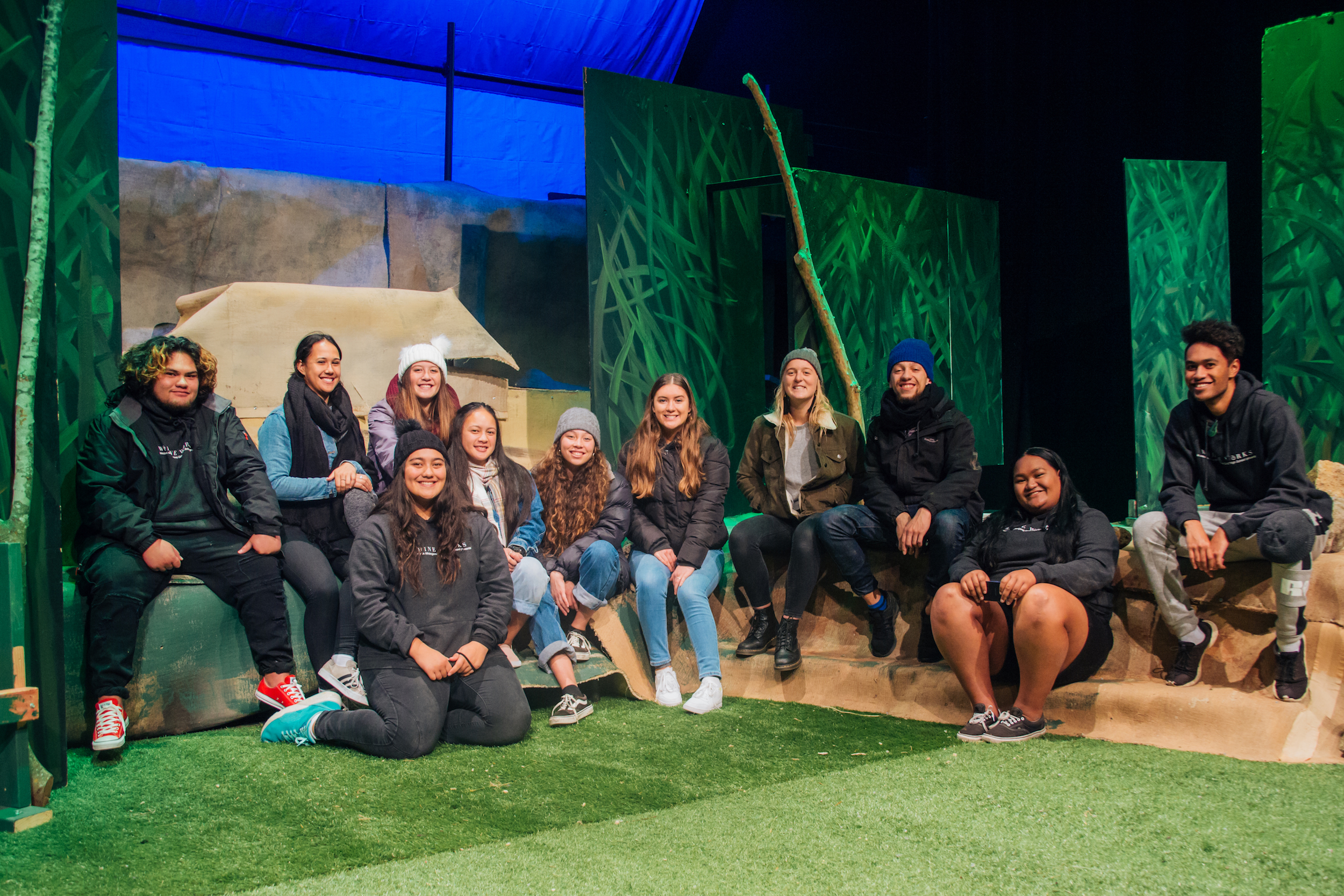 They are pretty honest about the initial decision to perform the play, they just wanted to pass the class and get their NCEA credits. Leihana Shelford-Tito who plays Hone in the play said she initially wanted to do another play from Kouka, The Prophet.
"I thought that Waiora was more of a spiritual side, and I'm not really that type of person."
That spiritual side is the way the show deals with the idea of a homeland and ancestors. It is articulation of a Māori connection to the land. What happens when that spiritual side is neglected?
Their first run of Waiora was hugely successful. Around the same time, the Northland community was rocked by a series of suicides. Whakamōmoritanga and mental health are issues that are prevalent for their community. These young people decided to do a second run of the show, with a more intentional focus on mental health and suicide. They had to start some much needed dialogue; to revive a conversation about health in their community. Zahra Cherrington-Irving who plays Amiria has her own personal connection with the story.
"It was for all the mental health issues, and suicides that had been happening all over Northland. I lost a lot of friends last year to suicide, and have a lot of friends that are [affected by their] mental health. We definitely wanted to make that our kaupapa."
It is a kaupapa that is felt by all of the cast and crew. But they also emphasised that not everything in Waiora was based around such a heavy subject. Tracey Kingi added, "It's not all about whakamōmoritanga. It's a whole conversation of Māori achievement, how our reo did get stripped, things like that. The things we need to work on, our natural environment."
They seem to have had an effect, because the second run of the show brought them into the national eye. They sold out 160 seats every night. One night they put rows of seats in the entrances to fit more people in, even though they weren't supposed to. On the last night they had lines out the door. MP Kelvin Davis went to see it, so did Willow-Jean Prime. So did Don Brash. The crew were aware that at the time Brash came to see the show, he was campaigning to have Te Reo removed from mainstream radio. That was the Waiora effect. The show features haka and waiata, and use of Te Reo Māori, but Zahra and other cast members assure us that the show is completely accessible to non-Māori speakers.
"For us it was like, if you are Pākehā and you can come and watch this play, then why can't we have Te Reo on radio stations?"
They have been invited to Wellington for Kia Mau Festival—Kouka is the artistic director. We found them packing into Hannah Playhouse, which sits on the end of Courtenay Place in Wellington. The location will see a whole new type of audience welcomed in to the show. This time around the cast and crew are really looking to push a powerful message of what being a young Māori person can look like; and that it doesn't have to be negative. Earlier in the day they stood outside the Wellington Railway Station shortly after a hail storm and handed out flyers for the show to the incoming crowds of commuters. They were eventually told to move on because a guard thought they were protesting.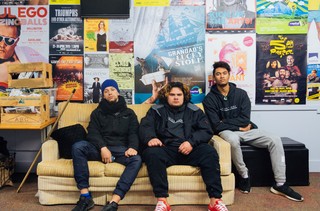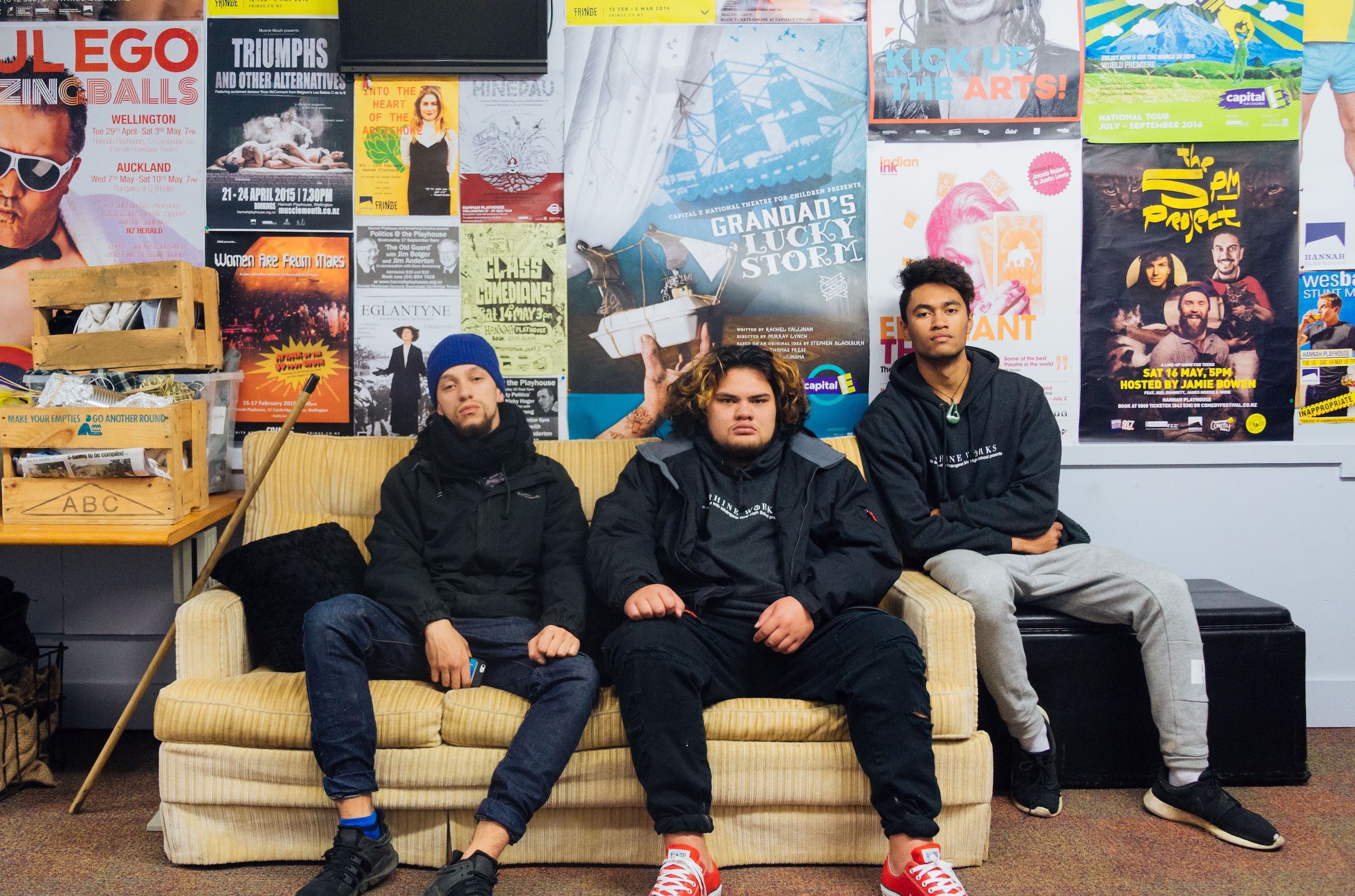 It has taken a lot of work to get down here, a lot of which has been done by these young people themselves. If they want to make any money off the show they need to sell out every night. But when the opportunity came to bring their show to Wellington, they couldn't say no. The ex-high schoolers started a company called Wāhine Works. The cast also features three tāne from neighbouring Whangarei Boys High School. This show was first created by a female cast and initially they did plan to do it without the boys. Eventually they decided that for the strength of the play, they needed the mana that the tāne brought in their roles as tūpuna. As Tracey puts it, "The tūpuna (ancestors), they connect with Rongo. We come through and in and out of the play to remind the family where they came from and that they are Māori."
Ngarimu Wyatt isn't bothered by the gender balance. He and the other tūpuna know what their place is in creating the narrative.
"We play tupuna in the play. For us, we are her conscious, also we are her connection to Waiora, her direct line to home."
We rarely give young people the credit they are due. What is happening here in Hannah Playhouse at Kia Mau Festival is groundbreaking. Here is a cast of young people, fresh out of high school. At a point where most of us actually have no idea what we are doing, they have found the space to present their message of empowerment as young Māori to the capital's audiences. The spaces in which young Māori people have been the architects of their own speaking stages are few and far in between. Wāhine Works is an exciting work in progress.
Meg Robinson plays devil's advocate in the show, but outside of her role she expressed the significance for them in bringing the show to Aotearoa's capital city. "I think this time round, a lot of us are down here showcasing Māori achievement. For the politicians to see, Ministry of Education to see, for all of those places to see. Because we are from Whangarei. There is a lot of talent from Whangarei. But none of them have the opportunities to come down here."
Kayah Thompson plays Wai, who is the mother of Rongo in Waiora. As a final note she added,
"I think it meant more to our community than just a play. We were creating awareness about mental health, suicide, identity, our culture. All of those were themes that people in the audience could connect to themselves. In the first season we didn't necessary try to promote those themes, but it came across."
Waiora (Te-U-Kai-Po) is showing at Hannah Playhouse in Wellington from June 1-9 for Kia Mau Festival.
Check out Waiora and Kia Mau on Instagram. And follow Kahu Kutia here.