Neave Brown is a social housing visionary. He designed some of London's most pioneering and well-known social housing developments of the 20th century. His Alexandra Road and Ainsworth Estate, with its massive, curving concrete terraces, will be familiar to anyone with an interest in modern architecture. Last month, Neave was awarded the UK's highest honour for architecture: the Royal Institute of British Architects (RIBA) Gold Medal, and he's the only living architect to have all of his work UK heritage listed.
Working in Camden in the 1960s and 70s, when local councils and even the Labour and Tory parties were competing with each other to build more council houses, Neave was a key player in social housing in the UK at its high point. His Alexandra Road scheme and another project near Hampstead Heath added nearly 600 homes to the council's housing stock and were completed within two years of each other, while his colleagues in the same housing department undertook similarly ambitious projects.
However, Neave's time designing utopian estates in London was short lived. As his Alexandra Road scheme was nearing completion, some members of Camden Council turned against Neave, instigating a public inquiry into buildings costs, which had skyrocketed on the project. The inquiry found the architects were not to blame for the overspending, but the negative publicity meant other local authorities wouldn't employ him. In what was a tragedy for the architectural profession, he never worked in the UK again (though he did complete projects in Italy and the Netherlands), but his estates stand testament to his bold, if brief, period of work in London.
Today, despite massive housing waiting lists and a growing housing crisis, some councils are building absolutely no new social housing. We asked Neave what's gone so wrong with social housing and how we might get back to the golden age he was a part of.
VICE: Since the days you were completing your projects, councils and governments seem to have abandoned the ideals of social housing – and those living in council homes have become marginalised and ignored. Do you think the Grenfell fire will change things? Is it a wake up call?
Neave Brown: The inquiry into Grenfell is avoiding the real issue: social housing. Grenfell is one of many, many tower blocks throughout England of the same standard that never should have been built. It's part of an urban-wide, nationwide problem of inadequately built housing that is wrong, dangerous and socially destructive. The inquiry should be about all the people who are living in bad buildings, which have been built over the last 40 years. Twenty storeys high, with two slow lifts and only a badly designed staircase, with fire doors that don't give it the security it needs, and four flats or more on each floor around those staircases – it's a deathtrap. These blocks segregate people, divide communities, keep classes apart, keep people on low incomes in desperate places, keep children so that they can't play together, and it's all wrong. Not all of those tower blocks need to be rebuilt for fire purposes, but they do need to be rebuilt for social purposes.
You're not a fan of tower blocks – you've always designed low-rise schemes, set in terraces, with private gardens. What's inherently wrong with blocks like Grenfell?
The idea of the high-rise comes from the modernists of the 1930s – [Charles-Édouard Jeanneret, an architect known as] Le Corbusier and others – who thought you should destroy the old idea of the city and replace it with a lot of new high-rise buildings set in big open spaces. In practice, throughout the 20th century, though, these ideas were corrupted and changed so that housing density could be increased. This has meant high-rise buildings have been plonked into mixed urban developments, leading to cramped and overly-dense residential areas. It should never have happened.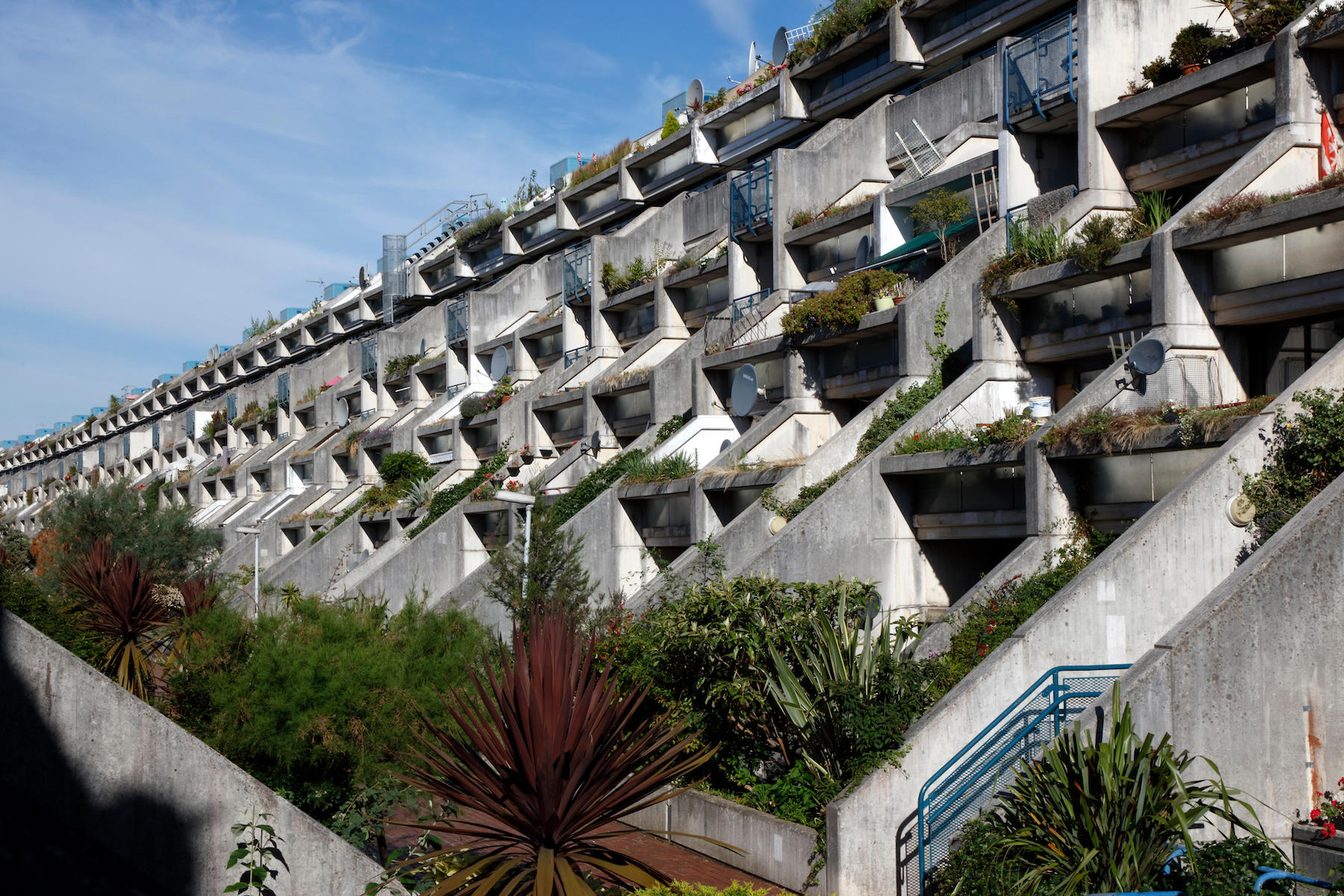 I have issues with Corbusier's underlying ideas about the city as well. He said in so many words: "The street disgusts us." His idea was to replace the old city with something completely new. But in Fleet Road, Alexandra Road, etc I began to reject the notion of modernism as wiping out the past; I embraced a modernism which took on board the notion of a continuing culture and history.
Our European city culture on the whole has been based on houses on streets. So, my designs are focused around the street. They contribute to existing areas, they don't try to erase the past. In the 1950s and 60s in Camden, we were pioneering an integrated way of doing things, a true modernism. And it was a huge change of thinking from the 1930s school.
We're facing a massive housing crisis. You're probably one of the best qualified people to tell us how to get out of this mess. Say a Labour government does come into power and honours its promise to build millions of new houses – how is that done?
First you have to set up a basic national building authority, then draw up a national document on house building, working on the Parker Morris standards of the 1960s. Morris created "Homes for Today and Tomorrow", which was an absolutely remarkable adventure into housing. It meant housing could be flexible, with a range of designs; it encouraged experiment. We need a new version of this. These building standards would be used by local authorities, who would build the houses.
And then local authorities will need to be compelled to get going. The first thing here is to reverse the cuts imposed since Thatcher on local authorities – that stopped them building council houses in the first place. Bring the subsidies back for local authorities. That will get the building going. Then these local authorities must be protected from government interference, otherwise we'll find ourselves with national budgets that then try to abandon our high quality standards for housing. Next, we need to set it up so we can combine social housing programmes with programmes of different standards into single schemes. We need to pursue the idea of integrated housing that improves the whole social idea of the city, not just putting some people in one place and other people in another. To restore our cities socially, we use mixed developments.
It seems now it's come full circle with your generation. In the 1950s you were reacting against the destruction of war and the excesses of capitalism – the remnants of slums, awful living conditions, inequality. Now a new generation are reacting against the same sort of things once again. How hopeful are you?
It has. My generation, going into architecture after the war, felt we were going to make a new England. We were leftish. I read Karl Marx when I was a schoolboy and that wasn't just me. We had a notion that things needed to be different, but with no acute programme. We were trying literally to create a more egalitarian society. And now what we have, unfortunately, is a system of total social abuse. So, yes, we need another period of change.
I've become more hopeful recently that this change will come. For a long time, I thought my buildings in London had simply sort of disappeared – they'd become buildings of a previous generation, looked on only as curiosities. But I was wrong. They're more recognised than I ever thought. They're being looked at with more and more interest by a younger generation, as models of how things should be done. Young architects are frustrated with the way things are now in the profession and the world. We had a big talk last week with an audience of 1,200 people and a queue outside that couldn't get in. The audience was almost all young architects. They're desperate about how the profession and the world works, and just don't want to go on with the way it is. So it's encouraging that there's this interest.
---
WATCH:
---
Is this is your comeback moment after years in the "wilderness" after the public inquiry? Could you talk a little about that?
The inquiry ruined me, as far as working in England was concerned. I went on to work in Italy and the Netherlands, but nobody ever gave me another job in England. The inquiry was set up by Ken Livingstone, and others who came into Camden Council in the late-70s, who hated Alexander Road. There were a series of catastrophes of one sort or another that we had no control over: the three-day-week, government capital was being transferred to other developments and building costs were soaring out of our control. Ken Livingstone exploited that situation and had a public inquiry on the conviction that the architects had been incompetent. In the end, the public inquiry criticised the council and exonerated the architects. But it ruined me professionally because nobody is going to use an architect who's been the subject of a public inquiry.
In the end, there was no public reaction against Alexandra Road. They thought there would be. They didn't think people would want to live there. But, in fact, people queued to apply to live there and they've never had a single problem ever filling it with people. And it was popular from the start. So, now, what with the medal and the talk, it seems I have been taken back in by the architectural establishment – I've been hauled back.
Bear in mind, though, without being dramatic about it, I don't have long to live. I really don't, with my lung cancer. When they diagnosed me four months ago, they said I had six months. I'm determined to have more than that. But can you imagine, this is all literally happening at the end of my life. It's my farewell process, which is kind of funny, isn't it? Amazing to go out like that, I suppose.