"I've been asked why we need a Ramadan cookbook," says Lina Saad. She recently published Ramadan Express, a collection of recipes dedicated to the month-long fasting period observed by Muslims.
The question is understandable. What use is a cookbook during a religious period that forbids eating between sunrise and sunset—sometimes for as long as 19 hours a day?
"Muslims in the UK need inspiration for iftar and suhoor," Saad explains, referring to the meals eaten at night and before the dawn during Ramadan. "Do you know how boring fasting is? You always need new ideas."
Saad and I are at her home kitchen in Hounslow on a rainy Thursday afternoon. The table is covered with bowls of fattoush, spicy potato salad, kibbeh, spring rolls, baba ghanouj garnished with pomegranate seeds, and sambousek—a type of cheese-filled pastry. Save for the weather outside, it's a sight that could be found welcoming guests in any Lebanese kitchen.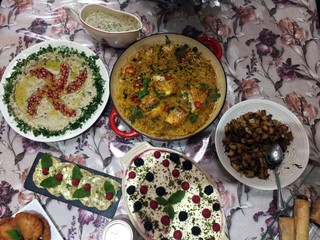 The feast transports me back to summers spent at my grandmother's in Beirut. Mountains of food would jostle for space in her kitchen hours before iftar began. Saad gestures for me to tuck in and I plump for the kibbeh. They're so moreish I debate how long I can hold myself back before reaching for another.
Ramadan Express, which includes recipes for the dishes displayed in front of us, as well as Saad's own reflections on the religious time, is the first dedicated Ramadan cookbook to be released in the UK. I ask what compelled her to write it. We flit between Arabic (at least, the little I remember of it) and English.
"I wanted to do something unique," Saad says. "Why not be the first to do it? We have books for Christmas, Easter, Thanksgiving. There's definitely a growing trend for Ramadan."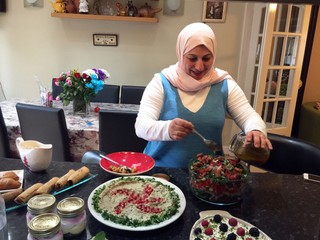 While Saad acknowledges that those observing Ramadan will benefit most from her book, she insists that it's "not just for Muslims." Recipes like lentil soup, fried aubergine with yogurt, lamb shank, and couscous are universally tasty and use readily available vegetables. Fasting or not, no one enjoys trawling supermarkets for obscure food items.
"You won't need to walk 100 miles [for ingredients]," Saad laughs.
The recipes in Ramadan Express also reflect Saad's own food journey, from her upbringing in Sierra Leone and teenagehood in Beirut during the civil war to the 25 years she has spent in London, carving out a career in the food industry. Traditional West African dishes like jollof rice and peanut butter stew sit alongside Lebanese shwarma and maamoul—a semolina pastry flavoured with rose water, often eaten at Eid.
"When my parents would leave us with our nanny, we'd sit with the chefs and eat with our hands," Saad says, recalling her childhood in Freetown.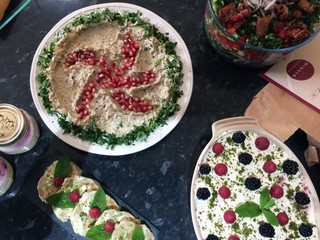 She gestures for me to eat more. My stomach rumbles at the lamb spring rolls and I pop one in my mouth.
As well as giving her a platform to share personal recipes, Ramadan Express has allowed Saad to address misconceptions surrounding her religion. Seven pages in, she writes: "Islam does not encourage killing, shooting, or fighting. I can assure you that a real Muslim would never kill or shoot or plan to bomb themselves." The statement is all the more pertinent in light of this week's attack in Manchester.
Does Saad feel frustrated at having to defend Islam in a cookbook, of all places?
"It's a message to explain to people who don't know what Islam is about. They only know the negative parts of it," she reasons.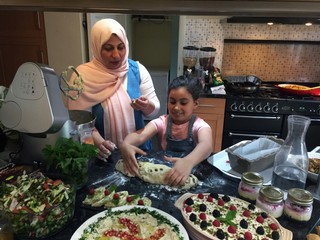 From the Orlando shooting last Ramadan to armed police forcing French Muslim women on the beach to remove their clothing in August 2016, there's no denying that anti-Muslim rhetoric has intensified over the past year, reaching a crescendo with Trump's Muslim ban in January. Perhaps because of this, Saad found that some food publishers were reluctant to work with her.
"One publisher directed me to one that specialises in religion," she sighs, now kneading the dough for a coconut and saffron plait. "Some people think, 'Oh Ramadan, that's religious'. My book is about food reflecting culture."
Saad initially considered naming the book Sweet Creations, hoping to make it more palatable for non-Muslim readers.
"To one extent, I was worried about having my [headscarf-clad] picture on the front cover," she explains. "But then I realised there's no point hiding behind your shadow and who you are."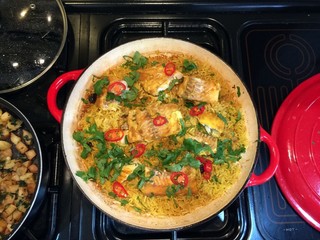 As she rolls the dough into three ropes, I eye up my next course: a plate of steaming cod drizzled in tahini. Saad's young son Hsein and daughter Lameece join us in the kitchen to pilfer kibbehs while their mum's back is turned.
Saad does concede that she's luckier than she would have been as a first-time Muslim author, given that her first book, The Land of White, a Lebanese cookbook and memoir, won a Gourmand Cookbook Award.
"If I'd gone to the publisher as a first-time author with the idea, they'd probably have raised their eyebrows," she says. "I have come from a slightly more established platform."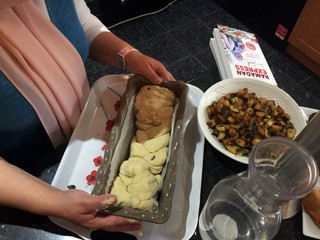 As I hoover up the last of the rice and Saad places the finished plait in the oven, she admits that she is conscious of being labelled based on her nationality or religion—a concern echoed by many Muslim women I know.
"Yes, I can cook Lebanese. But I can do everything! I'm multifaceted, I'm multinational. So don't label me as the Lebanese guru," she says before beaming: "You can call me the halal Nigella!"
Saad takes the plait out of the oven and brushes over an egg wash made with instant coffee, which turns the dough an autumnal brown. It then goes back in to bake.
While we wait, Saad tells me about her time running Alicia, the restaurant she founded on Warren Street in Central London in 2000. He face lights up at the memory of serving customers during Ramadan.

"The moment you can break the fast, it's when a customer comes in," she remembers. "And he needs to be served. And you're like, "Really? Now?!"
The plait comes out of the oven and we slather it with butter and jam.
"See, I told you I was the halal Nigella!" Saad laughs, watching me devour a slice.
As we say our goodbyes and Saad sends me off with a full stomach and Tupperware box crammed with leftover food, I'm inclined to agree.