In Pettiest Move Yet, Pro-Brexit Wetherspoons to Stop Selling Champagne and German Beer
Looking forward to our glorious future of Fuller's pints and pork pies.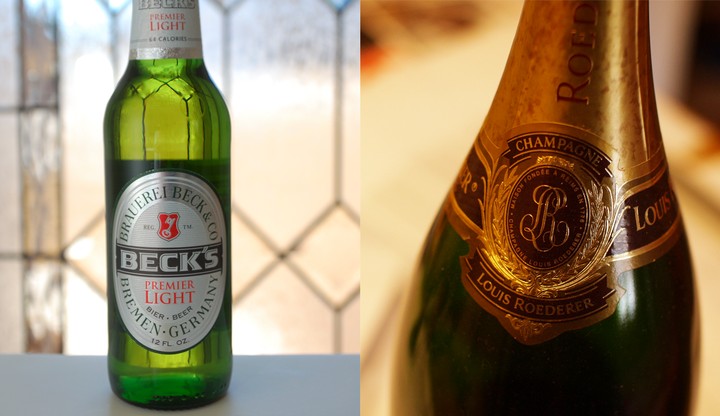 Photo via Flickr users Ted Thompson / Etienne.
You know what really gets my goat? When 52 percent of your country votes to leave a union established on free movement and global democracy, and yet all you can find to drink is bloody European booze. Everywhere you look, it's Belgian-blonde-beer-this, extremely-nice-Portuguese-red-that. What happened to the good old days, when you could enjoy a semi-warm pint of bitter, a strictly British meal (three cheese sandwich from Boots), and very little social mobility?
Well, thank the holy Britannia, because JD Wetherspoon has announced that it will stop selling certain European alcohol in the run-up to Brexit.
The pub chain—a well-known supporter and donor to the campaign for Britain to leave the EU—announced today that from early July, Champagne and German beer will no longer be sold at any of its 880 locations. Although Wetherspoons pubs will continue to serve Swedish Kopparberg, the chain will review other non-British products over the next two years.
According to the Evening Standard, Champagne will be replaced with Denbies Sparkling Whitedowns Brut and Whitedowns Rose Brut, two sparkling wines produced by vineyards in Surrey. In place of German beer, the chain will sell British-brewed Blue Moon Belgian White, Thornbridge Versa Weisse Beer, and SA Bains Atlantic White. Bye Beck's :'(
In a press release, Wetherspoons CEO Tim Martin explained that its European drinks purge apparently has, er, nothing to do with the new trade tariffs that may be imposed on the UK after Brexit. "This move helps us to broaden our horizons so that we create an improved offer for the two million customers who visit our pubs each week," his statement read. "The products we are now introducing are at lower prices than the EU products they are replacing."
MUNCHIES asked a Wetherspoons representative whether they truly believed that the public would prefer British wine to Champagne. "Absolutely yes," they said.
But why stop there?? Martin may as well just get rid of chicken tikka masala, brie, and Peroni, and just sustain the people of Britain on shepherd's pie, steak and kidney pie, pork pies, pasties, and HP sauce.
Long live our glorious nation!