Steve Bray stands on the same section of pavement seven hours a day, telling anyone who will listen that the United Kingdom is headed for disaster. At 6PM every day, he leaves his spot at Westminster's Old Palace Yard, walks over to the gates outside the House of Commons and shouts "Stop Brexit!" at the top of his voice.
"I just hope the people inside are getting the message," he says. "This can be stopped. It's not a done deal yet."

Bray, a rare coin dealer from Port Talbot, began his ritual back in September. He had become sick of watching the slowly unfolding Brexit nightmare from his home in south Wales, and decided he would – at the age of 48 – have to become an activist.
"I was still angry at the Leave campaign lies and all the horrible anti-immigration stuff," he says. "And I was so frustrated at how badly the government were handling it all. I thought, 'We're really in serious trouble now, economically.' So I came to London to try to do something about it."
Bray spent his first week in the capital homeless, sleeping in Hyde Park to save money. He took his EU flags to the green opposite the House of Lords and began disrupting pro-Brexit politicians' TV interviews. Friendships were formed with other anti-Brexit campaigners protesting at Westminster (some of whom Bray has been living with through the winter), and he soon he started his own group, the Stand of Defiance European Movement (SODEM).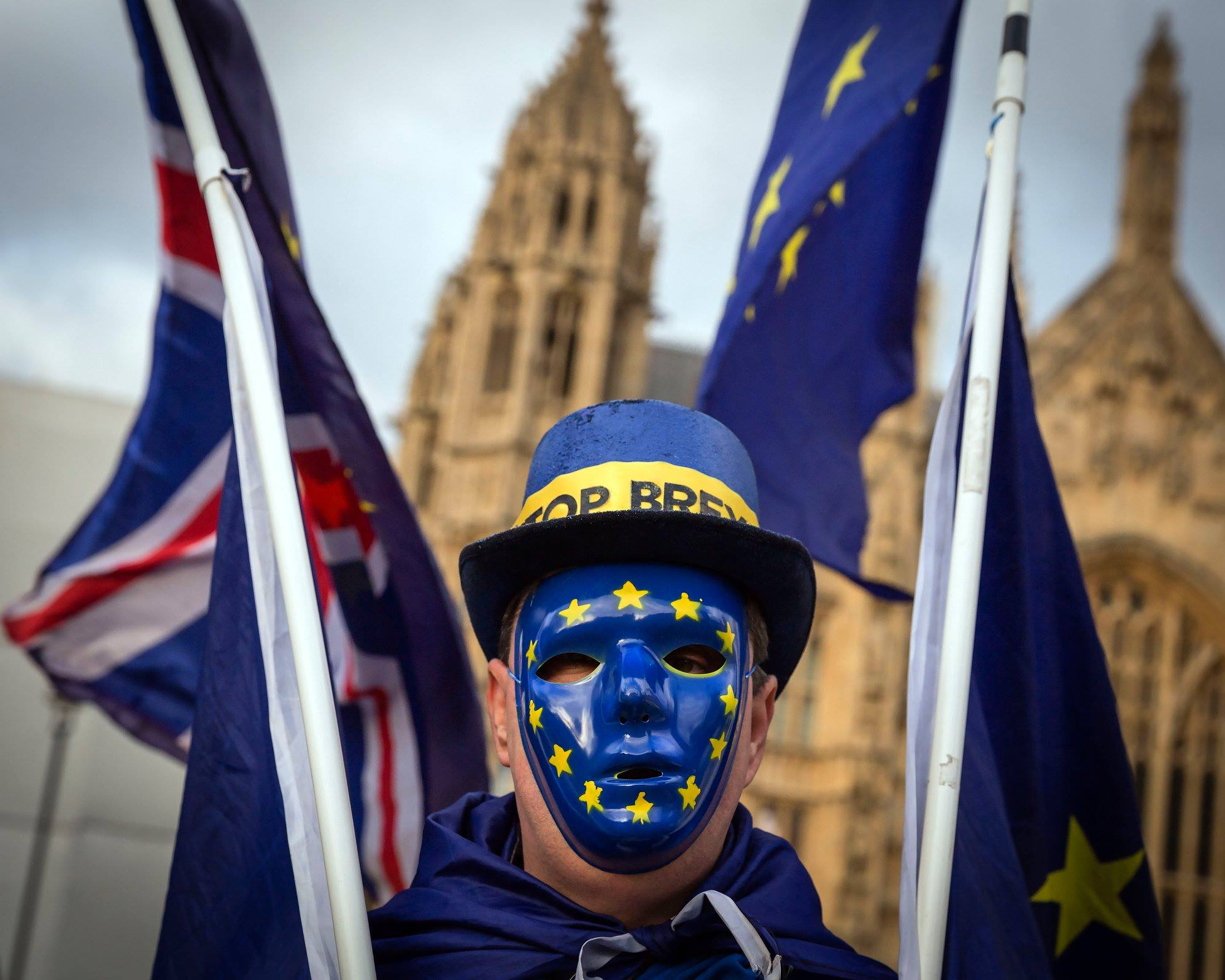 If the Welshman's routine appears obsessive, he insists it's worthwhile.
"I've been told to get a life," he says. "And I say, 'I've got a life.' Doing this is a way of devoting myself to something really important. It's not easy. I've lost friends back in Wales because of arguments about Brexit. Some people passing shout 'traitor'. But I love my country. I just want the best for it."
This week has offered typically weird and delusional Brexit dealings. The government's leaked economic impact assessment concluded the country would be worse off after leaving the EU in every scenario, forcing ministers to start slagging off their own assessment. Tory MP Steve Baker suggested we shake off the negativity by watching the Churchill movie Darkest Hour.
I suggest to Bray that the negotiations are, so far, a bit of a shit-show.
"Oh, it's an absolute shower of shit – it truly is," he says.
"A farce – a total farce," I agree.
"A travesty," he nods. "The government doesn't understand the scale of this. They've been delaying proper negotiations because they don't know what the hell they're doing."
---
WATCH:
---
Stopping the whole process, however, seems fanciful. With the Tories still playing the how-hard-is-your-Brexit game, and the Labour leadership terrified of a revolt among voters determined to leave, a second referendum surely remains wildly unlikely.
"I want everything back the way it was," says Bray. "Us staying in the EU."
"But what if that can't happen?" I ask.
"Well, realistically, I think we might end up with a set of agreements that's almost like being in the single market, but not nearly as good," says Bray. "At great economic cost. And then one day we'll re-join the EU when we realise how much sense it makes. That's what I think might happen. Might happen.
"But you can't give up. If you give up then it's already a lost cause. I still genuinely think it's possible we can stop this madness."
We shake hands and then he's off, ready to let loose another mighty cry in the direction of our elected leaders.