(Top photo: Theresa May arrives in Ammam, Jordan. Photo: Sam Lister/PA Wire/PA Images)
Something unusual happened on Monday: Boris Johnson apologised. This is the self-disavowing, unrepentant ironist who, as Foreign Secretary, has refused to apologise for his "rich thesaurus" of racist insults directed over the years at foreign leaders and countries. What makes the apology more notable is that it wasn't for something he had done, but on behalf of someone he had never met. What encouraged this performance of humility?
According to the Saudi Press Agency, Johnson made a formal apology on the telephone to the Deputy Crown Prince of Saudi Arabia, Mohammed bin Salman bin Abdulaziz, "[expressing] his regret" for an egging and attempted citizen's arrest made on the official spokesperson, General Ahmed Asiri, of the Saudi-led war in Yemen.
The incident happened on Thursday in London; as Asiri was entering a building to speak at the European Council on Foreign Relations, a protester approached him and tried to place him under citizen's arrest for complicity in war crimes. Someone else threw an egg at the General. Asiri was ushered into the building by his bodyguards, but still managed to show the two protesters his middle finger.
The Foreign Secretary's apology, in which he "stressed his interest in the results of an investigation" of the incident, came as the Prime Minister began a three-day trip of the Gulf, stopping in Saudi Arabia and Jordan, to shore up support over trade and security with two of Britain's key partners outside the EU. She was in Riyadh on Tuesday, where she's expected to "confirm that Saudi Arabia is a close and important ally" that has provided "intelligence" which has "potentially saved hundreds of lives in the UK"; she also wants to "explore ways of boosting the already very strong ties between the two countries… where the Kingdom of Saudi Arabia is currently the UK's largest trading partner in the Middle East".
---
WATCH: Starving in Yemen

---
For the past two years, Saudi Arabia, with British military and tactical support, has been leading a brutal war in Yemen – the poorest country in the Arab region – in support of the Yemeni government against an insurgency campaign in the south. Thousands of people have been killed so far, the majority under Saudi bombs; three million people have been internally displaced; and the UN is warning that the country is on the brink of famine, in part due to a naval blockade on Yemen's ports. British officers have been providing "training, supervision and evaluation" to the Saudis, and the government has licensed exports of more than £3 billion of arms since the war began.

British support has remained steadfast under May's premiership, even after a massacre last month in which a US-made Apache helicopter killed 42 refugees on a boat near the Saudi coast; the Somalian government accused Saudi Arabia of being behind the attack. Only last week tens of thousands of Yemenis took to the streets in Sana'a, the capital, to demand an end to the war.
The ongoing war crimes and humanitarian catastrophes in Britain's former colony of Yemen are not going to figure in May's rhetoric – and she's received fierce criticism as a result. Rob Williams, the CEO of the charity War Child UK, has said that rather "than focus on business and trade", the Prime Minister should be "asking tough questions about war crimes and international humanitarian law". Likewise, Harriet McCulloch, from the human rights group Reprieve, told the BBC: "As the prime minister makes ever greater overtures towards the Saudi government, the kingdom continues to carry out appalling abuses, including torture, forced 'confessions' and death sentences for juveniles. Theresa May's desire for closer relations with the Gulf must not cloud Britain's commitment to human rights."
Of course, there's a performative naivety at play whenever charities or activists criticise the British government for prioritising economic concerns over human rights, as every nation-state does, as every nation-state does, or think that a simple speech act – "raising human rights issues" – will contribute toward stopping atrocities. Britain isn't debasing itself by cosying up to Saudi Arabia because it doesn't have a claim to moral superiority.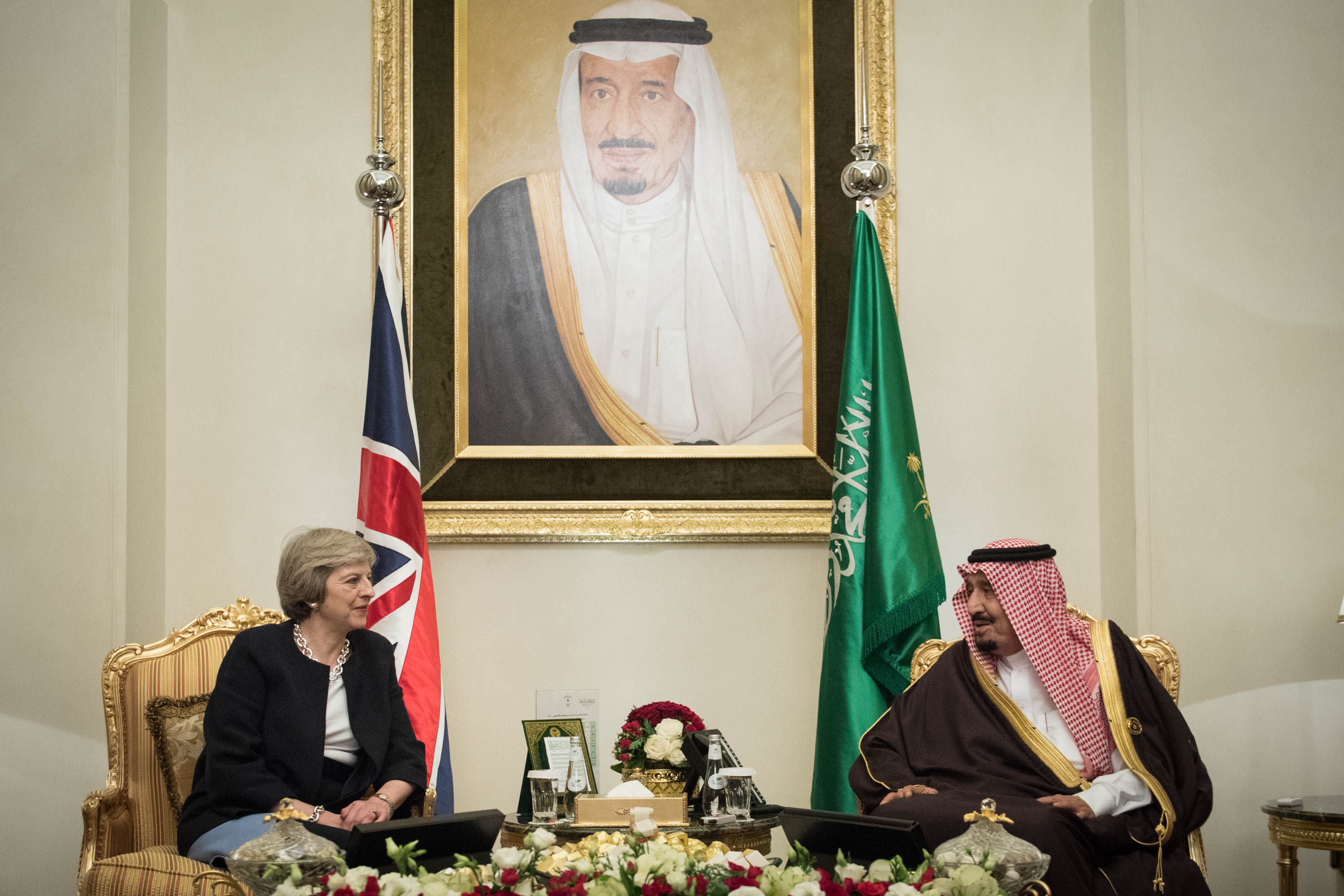 There is nothing qualitatively different or new about the government's obsequiousness, whether it's Johnson's apology or May's strategic silence, compared to previous governments. Ever since Margaret Thatcher signed the Al-Yamamah trade deal – which exchanged billions of pounds worth of military equipment to the Kingdom in return for thousands of barrels worth of oil – the British/Saudi relationship has been characterised by a deafening omertà.

But the "charm offensives" that May's been leading in Saudi Arabia need to be understood as continuous with British government policy and given a new meaning in the government's post-Brexit orientation to the world – what Downing Street refers to as "Global Britain". Britain doesn't have the luxury of making even superficial criticisms of any potential source of labour or capital. If it loses frictionless access to the European Single Market in two years it will need all the friends it can get. This explains the intensification of that already servile relationship with the most bloodthirsty state in the region.
Since "Global Britain" is premised on a lie – Britain was "shackled" by the EU and couldn't engage meaningfully with countries outside its remit – the government's performance of worldliness is going to have to take on a manic edge to give it some retrospective truth. Brexit means putting those long-standing relationships with despotic governments – those integrated into global capitalism, at least – into sharper relief, scratching away at the veneer of respectability the EU afforded. Just yesterday the Minister for International Trade, Liam Fox, was pictured smiling with the Philippines' President. Rodrigo Duterte, a leader who has boasted of personally killing people.
In early 2016, David Cameron postponed a trip to Saudi Arabia after the Kingdom staged a mass execution of 47 people, including a political dissident. This was the biggest diplomatic slight he could manage, given the global outrage, and it was only possible because membership of the EU afforded him a level of security and confidence. Were the same thing to happen today, Theresa May could only put on a serious voice, phone up the Kingdom and offer to sharpen the executioner's blade. Global Britain is here: we'll clean up the mess and dispose of the bodies, because that's what freedom looks like.