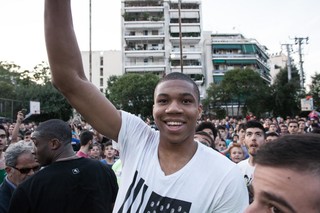 This article originally appeared onVICE Greece
Last week, rising Greek NBA star Giannis Antetokounmpo – or Greek Freak as he's known in America – took to social media to announce that he'd found time in his hectic NBA schedule to fly home and host an impromptu basketball game in his old neighbourhood in Athens.
I was fairly certain it was a joke but I couldn't bare the idea of writing it off and later looking like a complete tool for missing it, so I made my way down to the neighbourhood of Sepolia.
Already from about a half mile away, you could hear the rumbling wall of applause. Obviously, it hadn't been a joke: the Milwaukee Bucks Giannis and his brother Thanasis — who plays for the Westchester Knicks — were both there. Well, them and several thousand Athenians, who were all collectively losing their shit over the fact they had a chance to watch their hometown heroes play with their old friends and playmates.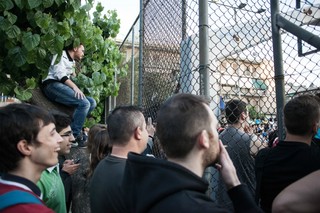 Bleachers, telephone poles, curbs: If it was within 400 metres from the court and more than an inch above ground level, it was overflowing with young people trying to catch a glimpse of the game.
When the game ended, Giannis signed a few basketballs and threw them out into the crowd. Which, thoughtful as it was, could've easily instigated a riot seeing how eager people were to grab them. Some of those lucky enough to get their hands on a ball, were members of Generation 2.0 — a group promoting the rights of second generation Greek citizens, like the Antetokounmpo brothers.
Recommended: eSports
Obviously NBA stars don't grow on trees, so the excitement generated by the Antetokounmpos' visit was anticipated. But for a country where far-right party Golden Dawn is in parliament despite the fact that half of its MPs are currently standing trial for belonging to a criminal organisation, that visit represented a kind of hope that for almost a decade now has been well beyond our wildest dreams.