Oh yeah, you like jungle? Is that you in the rave bussin more gun fingers than Putin with your trousers further south than Tonga? Sick. You must like "Super Sharp Shooter". And rightly so, because no matter how much you claim to "only listen to Eastern bloc jackin' moombathon " or whatever, it goes off EVERY time someone decides to close their set with it.
Despite being one of the biggest club tracks of the last, I don't know, 500 years, it still hasn't had a remix that has surpassed it in terms of floor filling. Why try and topple perfection, eh? BUT... HOLD UP JUST A SECOND. On a slow Monday afternoon, DJ Zinc, the man/legend behind the track tweeted this: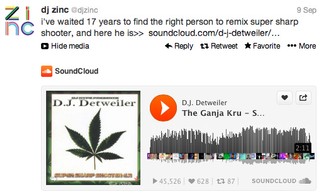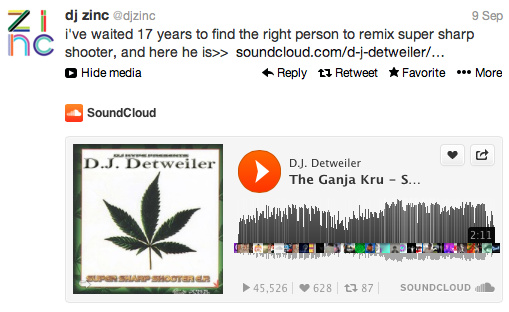 Of course I rushed to hear it. By this point, it had a mere 7,000 hits (it now has over 45,000). It was two minutes long, and by half way through still sounded exactly the same as the original. Disappointing. But, perseverance pays off, and I urge you to listen for yourself. Make sure you stick with it till the end.
I wanted to know as much as possible about the genius behind this masterpiece, so I started to email him some questions. This is what happened:
Noisey: I don't even know what you look like. Can you send me a pic of yourself?
D.J. Detweiler: Sure.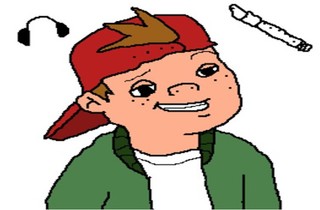 Erm, great. Whereabouts are you based? It says Spain on your Soundcloud. What's the flute scene like over there?
I am from Murcia and I like tortilla de patata and relaxing cups of cafe con leche, yes. I used to have a flute punk band, once my band opened the concert for a famous punk spanish band (La Oreja De Van Gogh), after that, all the fame blinded me and I split up with my band and started a solo career. Nobody got any faith on me at the beginning, then I made this webpage: www.echatealgo.com. It's a net-art website, pretending to be an online beggar, so basically all my career is focused on flutes. Then I started D.J. Detweiler.
That's quite a process. What made you decide to do this?
I dreamed it.
Is it you playing the flute?
Yes, sure. My producer and I would spend together hours and hours in the studio, looking for the perfect beats. I am a real artist, I like to travel and meet the people I´m working with. I was in California two weeks ago, working with Hudson Mo and Lunice on his banger. We had a great time in the studio, we produced a single together, I think it will be released for Christmas.
Say hello from us next time you see him. What's your favourite woodwind instrument?
One spanish thing called Dulzaina, you can see it in a video here ↓↓↓↓
How about your least favourite woodwind instrument?
I hate pan flutes.
Yeah fuck those guys. Did you see that DJ Zinc just retweeted "Super Sharp Shooter"? He seems impressed. What do you think about your new found fame?
Yes, he is a nice guy. We were good friends in the 90s, we used to hang out and make music together, nice times meeen.
Who are your biggest influences?
Celine Dion and the pied piper of Hamelin.
If you start performing, are you going to wear a disguise like Deadmau5?
I will be touring USA in October, (book me if you are a promoter). I think I will just wear my clothes.
What's your day job?
Torero.
Olé.
¡Muchas Gracias!
de nada tronca
And that was that.
D.J. Detweiler has also conveyed that he's trying to get a couple of his tracks released on vinyl (it appears that "Super Sharp Shooter" is not his only remix– other top rankers include "Smack My Bitch Up" by the Prodigy and "Tarantula" by Pendulum.). If you want to see this happen as much as 97 other people, go here.
UPDATE: We forgot about DJ Detweiler and hit up his Soundcloud today and found a load of new tracks. Here they are.
Follow Tamara Roper on Twitter @tamararoper