What else is there left to say about Bowie that hasn't already been said? He was a trail-blazing maverick dressed in glitter and spaceman boots, an influence on everyone from Kanye West to Vanilla Ice to Owen Wilson's character in Zoolander. We've spent the last few days solely listening to "Heroes" and thinking about our own mortality and the beauty of life. And can we herald right now that the opening track on Blackstar as up there with some of the greatest pieces of music he has ever blessed us with? Yes.
The thing about Bowie is, however he dressed or whatever personality he took on, it was always about what you projected on to him. That's why he meant so many different things to so many different people, because it was all about your interpretation, and how your individual mind's eye viewed and interacted with his myth. So with that in mind, we thought it best to reach out to some of our illustrating pals'n'gals to show us their own interpretations of their favourite David Bowie album covers. Here they are below, rolling through from The Rise and Fall of Ziggy Stardust to The Man Who Sold the World. Art will always prevail!

THE RISE AND FALL OF ZIGGY STARDUST AND THE SPIDERS FROM MARS


I chose to do my version of The Rise And Fall Of Ziggy Stardust And The Spiders From Mars because I remember some BIMM student (British and Irish Modern Music Institute) banging on to me about it when I was at Uni in Brighton. I remember saying, "I dont really know any Bowie tracks," and so I went back to my stinkin' house and listened to it. Four tracks down and Starman comes in, and I was like, "Wait a sec! I know this shit!"
I made Ziggy a giant, crushing a car under his weight and strumming his Les Paul because in the original he is really small and I wanted the drawing to be more about Bowie than about Heddon Street. Everything is in an increased state of dilapidation to show how much time has passed since the album's release, although Bowie has only grown larger (this is a visual metaphor or something, I reckon). Pete Sharp
DIAMOND DOGS
I painted this homage to Guy Peellaert's amazing artwork for Diamond Dogs because Bowie was such a inspiration to me. This week has been a real feels trip for music fans here in South London and around the world, but his music will live on – and I feel lucky to be here to hear it. Charlotte Mei
PIN UPS
Pin Ups is a cover album and I'm doing a cover of it, so I thought that was pretty clever. Sam Taylor
HEROES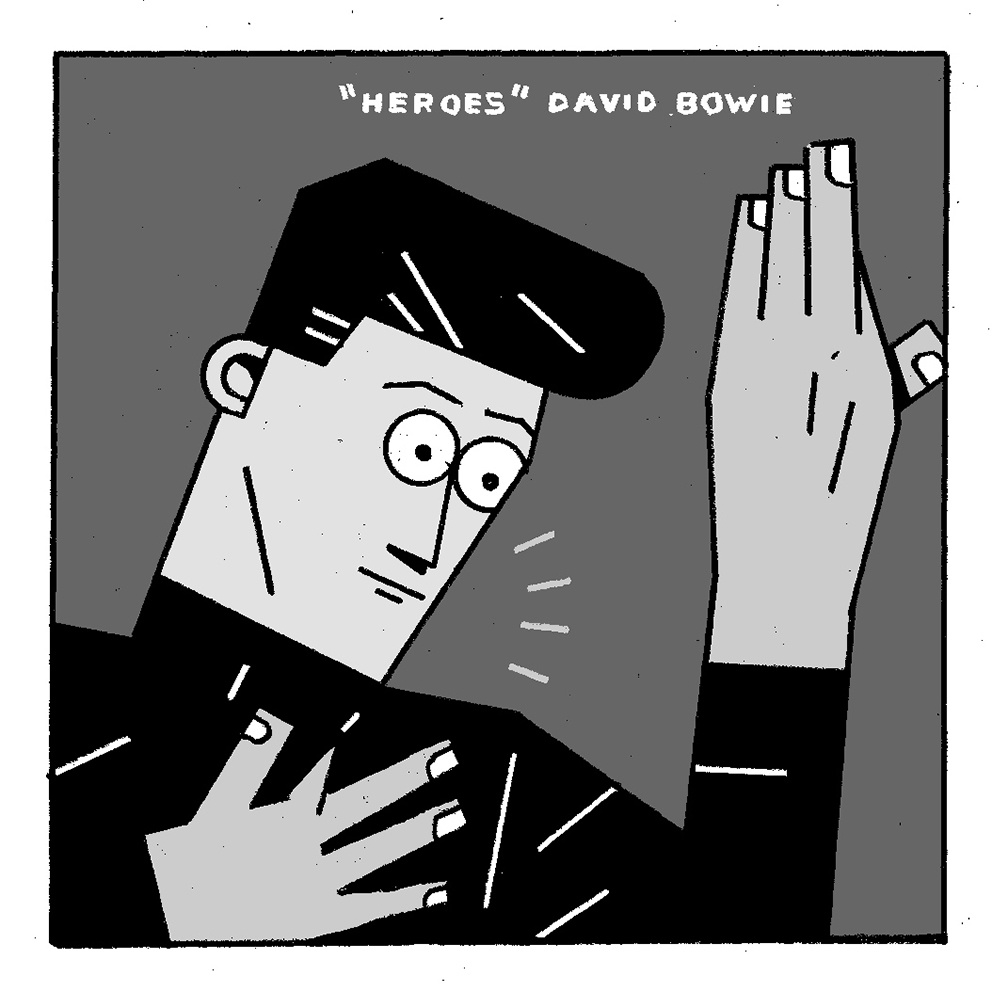 Heroes was an album I listened to a lot when living in Berlin. Most of the people I knew lived north of where I was living in the south district of Neukölln. I would listen to the album, and songs like "Moss Garden" would provide the soundscape for the twenty min bike ride north along Karl-Marx Allee and Kottbusser Tor.
For the artwork, I didn't want to add or take anything away form what's already there. I guess it's just a graphic interpretation of what you see. Jay Daniel Wright
THE MAN WHO SOLD THE WORLD

I remember the first time I heard "The Man Who Sold The World". I had this live album called Bowie at the Beeb and listened to it at night on headphones in bed, and I couldn't understand how a song could be so good. Anyway, I viewed my artwork here as a cover version of the original 1970 album release which featured a cartoon by Michael J. Weller.
I wondered while I was working on it how differently it'd turn out and what those differences might look like. It's a bit like if you tried to draw Garfield the cat right now, you'd get somewhat close but the final image would be this fun knock-off version. Stephen Maurice Graham