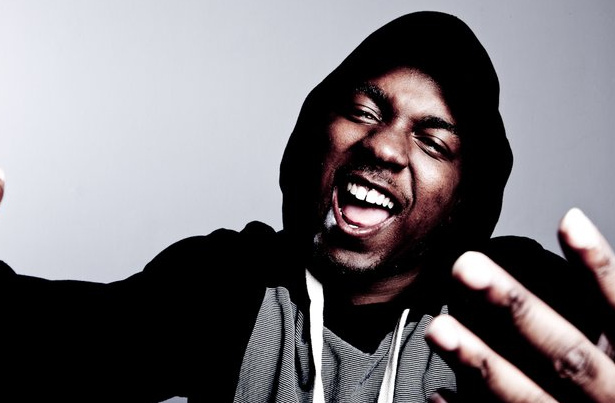 Today Kendrick Lamar released the first track from the follow up to
good kid, m.A.A.d city
. Having witnessed "Control" and the slew of guest verses (like
this
,
this
, and
this
) that've been released in the time between, two things are certain: everyone who hasn't yet heard the track is about to collectively lose their shit and hold on tight because people's Twitter feeds will be heavily abused for the next 24 hours.
The release of a new track from Kendrick is monumental – that much is certain. The track has been out a few hours and has already clawed in over 800,000 plays. Within minutes it was posted everywhere from The Independent to Rolling Stone. Your boy on HipHopHeads has booked the day-off work. We're all feastin' tonight.
The track is remarkably different to anything on g
ood kid m.A.A.d city
– better placed alongside recent guest verses on "
Love Game
" – and, for that reason, a lot of people will be upset – or at least feeling a little underwhelmed. But what did you expect? Kendrick is an artist, right - that's what the cover features and the end-of-year lists were saying, so you can't get butthurt when, like an artist, he progresses.
good kid, m.A.A.d city
evolved from
Section 80
. This record will be no different.
Instead, the most striking about "i" is the thematic.
Each Kendrick Lamar record has a distinct vibe.
Section 80's
concept centres on people born in the 80s and the hardships in their life: the crack epidemic, medication tolerance, racism, and personal hardships told through the story of two girls called Tammy and Keisha.
good kid, m.A.A.d city
focuses on the influence that Compton had on Kendrick's upbringing. Both records were preceded with singles that suggested each album's themes: "
HiiiPoWeR
" (
Section 80
) focused on racism and poverty (with PoWeR standing for Poor We Are) and "
The Recipe
" (
GKMC
) focuses on California and a want to "be the one, to peak on the chart". Looking at the previous approaches, it's certain that "i" is a guide for what to expect from the new album, not only in terms of sound, but in terms of concept.
The intro – which is read by a pastor – references "
Real
", the track which closes the
narrative in good kid, m.A.A.d city
and asks "what's love got to do with it, when you don't love yourself". The chorus on "i" repeats the line "I love myself" – but also features references to guns in the hood, mobs of police, and going to war on the street - suggesting the new record's narrative will follow on from
good kid, m.A.A.d city
with a positive lilt. The refrain states "[the city] can do what it wants but I don't mind" – because when you're at peace with yourself you can be at peace with the world around you.
This is quite progressive. A lot of West Coast hip-hop centres around feeling positive – but is usually generated from the outside world: money, women, drugs, power. Instead, Kendrick's record focuses solely on self-belief; the fact that, in a city riddled with "guns", "police", and "war", being comfortable and looking after yourself is the most important thing. He's a walking self-help book.
The religious connotations of the pastor's introduction – and later with references to "walking barefoot" – makes it feel like Kendrick is giving a sermon. He's saying that the time is ripe for more people to believe in themselves and create something positive; he tells his followers they shouldn't "lack confidence" because this is the first time in ages the city hasn't been "anonymous".
This – and the fact that one of hip hop's biggest artists has, essentially, released a track that wouldn't be out of place on an NBA commercial – highlights a shift in hip-hop. That, nowadays, artists are free to do whatever they want; that they shouldn't be tied down by cliché, specific sounds, and concreted into stereotypes. This is highlighted by the fact that the pastor introduces Kendrick as "a writer, an author" not "a rapper".
In an interview for
XXL
- given between
Section 80
and
GKMC -
Kendrick gave the following quote: "I couldn't tell you what type of sound or where I'ma be in the next five years as far as music," he said. "It's a big difference from the next project compared to the last".
A lot of people won't be down with the Kendrick track – but, like everything he's released, the record and the ones that will follow will continue to shape hip-hop's future.
For the record – this is the best thing that I've heard all week. Charlamagne is right.

Follow Ryan on Twitter: @RyanBassil