As any journalist will tell you, interviews and dates aren't all that different. Especially if, like me, you insist on only interviewing people that you have a massive crush on and proceed to flirt with them 'til they look visibly uncomfortable. Eventually, my editor suggested it might be safer for all parties involved if we just called the interview a date from the start. So I picked up the phone and asked out Ella Eyre.

If you don't know, Ella's that girl with the sexy, husky voice on Rudimental's 2013 club banger "Waiting All Night", a collaboration that earned her a UK Number 1 at just 19. She's also been collaborating with the likes of Wiz Khalifa and Professor Green and has just released her debut EP Deeper. Oh, and she's really fit.
Given that Ella's totally out of my league, it's kind of like a normal date, only I'm not trying to get her drunk in an attempt to coax her into sleeping with me, but so that she'll tell me all the things she's not supposed to before she gets famous and media trained.
Luckily this doesn't prove too much of a challenge; when I arrive at the bar at 3pm, Ella immediately orders us two boozey cocktails named "Sweet Dreams". Her PR looks panicked – "are you sure you want a drink Ella?" she hints unsuccessfully.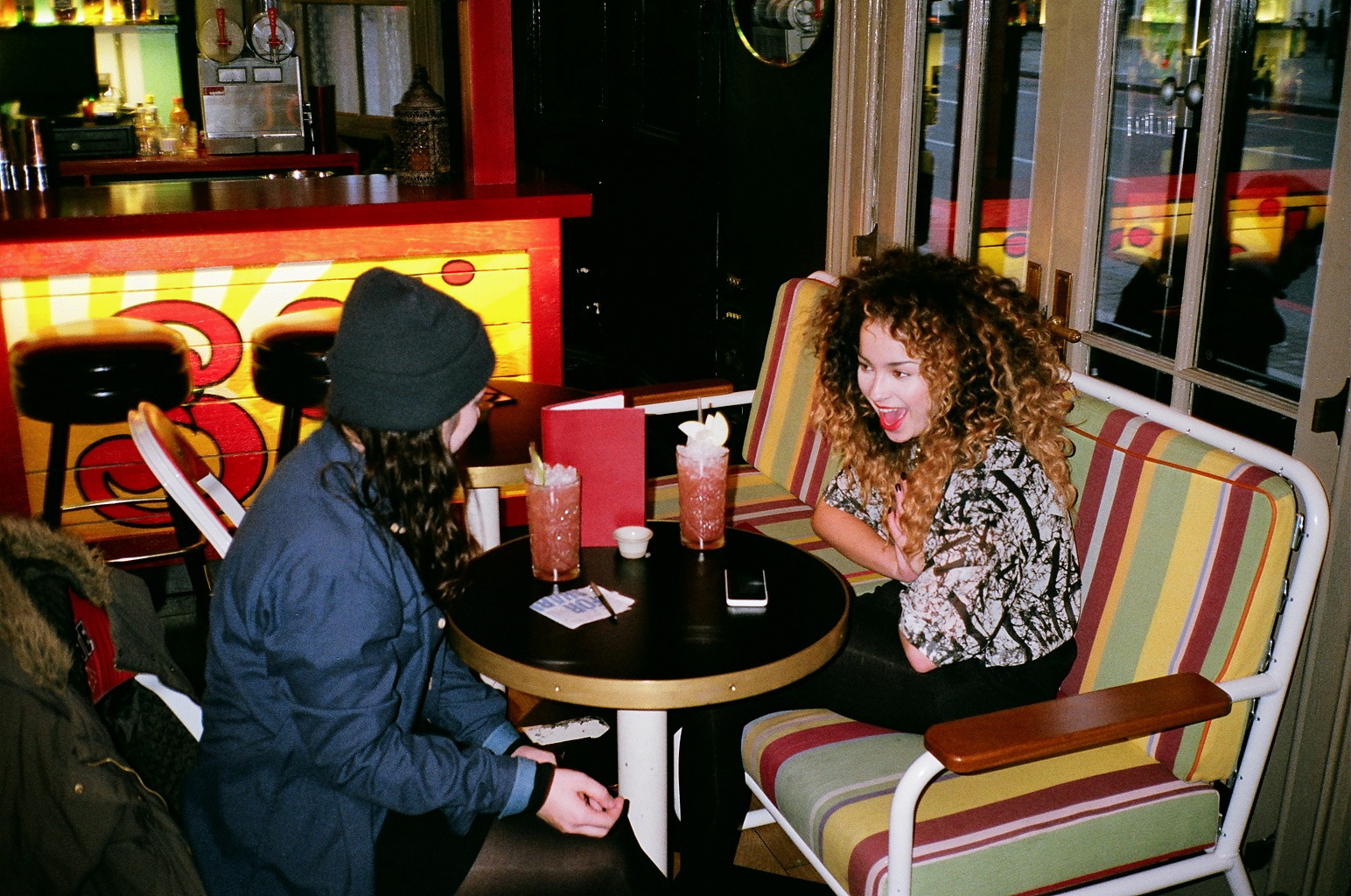 Noisey: Sooo, is this your first date with a girl?
Ella Eyre: Ummm, officially, yeah.
Well I'm glad you initiated the daytime drinking.
Me too! After this I can't drink for another week!
Why? Are you working loads?
Yeah. I can't drink and sing the next day… delicate.
You're pretty husky anyway. What do you get more compliments on, your voice or your hair? (This is my attempt at a chat up line, when I hear it back I literally slam my palm into my forehead.)
Do you know what, I'd say it was pretty even. I get a lot of tweets about my hair.
Is there a hashtag?
"#ellashair"… The Rudimental boys don't call me "Ella Eyre" they call me "Ella's Hair"
Oh yeah, you had a number 1 with Rudimental. Was that nice?
It'll never really sink in until you start working towards having another one. It's so hard to have a number one!
No shit! But you've been working on your own stuff, right?
Yeah, I've always done my own thing. That song just gave me a platform, I guess. My music is a lot more live sounding. I mean, in a way it's got some influences of dance music, but not like Rudimental's stuff. It's got more soul, hip hop and RnB.
Raised in west London's Ealing (but conceived in Jamaica, FYI) Ella Eyre wasn't always on course for a career in pop. When she joined BRIT School at 16 it was to study musical theatre - jazz hands, Bugsy Malone, that kind of thing. Although she acknowledges her hair "would have been perfect for a lead role in The Lion King," she quickly realised that musical theatre wasn't for her.
Luckily her management discovered her through a vocal coach less than a month after she left school, and now she's working on her debut solo album, set to come out this summer. She won't tell me what it's called, but she does tell me that there are lions involved - real ones. Because I am lame and smitten, I say "that sounds dangerous." With total confidence she replies, "Nah, not if they're tamed, from a zoo."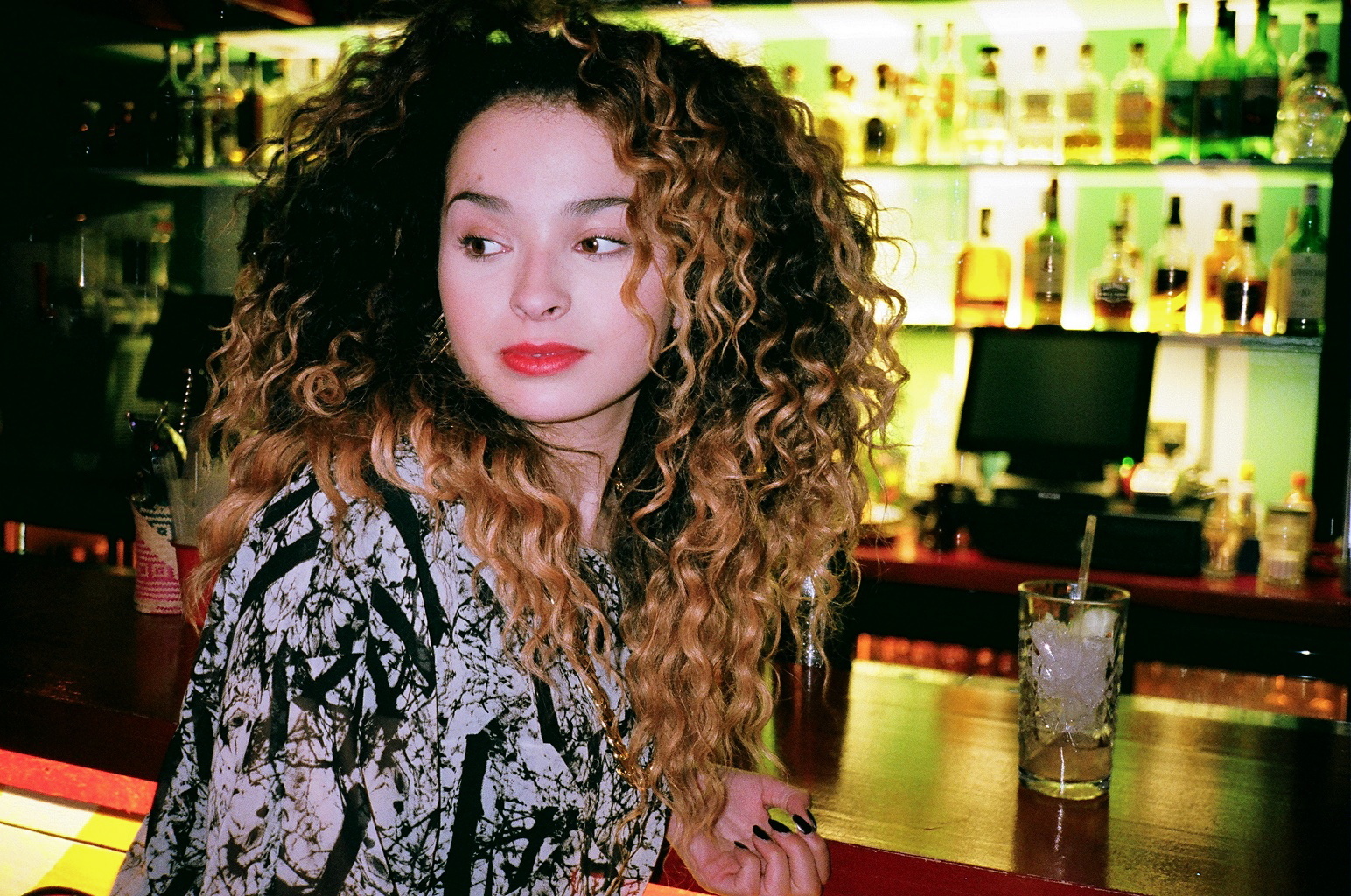 I hear you've been working with Prof Green. Does he feature on the album or is that a secret too?
It's not a secret! I mean we've worked together; we're signed to the same label. Whether or not the stuff we've done ends up getting released or put out there, I don't know.
Have you been to his club, "INK"?
I keep finding myself there at the end of nights out. Its cool, I've never really had to go when he's not there but it's a nice vibe - its not huge so you're not losing people. The only thing is that you have to go in a lift to go upstairs so the queues are horrendous. There's a staircase but you won't be standing by the time you're done.
Haha thank you for the review. I'm not sure I'll go though, I don't go out in central London much.
Me neither, well not since I was sixteen and trying to go out. That's where you're more likely to get in. East London? No chance. I didn't have fake ID for ages cause no one looked like me. But then I got one from fakeidentification.co.uk and IT WORKED! You buy it, 40 quid, send it off to Spain in cash to a PO Box and two weeks later you're in the club. So dodgy, paying in cash, but it worked cause I got the one with the hologram and also the UV lights.
Wow, so profesh.
Proper profesh. Instead of saying it's an English driving license you just say this is European and the bouncers have no idea. Sometimes we'd fake accents. "BONJOUR!"
Great Spanish! Talking of crap resemblances, have you been compared to Rita Ora?
Yeah.
Is that annoying? (She seemed a bit annoyed when I brought it up)
Not really. She's a beautiful girl, so if people tell me I look like her I'm like, "thanks." But I don't think I do. Plus Rita Ora's been compared to Rihanna and they do not look the same.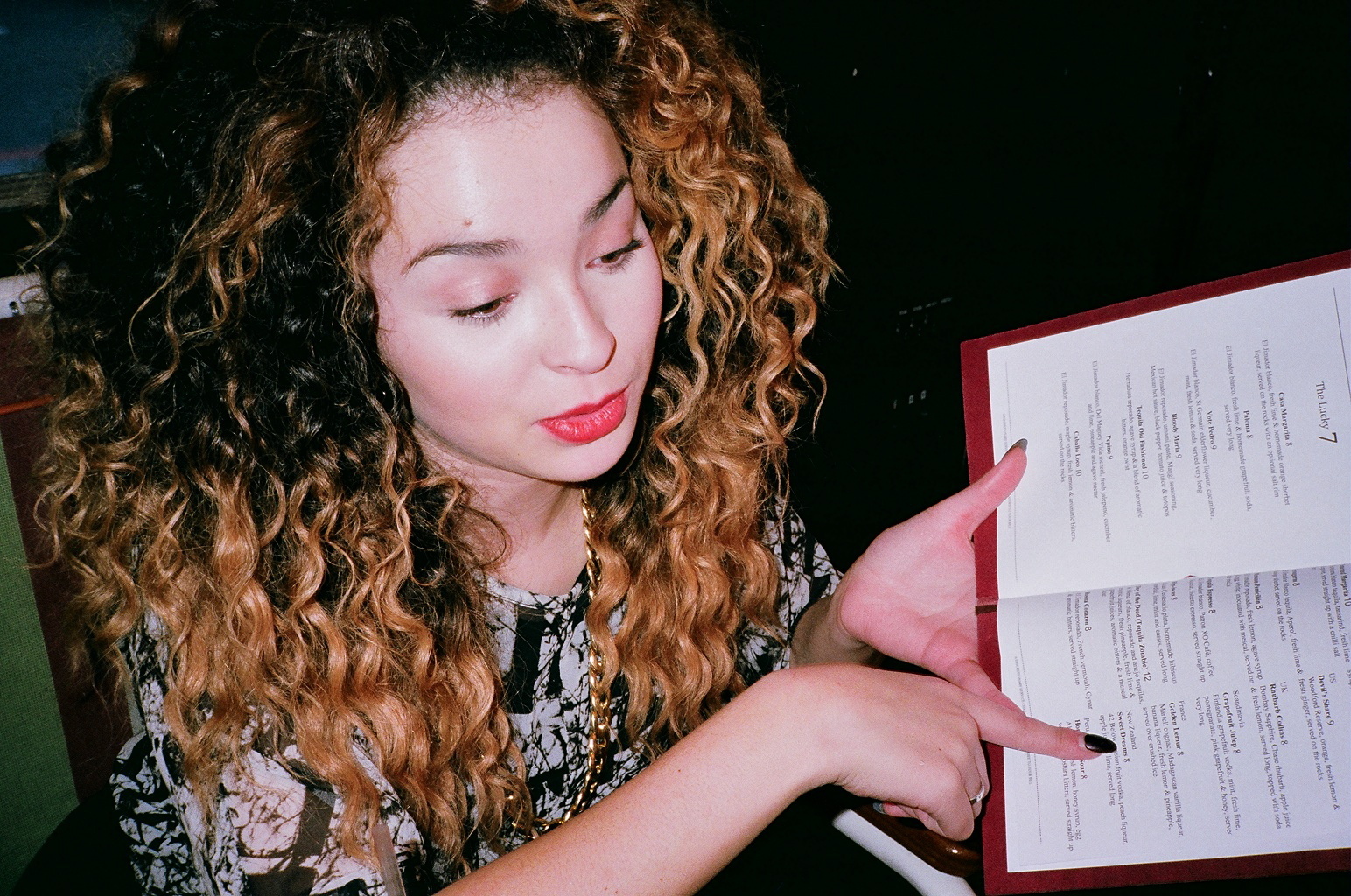 True. What do you think of Rihanna?
I've gone through phases. I loved the S&M album, that's my favourite one. And then I think the whole sexualised image sort of put me off a bit 'cause I'm not like that in any way.
So you won't be fellating a sledgehammer?
No. And I wont be wearing a white wig and smoking a puff of weed and dancing on a chair.
Oh RiRi. I guess now you also have to be careful about what you put on the Internet and Instagram etc. Is that stressful?
Yeah a little bit, cause I'm quite outspoken on my Twitter. I got in trouble because I was watching The X Factor the other day and I was convinced that 1D were miming so I tweeted asking and all the 1D fans were like, "why you bitching for!"
Well duh, never say anything about 1D, that's rule number one. You have to be so careful on Twitter. Especially when you're drunk: there was drunk dialing, drunk texting and now there's drunk Tweeting.
I'm really bad for drunk Tweeting. I forget how many followers I have. It's just gradually built up. So then when I get responses to things I'm saying I'm always like, "why are so many people responding to this?" And people get angry when you don't reply. Someone tweeted me the other day "fuck you, you don't follow your fans!"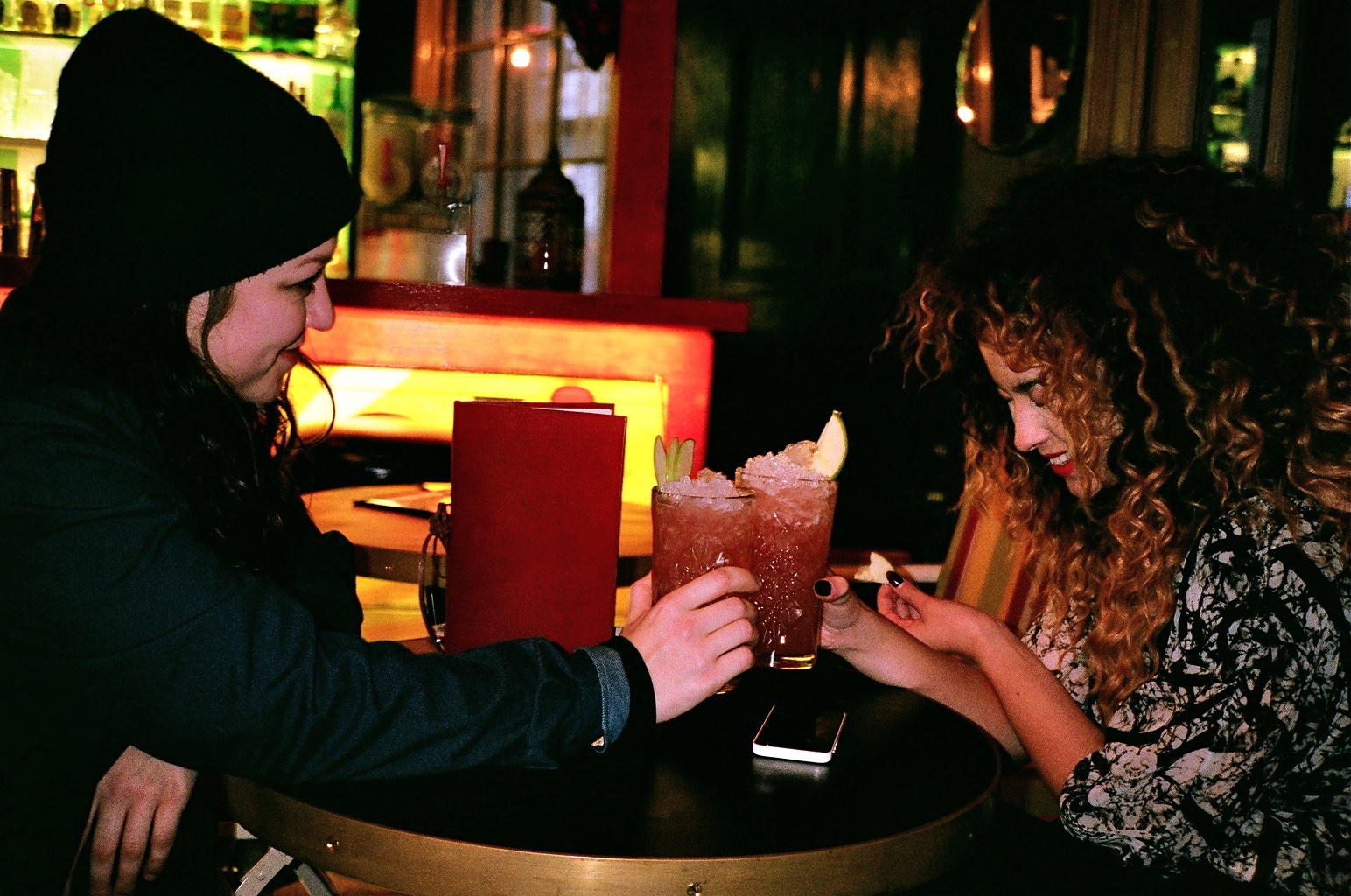 As our date draws to a close, I am pretty convinced that Ella is a TOTAL babe. There is a moment, when I ask who her dream collaborator would be, and she replies "Basement Jaxx" and tells me that their 2003 album Kish Kash was the first record she ever bought, that I remember she is three years younger than me and start to feel quite creepy for trying to chirpse her. The creepiness quickly passes though, and I ask what she's up to this week, angling for a second date.
Have you got a busy week coming up then?
I covered "Good Luck" in the Maida Vale sessions yesterday and I'm playing the Capital Jingle Bell Ball on the weekend.
Pretty busy then? (Parred.)
Like I said, I can't go out till next week. My Mum's getting so vexed with me, like, "you never make time for family." It's not that I can't make time, I just literally don't have the time to make.
What do you do when you're pissing around and not being super career driven then?
Good question. Drinking.
Haha.
Either that or at home watching movies or crap TV. It's so rare that I get to have a drink and go out with friends.
Are you dating anyone?
No. Well, I don't know, I wouldn't say it was official.
Casual?
Dunno, like I just think it would be a bit selfish for me to commit to anyone at the moment because I'm busy and I'm focussed on what I'm doing. It's cool though, we're on the same page.
Is he busy too then?
Yeah.
Like… "famous" busy?
No! He's an old friend I've known him since I was 11.
Are you exclusive?
No.
Because we're on a date, obvs.
[Laughs nervously] Exactly, yeah.
How did you find your first "official" date with a girl?
It's nice. Nice drink. Did you like my choice?
Yeah, but really, was that the best bit, the drink?
Haha, no, the chat was good, you've got good chat. You know how to please!
Boom.
Follow Amelia on Twitter: @MillyAbraham
All photos by William Coutts - Visit his website at www.williamcoutts.com
Read more First Dates:
A First Date With... Phlo Finister