The Strange Saga of the Motel Owner Who Spied on His Guests
The filmmakers behind the new Netflix documentary 'Voyeur' talk about their complicated film.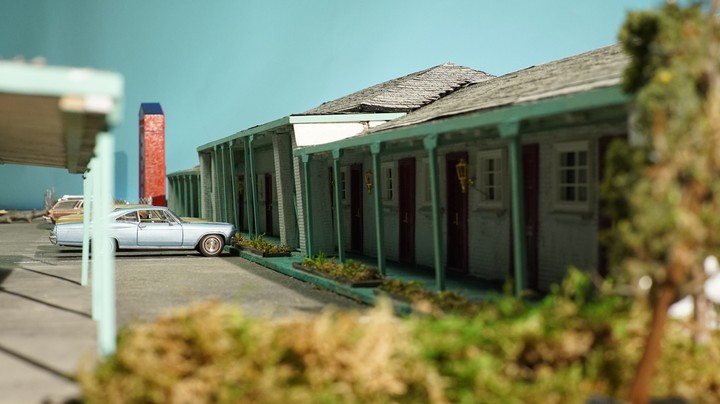 Cris Moris/Netflix
This article originally appeared on VICE US
On January 7, 1980, journalist Gay Talese received an anonymous letter in the mail. It was from Gerald Foos, the proprietor of the Manor House Motel in Aurora, Colorado; in the letter and subsequent ones that followed, Foos described his life as a voyeur, using his motel as a "laboratory" to spy on guests at their most intimate and banal moments. For years, he kept a detailed diary of the things he observed in the unsuspecting motel rooms.
Since then, Foos and Talese kept in touch with the intent that a book would emerge from their communication—and that book, The Voyeur's Motel, was released last year. However, controversy swirled around the book when The Washington Post published an article detailing timeline discrepancies in this single-source book. The blow-up led to Talese publicly denouncing it, then eventually going back on his denunciation.
Myles Kane and Josh Koury's documentary, Voyeur, begins as The Voyeur's Motel was in the process of being written. Using a combination of talking head interviews and hyper-specific miniature models to replicate the motel and its rooms, the documentary is more about the ethically grey and slippery relationship between an author and its source. We chatted with the filmmakers over the phone about the evolution and gradual shape of Voyeur, as well as the different levels of voyeurism.
VICE: Given Talese's individualism and pride in his reporting, how did the documentary come about? Did you approach him?
Myles Kane: I met Gay during my time working at The New Yorker as their video producer. I made a little profile video about his quirkiness and obsessive research. I think he quite liked that. While shooting the video, he was openly talking about gearing up to write this new book that had been long in the making about this voyeur. Based on that, Josh and I decided that there might be a doc here—certainly about Gay Talese as a writer, but also about the idea of doing a present-day narrative about Gay Talese in his early eighties writing a piece in real-time.
Since the book was about voyeurism and how that [term] relates to Gay and his whole career, we thought a documentary would be a perfect way to examine both him and his work. The film evolved from there to being more about journalists and subjects, which happened as we got more access to Gay and Gerald.
The first part of the documentary covers material in The Voyeur's Motel , but it also sounds like the documentary organically came about by interviewing Foos and Talese. Did you look at the book and decide what to include in the film and what to leave out?
We started in 2013—nothing had even been written yet. We didn't meet Gerald until about eight months into the production. Anything you see in the film about Gerald and Gay describing these stories was told to us before they were formally written. We weren't going backwards—we were capturing the stories in the moment, as they were being told. The story is more about watching the article and the book be produced. It was
all organic—
Josh Koury: Which is why there's a slight tonal shift in the film. In the first half, the story that Gay and Gerald weave has a kind of romanticism to it, where nothing's gone sour yet. They're still formulating versions of stories they want to tell. But as you get closer to the [book's] release and the article's publication, you see Gerald's intense reaction to Gay upon discovering his true form for the first time. When the book's facts are called into question, you see Gay's negative reaction to Gerald. Their relationship starts to crumble. We wanted the film to reflect that experience. At its core, what the film's really about is the complicated subject-artist relationship.
At one point, Gay even remarks on your access to Gerald in the film. Why do you think Gerald wanted to be filmed?
Kane: The reason why he reached out to Gay in the first place is that he thought, Here's a guy who's well known for controversial subjects. He's written about sex. People love him or hate him, but I think of him as a god, and I think he'll legitimize me. From the beginning, Gerald wanted to be known. He was a complete secret that only Gay knew. Theoretically, Gerald let us film him because we were with Gay. We were making a film about Gay, and afterwards it evolved to include him.
There's a moment in which you reference Alfred Hitchcock's Psycho on one of the miniature model TVs in the film. Do you see a parallel between the voyeur and the general film spectator?
I like the part where we show the Psycho clip a lot. It hints at this cultural connection between cinema and voyeurism—this sexy element to the concept that I feel is in the collective unconscious. While we were shooting and editing, it became increasingly clear that there were multiple levels of voyeurism, starting from Gay through Gerald through us. But then we also realized that it was important for us to become characters based on our presence near the end of the film.
Apart from the fact that Gay called us out on camera, we felt it was important to show our hand to say that, any criticism that comes Gay's way, we're just as guilty of in terms of watching, as well as the responsibility that you take with telling other people's stories and the manipulation that happens. But there was this fourth angle, which was thinking about who we were making this film for. Hopefully, millions of people are going to want to watch this, and that's its own sort of voyeurism. We wanted to end on that note.