What kind of advent calendar is best? A cheap bit of chocolate for breakfast every day? An austere bit of cardboard with illustrations of snowmen and reindeer? Or one of those £50 Zoella ones where you get a worthless bit of beauty tat each morning?
This past December, Essex Police went for the homemade option, creating an online advent calendar of wanted suspects, tweeting a out a mugshot – surrounded by snowflakes and baubles – every day in the run-up to Christmas.
They're not the only force using social media to try to do police work. Although most police social media content is serious stuff like witness appeals for missing or wanted people, the posts which often get the most engagement are those that have been injected with what I guess you could call banter.
Barrow Police's social media manager, for example, apparently considers themselves to be Cumbria's answer to Tim Vine.




And they're not the only ones trying to get on that #engagement.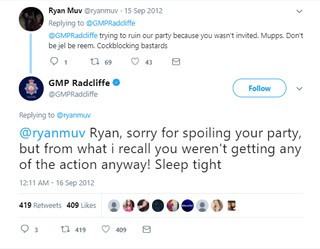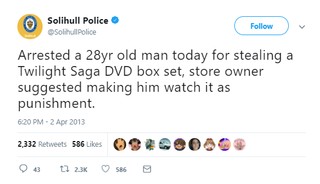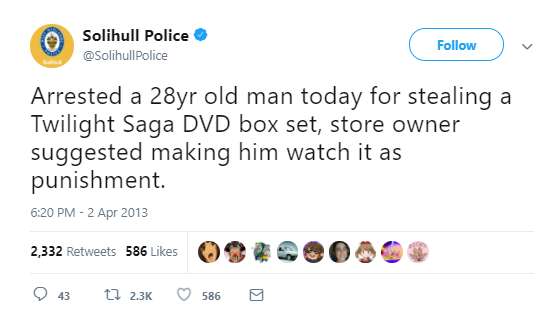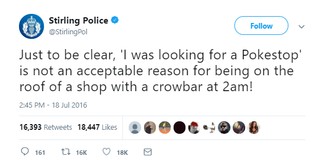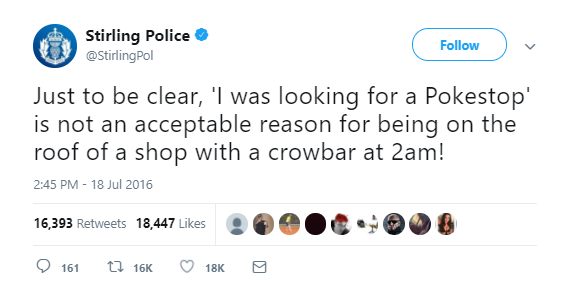 However, the Peter Kay of police account humour is surely Greater Manchester Police's City Centre Twitter. A Buzzfeed article entitled "19 Tweets That Prove British Police Are The Best On Twitter" featured only Tweets from this account.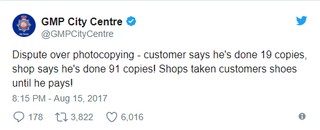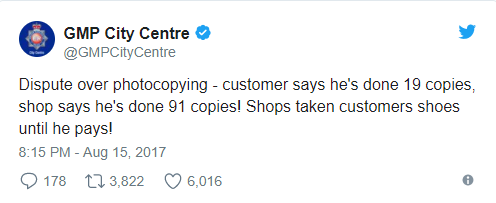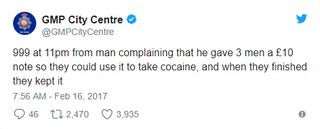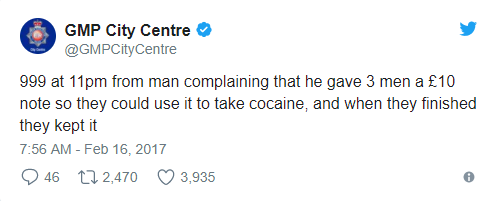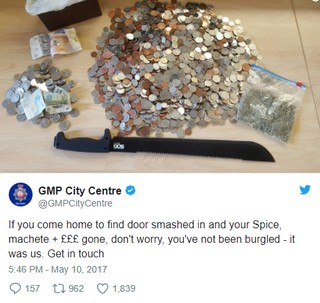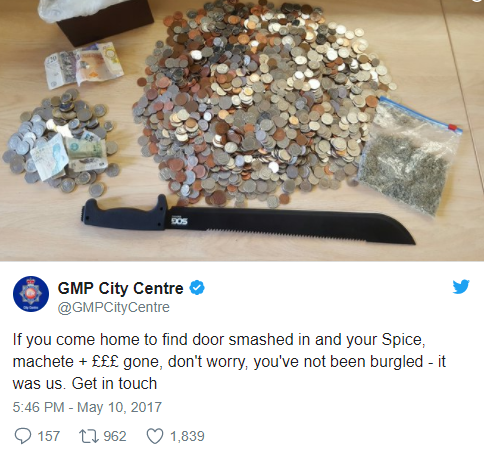 Phil Spurgeon, the officer responsible for much of this account's content, explained the strategy behind it: "There is a purpose to it. It's not just humour for the sake of it – or 'Dad Jokes', as my kids say. It's allowed us to build this massive audience, which means that when we do post the serious stuff we can get that out to a huge audience of 143,000 people. Our motto is, 'We're serious about the serious stuff, but everything else…'"
Spurgeon insists that the force only uses humour when tweeting about inconsequential police matters. "We shouldn't use humour at the expense of a victim, witness or a vulnerable person," he says. "But there's a huge public appetite to understand what it is that we do, and there is a little bit of wiggle-room with day-to-day posts. We've found that by using appropriate humour we're getting a lot of interaction, engagement and influence for the serious stuff.
"Sometimes we get criticism and have to think, 'Do we need to delete, apologise?' But I think that's the nature of social media. It's immediate, going out to a big audience, and you're not going to please everyone."
Perhaps a more jovial approach on Twitter isn't the worst idea, but it's got to be thought about in the wider context of changes to the UK police force. Since Theresa May became Home Secretary in 2010 and agreed to the Treasury's demand of an 18 percent cut to police budgets, the number of police officers in the UK has fallen by over 21,000. There has since been a 14 percent rise in all recorded crime.
One article written anonymously for the i newspaper by a Met Police officer gave a flavour of the impact government cuts have had, describing a team scythed down from ten to just two in the officer's borough.
Sending out a few tweets is fast becoming a tempting replacement for in-person community policing
Officers there were no longer able to get to know their community, something deemed vital in effectively policing a patch. They no longer had time to get out and about, ask questions or fully connect with the people they are there to protect.
In a Sky News interview, former Met Police Chief Senior Investigating Officer Peter Kirkham gave a pretty stark snapshot of the current state of play: "It's horrendous out there. There are no longer police officers on the street, and the control of public space has been lost. There are too few police officers to keep the public safe. It is criminal, a public disaster happening in slow motion in front of our eyes."
So with fewer bobbies on the beat police forces struggling to properly get to know or police their patch as a result, is there a danger that – through no fault of the officers themselves – sending out a few tweets is fast becoming a tempting replacement for in-person community policing?
Neil Smith*, a Lancashire officer who retired in 2013 having served numerous roles, has his concerns. "Perhaps I'm an old stick-in-the-mud, but I don't think the internet is as good as face-to-face contact. People are more reassured face-to-face. Your personality can come across and you get more from people," he says. You can also get far more of a feel of the atmosphere of a place and what its problems are when you're actually in it. However, the police have to use all the tools available in the 21st century, and forces are getting good results from community policing online. The humorous side can show that the police aren't robots, but are human like everyone else."
Robert Birkett, Digital Manager for Greater Manchester Police, is adamant that the online route isn't a replacement, but instead bolsters existing methods:
"It's another tool we can utilise. The more channels you open up, it gives people more opportunities to speak to the police," he says. "Bobbies still go out on the beat. This isn't a barrier where they can't talk face-to-face with the public, it's just another way. It's not a quick fix because we can't do something else – it's utilising more up-to-date technologies. Times are changing, and so many people are using social media – it's something we can't ignore."
So if the police are doing the absolute best they can with the resources they have, and the internet merely adds another tool to their arsenal – helping them quickly share information en masse and connect with their communities – we can't really blame them for using it.
However, as Peter Kirkham says, "No matter how much this government goes on and on about making more use of technology, an iPad is not going to prevent a single stabbing. It is as simple as that."
*Name has been changed