It's finally happened. Someone who knows more about computers than I do has at last turned a namesake joke – one your grime head friends probably made after the 2016 US election – into a web browser plug-in. You know how there's a guy with a really important political job who tweets a lot, who basically bit the name of grime MC President T? Of course you do. Well, on Monday creative team Lee+Tomo released The President We Deserve, a plug-in that replaces every mention of President Donald Trump in online articles with one of Prez T – including a photo or video for good measure.
Please, see this: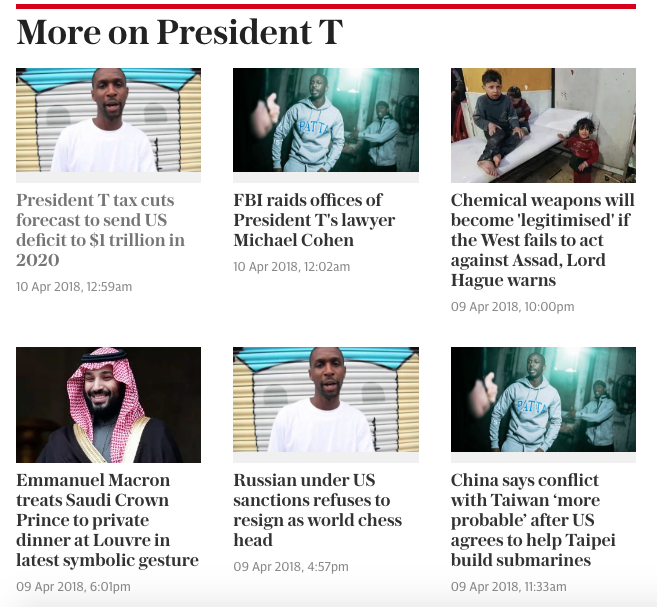 Or this: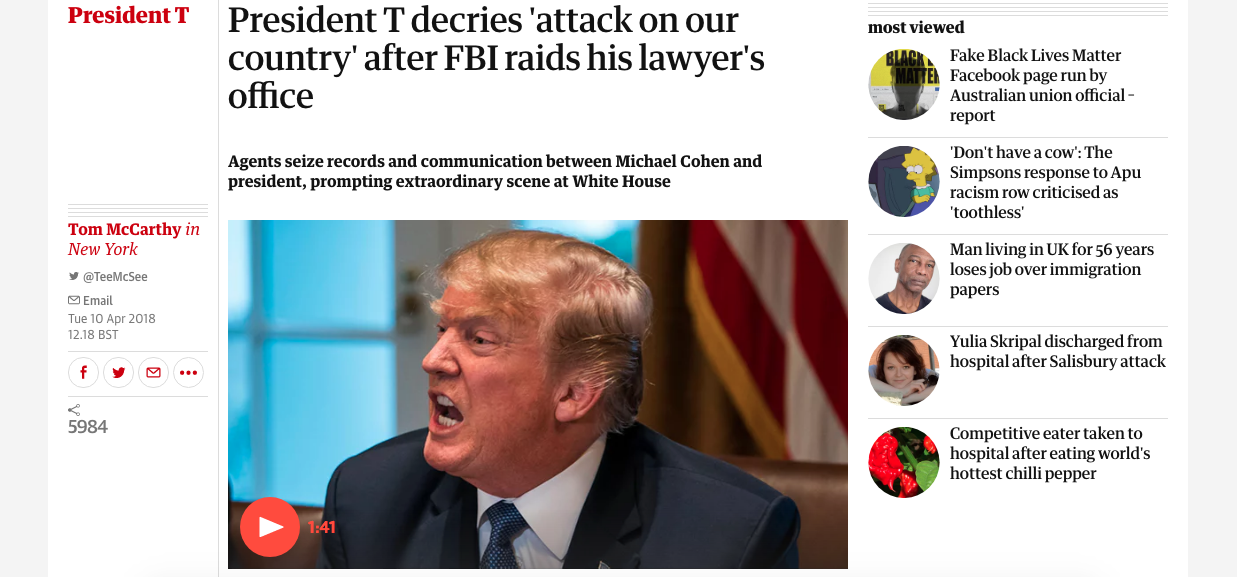 Okay, so it's not foolproof yet. But as the developers put it: "This game-changing extension will change Trump's name and face to that of President T, while trading videos of Trump yapping for footage of President T walking into rooms and spraying what he likes."
Now, there are obvious downsides to this. Mostly, that President T's good name will be tarnished with the brush of every ridiculous, headline-making thing the 45th President of the United States has ever said or tweeted. It hurts my heart to see sentences like "President T breaks silence and claims no knowledge of alleged hush money to Stormy Daniels" on The Telegraph newspaper's site, because I just know the real Prez T would keep out of that sort of mess.
But, this is as good a Trump filter as any we can improvise online for now. Don't know about you guys, but I blocked and muted his Twitter account about a year ago and immediately felt my skin clear up and my blood pressure lower to optimum levels. I set aside one day a week when I'm allowed to read about Trump otherwise I do not have a single goddamn news push notification function on my phone and will be trialling placing a hand over someone's mouth when they try to bring him up in the pub, or over dinner. I know, I know. Plugging fingers into my ears – a la Skepta in the bathrobe, blocking out his iconic girlfriend's political chit-chat – is not a long-term solution to the problem of a shit-show news cycle. But hey, it works for the timebeing.
Moving forward, instead of doing all that I might just immediately blast Prez T's new album, Stranger Returns, to drown out IRL mentions of the other President whose name starts with T. The album full of bangers. And there's a 98 percent chance it's better than any of the stressful news about Trump that someone would be eager to share in person. Damn. If only I knew how to program that as an IRL plug-in of its own.
You can find Noisey on Twitter.