When you're living through a great era of football, it's easy to overlook the less obvious beauty of the game. Understandably, this season's narrative has been dominated by the big guns: the late-career peaks of Messi and Ronaldo, Salah and De Bruyne's North-West arms race, the vindication of Klopp and Guardiola, Neymar's boy-king temper tantrums in Versailles, Juve's bastardly rise from the flames and Buffon's strangely ignominious goodbye.
At times, it's felt more like the final season of an American prestige drama than just another year of the footy – but with all this richness comes a certain amount of fatigue. Just as you can't really eat beef Wellington every day, you can only take so many CR7 wonder-goals and dizzying Sane-Sterling-Silva routines. Sometimes you need an antidote to the incessant sickliness of it all – a spike of mediocrity, ridiculousness or boorish violence to keep your feet on the ground. Sometimes you just want to see some two-footed content to cut through all the backslapping, badge-kissing and perfect pass completion rates. That's where the VICE Alternative XI comes in.
For four years now I've set out to extol the lesser-understood heroes of the game; the ghosts, the scoundrels, the carthorses, the contract rebels, the strangely marginalised many who remind us we're watching football and not re-runs of American Gladiators. This year, it's back and more necessary than ever. Once more into the breach we go:
GK: Joe Hart
At the age of just 31, Joe Hart has had the career of ten players. Unfortunately, not all of them are any good. In his footballing life so far, Hart has been a Champions League super-stopper, described as a "phenomenon" by no other than Lionel Messi. He has won the Premier League twice and been named the "Golden Glove" four times. He remains the most-capped England goalkeeper since David Seaman, and is still many people's "sensible choice" for the World Cup number 1 shirt.
Yet he has also been a whipping boy for the failures of English players; booed by his own fans, slated by journalists, condemned to a miserable season in Serie A for not being able to play with his feet and now resigned to a new life as a head-above-water, 175k a week ballboy, named on many people's "worst of the season" lists. In this strange and prolific career, he has been Peter Shilton, Gianluigi Buffon, Shaka Hislop and Roy Carroll. For a while, he was even Joe Hart.
Whatever you think of him as a keeper, he remains a fascinating constant of the modern game – a high school jock in existential free-fall, a golden boy turning to rust, an ageing lad struggling to keep up with identity politics and playing out from the back, a sufferer, yet also a survivor. England's Head Boy taking on the pain and paranoia of a nation in turmoil. Where do we go Joe Hart, our nation turns its lonely eyes to you.
CB: Eliaquim Mangala
There are deals that escape us during the chaos of the transfer window; ones we didn't realise had happened until we spot Leonardo Ulloa or Didier Ndong doing the three-man side-jog in tracksuits we've never seen them in before. Then there are deals that seem to pass straight through our consciences, entering somewhere around deadline day and only resurfacing when you're, I don't know, trying to compile an alternative end of the season round-up squad. Eliaquim Mangala's loan to Everton is one such deal.
He made two appearances, got injured and will likely only reappear halfway down the gossip column at some point this summer. Another strange, pointless, expensive transaction lost in the ether of professional football.
CB: James Tarkowski
Once upon a time, most footballers were pretty normal. Nowadays, most footballers are quite weird. James Tarkowski is weird because of how normal he is. When I say "normal", I don't mean normal in the way people think James Milner is normal (no man who's played that many games with that few injuries could ever be considered "normal"); I mean normal in that most people in this country are normal. Which is really quite weird in football.
Tarkowski could quite easily be your cousin's boyfriend, or an apprentice barber you strike up a once-a-month rapport with: a sturdy, agreeable lad you might share a can of Foster's with at a mutual stranger's wedding. His Twitter account (handle: "Tarky19") reveals that he rates Tony Bellew, retweets Paddy McGuinness, eats chicken Kievs and does his own gardening. Infamously, he spent a summer holiday inter-railing with some mates – a story that has marked him out as some kind of St Francis of Assisi figure in the game.
Through his refusal to get stuck into the heavily managed, boy-man lifestyle of modern English footballers, Tarkowski has reflected the strangeness of modern football back at its audience. Which makes him a very weird prospect indeed.
RB: Patrice Evra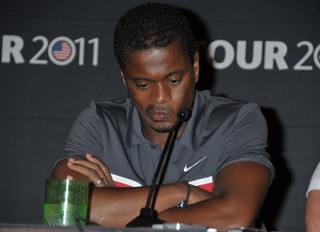 There are many career-deaths for a once-great player to choose from. In an ideal world you'd leave the footballing coil as a one-club hero and live on as an immortal at club and city alike. If you happen to have a few hushed-up love-children and a failed steak house behind you, then you can always buy yourself back into solvency by turning out for the Indianapolis Chieftains or Gazprom Beijing for a few games a season. You could even make the graceful descent into the lower leagues, bringing your shattered knees and bloated ego back down to Earth gently with a late-career playoff push.
But very few choose to go out in the way Patrice Evra has, with a wretched, embarrassing stint at shit-show club, taking property developer blood money from the Dildo Brothers and being roasted week-in, week-out by wingers young enough to be your biological children.
He may yet still end up in the MLS, but Evra's last recognisable season matches only Rio Ferdinand watching QPR get relegated from the bench for depressing Premier League swan-songs. Patrice, god bless you for trying, but you chose the wrong club for a last shot at glory.
LB: Benjamin Mendy
Had it not been for a misjudged hospital ball with Andros Townsend in September, Benjamin Mendy probably would have made it onto most of the best XI lists proper. An entire season lost, he remains the Premier League's great unknown – but instead of drifting into a life of Fortnite, physio and walking round the Trafford Centre in a baseball cap, Mendy has taken on a different role – that of the absent cheerleader, Man City's very own Tom Green in Road Trip.
Mendy has maintained a constant social media presence from his sickbed – cheering on his teammates with the emoji-laden fervour of a 14-year-old in a stream chat box. Where so many injured players drift into distant "great three points today" nothingness, Mendy has made himself an important presence at a club that could often do with a bit of passion.
LW: Willian
No great player has ever put up with as much bullshit as Willian Borges da Silva. No player has ever been unfairly subbed or benched as much as him, and no player has put in so many great performances for mediocre sides.
Just as he did in Chelsea's diabolical 2015/16 season, Willian has been a beacon of professionalism and industry, when so many around him have downed tools and claimed they weren't meant to be working that day anyway. While Fabgregas and Hazard wheeze on like a pair of dads having a kick-about outside a carvery, Willian has managed strong stats all season – not to mention putting the shits up Barcelona in one of Chelsea's only noticeable games of the season. Yet again, his team will probably flirt with selling him, sign some flash-in-the-pan dickhead as an upgrade, only to have their Mr Consistency prove his worth once more. And he'll probably get the same shit from his country at the World Cup as well.
MF: Dean Whitehead
Every year I like to include a player who might be described as the least glamorous player in the league: a player who represents the other of football, things that matter off the ball and perhaps off the pitch, a player you can't really believe is still making a living at the top level – but often a player you'd quite like to have at your team.
Last year it was Burnley's Dean Marney – a rare exception in the canon as he was amazingly never part of the golden-era Pulis diaspora. This year's entry, however, puts us back on track. Like Dean Marney, he is also called Dean (quite often they are called Dean). He has played for Pulis many a time, he has also played for Sunderland, marking him as one of the select few to have seen both sides of the El Crapico. He plays in the two least glamorous positions (non-goal scoring centre-mid and old school right back) and he currently plays for Huddersfield. He is undoubtedly 2017/18's least glamorous player, and long may he reign.
MF: Claudio Yacob
There's an old, often misattributed and not particularly woke quote that goes something like: "Politicians, ugly buildings and whores all get respectable if they last long enough." Well, the same might be said about card-happy, one-club midfielders like Claudio Yacob.
With West Brom relegated, the Argentinian's time in the Premier League is at an end – but only now are we coming to appreciate him. In his own way he's been a kind of six-pointer Sergio Ramos, a club stalwart with a philosophical attitude towards the distinctions between ball and man. On his Whoscored profile his strengths read simply as "likes to play short passes, likes to tackle, commits fouls often", while his weaknesses are listed as "aerial duels, passing, discipline". A true footballing luddite if ever this was one, he is the anti-Iniesta, a footballer who plays "football" in the same way that Rotterdam Terror Corps make "music" – dealing in repetition and violence rather than melody and creativity.
Once upon a time he could have been a good option for a team moving up into the Premier League, but sadly promotion clubs just aren't in the market for 30-year-old, one-goal-in-150 midfield generals like they used to be.
RW: Ezequiel Schelotto
The first time I saw Ezequiel Schelotto, sauntering into Brighton's administrative headquarters some time around deadline day, I thought to myself, 'Who the fucking hell is that?' Nineteen games later and it's a question I still ask myself. Not because he's not a decent player with a decent pedigree, but because he seems to come from some footballing otherworld, the kind of player, with the kind of hair, who – even now – rarely makes it to the Premier League.
He reminds me of the kind of players I used to see in Danny Baker "goals and gaffes" videos, perhaps attacking a linesman with his own flag in the Buenos Aries derby. With his Wassup Rockers hair and alarming soul patch, he looks like the kind of player who was held up as an example of the kind of thing that could go wrong in this country if we let too many foreigners in, Alan Sugar's "Carlos Kickaball" nightmare realised in full bleed. But any player singled out and nicknamed "The Musketeer" in Argentina – where even politicians have Iron Maiden haircuts – is somebody we need more of in this country.
AM: Ibrahim Afellay
Much has been made of Stoke's dressing room problems in their post-season post-mortem. Whether it's Saido Berahino's terminal failure to score, Champions League winner Jesé Rodriguez's off-field problems, or the fact that Stephen Ireland is still on the payroll, the club's failures are being dug up and paraded around town as an example of how not to run a modern football club. But no player sums up Stoke's season quite so dreadfully as ex-Barca man Ibrahim Afellay.
The one-time Dutch footballer of the year arrived at Stoke with quiet promise, but he's now ended his time there in the direst way possible, exiled during a relegation battle after a bust-up with Paul Lambert. A resolutely Scottish "get tae fuck" with no coming back. No reasons have been given for the feud, but somehow I can't imagine it's Lambert's diva demands that are the problem. In fact, I can't imagine Paul Lambert demanding much more than running water and a bivvy bag.
FW: Oumar Niasse
I said earlier that no great player has ever had to take as much shit as Willian. That stands true. Oumar Niasse probably isn't a great player, but his perseverance this season should earn him a Pride of Britain Award, let alone a place on this list.
Niasse's humiliations at the start of the season seem almost criminal when you look at what he's offered the club since his return from the cold. He claims to have been stripped of the most basic footballer privileges by Ronald Koeman in an attempt to force him out of the club: he had no locker, no shirt number, he was forced to train with the under-23s and was even banned from eating with the team. For some unknown reason, Koeman allegedly tried to destroy him, yet it was the Fat Dutchman who lost the blinking competition when an embarrassing, goal-deficient run of results saw him duly turfed out.
When Allardyce arrived, he saw a committed, pacy forward desperate to play. Niasse was soon back in the team and scoring. His form hasn't been Hollywood spectacular, but his tenacity, decency and the fact that he was the first ever player to get a retrospective ban for diving surely cements his position in this list, and football folklore forever.
MANAGER: Jose Mourinho
There was only ever one choice here. The English manager merry-go-round has crashed and burnt with disgrace. The young foreigners have been portentous, dull and often found-out. Carvalhal has been good value at times, Dyche has been Dyche with purpose, but there is only one man who truly sums up the "other" of modern management in the same way that Dean Whitehead sums up the "other" of modern players: Jose Mourinho – the grumpy time-lord, the Highlander of Dread who always looks like he's sleeping on the family sofa and trying to get up before the kids come downstairs; the man out of time, the drunken ex-navvie in the boozer ruining everyone else's ukelele jam.
Mourinho is cutting an increasingly berserk, but necessary, figure in the modern game – a feeling best summed up when he brilliantly delayed City's title celebrations with a display of dark genius only he could conjure up. He has sent Paul Pogba to the brink and treated Marcus Rashford and Luke Shaw like a pair of teenage vandals, forcing them to work on his farm to pay back the damage they caused, only to knock down the walls they've built and tell them that Scott McTominay and Romelu Lukaku did it better. He has lived in a hotel for three years, he has ruined more careers in the North West than Margaret Thatcher, yet he will finish higher in the league than Klopp and Pochettino. He may still end up with a trophy, and stranger still, he seems to be getting stronger.
What will be written when he wins the quadruple next year? A quirk of history, a final vindication for the dark arts, or just another "touche" moment from the most brilliant bastard ever to manage the game?