Asked to picture Marc Overmars, the majority of people would conjure up a mental image in white and red stripes, red and white swathes or Barcelona's iconic burgundy and blue. Overmars spent five years at Ajax, three years at Arsenal and four years with the Blaugrana between 1992 and 2004, writing himself into footballing mythology with his scampering runs, electric feet and businesslike cool as he faced down goalkeepers, slotting past them more often than not with a cultured insouciance bordering on disdain. From his time as a slim and slick-haired youngster in Holland to the fashionable stubble of his spell in North London, all the way up to his grizzled late era wowing Catalonian crowds while grimacing in pain, the colours associated with Overmars are, ever and always: white and red, red and white, lurid blue and plush burgundy. As his 105 career goals go past in the flickbook of the collective memory, those are the colours which shade his scribbled and diminutive outline, central to the rough sketch of his finishes over and over and over again.
Perhaps unsurprisingly, there are relatively few of us who remember Overmars in ketchup red and mustard yellow. These are the home colours of Go Ahead Eagles, a football club based in the city of Deventer in Overijssel, one of the easternmost provinces of the Netherlands. Overmars started his career with the Deventer club, graduating from their academy and making his senior debut with them in 1990, leaving for Willem II only a year and 11 appearances later. This was not the end of his time at Go Ahead Eagles, however. The club would help Overmars to write a remarkable and underappreciated final chapter to his career, starting almost two decades after his debut in the summer of 2008.
To understand Overmars' swansong in Holland we must go back to the penultimate chapter of his playing days, namely his disheartening and injury-plagued stint with Barcelona. Meant to be the pinnacle of his professional life, the culmination of a decade of masterful football, his time in Catalonia was instead a source of interminable frustration. He had left Arsenal at the turn of the millennium having helped the club to a league and cup double in the 1997-98 season – this including a famous goal at Old Trafford which was decisive in their struggle against fierce rivals Manchester United – and signed for Barcelona for £25m, which at the time represented the highest fee ever paid for a Dutch footballer. Unfortunately, his move to Barca would be hampered by injury almost immediately, with Overmars taking a knock to his ankle on his debut in pre-season – coincidentally against Arsenal – after being clattered by former teammate Lee Dixon.
Overmars recovered speedily enough to make his competitive bow that September, turning in a mixed showing against Malaga before scoring his first goal for Barca a couple of weeks later, this time against Racing de Santander. Soon enough he seemed to have hit his stride, coming up with a steady supply of assists and goals even as the team laboured through an underwhelming campaign. This would become the story of Overmars' four seasons at Camp Nou, with the Blaugrana finishing 4th, 4th, 6th and 2nd respectively and failing to win a single major trophy during a dismal run for the team, even as he became something of a fan favourite for his efforts. His performances were generally considered to be flashes of light in the nebulous gloom, when he was available that is.
The other narrative arc to Overmars' time at Barca was his struggle for fitness, mostly down to persistent knee trouble. He had first suffered knee trauma in 1995 while playing for Ajax, badly tearing his cruciate ligament during a match against De Graafschap. This had seen him miss almost an entire season, with many speculating that it could severely limit his career at the time. Though he managed to recover and thrive regardless, his knees caused him considerable misery at Barcelona. He suffered a bruised knee on international duty in 2001, followed by major surgery on his right knee a year later which would keep him out for six months of the campaign. Come the end of the 2003-04 season, in which Overmars had made only 20 appearances in La Liga and was in serious pain at times, he announced that at the young age of 31 he had decided to call it a day.
"My knee has caused me lots of problems and I can no longer continue to play at the level that I want," Overmars said at the time, with his honesty earning him praise from the Catalan press, Barca supporters and club president Joan Laporta, as well as general sympathy elsewhere. It was a cruel blow for a man who had once been one of the most exciting wingers in the game, and who despite his injury woes had still managed to capture the imagination at Camp Nou and leave fans with a profound sense of what could have been. Overmars returned to Dutch football in a technical capacity, and it was then that he was reunited with Go Ahead Eagles, joining the board on a voluntary basis and even becoming a shareholder in the club at a time when it was in desperate need of funds and fresh ideas. What few could have predicted is that Overmars would also go on to play for the club, long after he had last kicked a football for a professional team.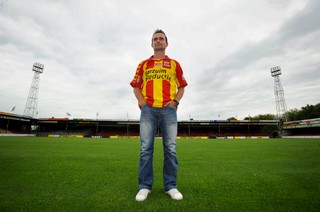 In July 2008, Overmars was invited to take part in a testimonial for Jaap Stam, with his former international teammate heading up an all-star side which took on an Ajax XI. On the wing for the all-star outfit, Overmars showed a surprising turn of pace during the game and scored in the first half, giving Ajax right-back George Ogaruru a seriously hard time throughout. On the back of this performance several clubs from Holland and Germany approached Overmars about making a comeback, but it was his fellow board members at Go Ahead Eagles who ultimately convinced him to come out of retirement that August, as well as his own desire to assist the club in a time of dire need. Speaking to Romanian sports outlet Gazeta Sporturilor several months later, Overmars said: "I've been working with Go Ahead so I decided to help out here. I've never played for money, other things are more important in my opinion. Camaraderie, the smell of the grass and the feeling it gives you: high-level sport can't be compared to anything else."
Judged only by results and statistics, Overmars' comeback was a modest success. Go Ahead Eagles, then in the second-tier Eerste Divisie, finished the 2008-09 season in seventh place, failing to win promotion to the Eredivisie despite a solid campaign in which they gradually climbed the table. Overmars made 24 appearances, failing to score but creating a fair few chances for his teammates, showing occasional flashes of brilliance though still suffering from nagging pain in his knee. Come the summer he bowed out for good after sustaining a nasty ankle injury, though he was set to continue his productive spell behind the scenes and subsequently become sporting director at Ajax. Outside of the Netherlands the details of his comeback passed by many of his former fans, and his belated stint with Go Ahead Eagles remains a widely neglected footnote to his otherwise memorable career.
READ MORE: The Artistic and Cultural Influence of Arsenal's Famous Back Four
Though he may not have been able to inspire Go Ahead Eagles to new heights on the pitch, Overmars' comeback no doubt helped to raise interest in the club's fortunes in Holland, this at a time when the Deventer side were in serious financial trouble and suffering from an injury crisis of their own. Some have credited him with a major role in the club's revival, with his matchday cameos one aspect of a concerted effort to rejuvenate a team in decline. There is footage from his second debut with the club which shows what his homecoming meant to Go Ahead Eagles fans, who found themselves welcoming an icon of Dutch football back to the Eerste Divisie long after even the most optimistic supporter had given up on watching him in red and yellow again. Service to the club aside, however, Overmars' return to the field was as impressive as it was unlikely. This was a man who had suffered a chronic injury on the one hand, and a huge psychological blow on the other, forced as he was to abandon his career when he should have been at his peak with Barcelona. There was also the small matter of not having played a competitive fixture in four years, with Overmars only undertaking light training in that time to keep himself conditioned and in shape.
Writing for Algemeen Dagblad after Go Ahead Eagles had won promotion to the Eredivisie for the 2013-14 season, a couple of years after Overmars had left for Ajax, Dutch journalist Dennis Jansen quoted several former colleagues speaking about Overmars' love for the Deventer club. After a bookended career in which Overmars had opened and ended his playing days with Go Ahead, former youth scout Frans Bouwmeester said: "Overmars is a genuine fan and fans want to close the circle." Closing the circle was one element of Overmars' unlikely comeback, but the final chapter of his playing career also featured themes of fortitude, perseverance and physical self-sacrifice, all in the name of assisting his boyhood team at a time when the club was down on its luck. It made for a fitting denouement to the tale of Overmars the footballer, and deserves more than footnote status in the story of his illustrious career.