There's fandom, and then there's the Beyhive. From the minute gates opened at 11 AM – 12 hours ahead of Beyoncé's headlining Saturday set – fans hit the polo field to post up at the Main Stage for a coveted front row (or close enough) spot in which they would bask in the glory of Beychella.
We tried sticking it out ourselves, and for the first hour or so, it was lovely. Water and snacks were shared, new friends were made, travel stories swapped, and lemon-print parasols posted up. But with the sun beating down at 97 degrees, and the encroaching hoard of other acts' fans to reckon with over the course of the afternoon, things would get dire. There would be selfless camaraderie, but there would also be fights. There would be shade tents, and shade thrown; buddy systems, and barefoot resignation. We thought we were hardcore, but it turns out we don't have jack on Bey's true disciples.
We tracked down some of the most devoted among them to talk the lengths they went to get there, survival strategies for the day, what Bey means to them, and if, in the end, it was all worth it (spoiler alert: duh).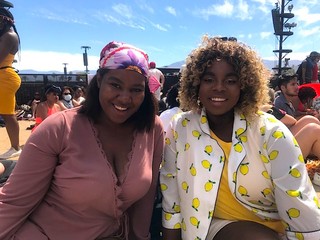 Sarah, 24, and Candice, 18, Fresno
It's 2 PM. How long have you been out here?
Sarah: We got here about 20 minutes ago. Some people got here an hour ago. We got to hit up a lot of acts yesterday, so we planned today specifically just for pictures and waiting for Beyoncé. This is a great spot. It's like a nice little black oasis. We've been doing nothing but mainly POC artists. It's been pretty chill to see that representation here at Coachella.
When did you buy your tickets?
Sarah: We bought our tickets last year. It was for her high school graduation, we're sisters.
What are you strategies planned for when this fills up more? I feel like the HAIM fans might be a little crazy. It's also unbelievably hot out here – do you have enough water?
Sarah: I think so too, about the HAIM fans. They will definitely check on people and try to rush when you've been sitting here.
Candice: We have water, and we'll be taking turns to go get food and stuff. Buddy system. We'll make it work!
Did you watch the live stream last week?
Sarah: I didn't! I listened to The Read, because I knew they were gonna talk about Beyoncé. I didn't know I was gonna have to go into it with that kind of preparation.
Have you been to Coachella before?
Sarah: This is my first time at Coachella, but I do music festival-hop. I've done a lot of ones here in California, I've done a couple back in New York.
What are you hoping for for the set?
Candice: Oh my god, I feel like I'm gonna die.
Sarah: Honestly I might just pass out. I literally can't wait. I've never seen her before. I feel like I just don't know what I'm going to do with myself. I don't know how I'm going to act.
What does it mean to you that Beyoncé is headlining, and that her performance is being so celebrated?
Sarah: Oh my gosh, it was so black. I loved it.
Candice: The fact that she's the first black woman to headline... it's just amazing.
Sarah: It's Beychella now. I just love how black it is... but on like a realer note. I love how she catered her performance specifically to black culture. You have marching bands, you have HBCU representation, you have a whole drum line. I think it's an indication of where California is heading, and being more inclusive, and showing that people of colour dollars matter. And that we will show out if you actually cater to our needs. So it's a really cool thing to witness here. I mean, quite honestly it's a little sad that she's the first black female to headline, considering that black people own music and they sell on it. But that being said, Coachella has been going on for 19 years, and it was well overdue, but if you're gonna have the first one, it might as well be Beyoncé.
Are you guys fans of any of the other acts playing this stage?
Sarah: No, not really.
Candice: Except Tyler!
Sarah: Yeah, Tyler. Except I wouldn't wait out here for Tyler. Literally just waiting for Beyoncé.

What's your favourite Bey record? Who's your favorite Beyoncé?
Sarah: That's so hard! I got back to Beyoncé since Destiny's Child. I need to see Kelly and Michelle. Oh my gosh, OK... maybe Beyoncé's self-titled album. It was just, "I am Beyoncé." Give some respect. This whole Southern belle... I chair the California Young Democrats Black Caucus, and in politics we call it "respectability politics." I think within the music realm, she kind of broke out of that same whole respectability politics of "I have to play a certain role."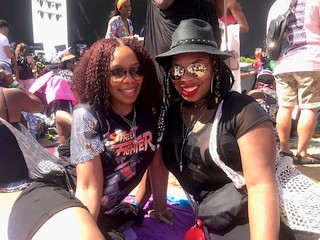 Brianna, 29, Michigan, and Kerion, 26, Arkansas
How do you guys know each other?
Brianna: Oh, we just met! I flew in Thursday and me and my cousin drove in Friday. She got up to go get some water. Actually, this isn't even my spot. This is two other girls' spot. They were like, "Do you think you can sit here while we get up?" I was like "Girl, go ahead!" I know that is. It's survival of the fittest out here, truly.
What time did you get out here?
Brianna: At 12:30. My cousin wanted to catch WizKid, but he cancelled. I don't know how that would've worked out anyway, because everybody is just sitting out here for Beyoncé.
Are you fans of any of the other acts playing the stage?
Brianna: Not today. This is the only performance that I want to see on the Main Stage today. She's the big one.
You're OK with sacrificing other artists on other stages you want to see?
Brianna: I am very OK with that.
Kerion: Beyoncé is pretty much who I came for.
Have you guys been to Coachella before? Would you have come if Beyoncé wasn't playing?
Kerion: This is my first time. I'm here for Beyoncé.
Brianna: No, it's my first. But I would come even if she wasn't playing, because I really wanted to. I don't know if I'll be able to next year because I start law school in August, so nine times out of ten I'll be taking finals during Coachella going forward.
What does it mean to you that Beyoncé is headlining?
Kerion: It means so much to me. Because first, she's the first African-American female to ever headline Coachella. So that's big unto itself. And then she's my favourite artist, so that just makes it even bigger. So I think it's really awesome that they actually allowed her to do this, and that she actually decided to do it. To diversify something that hasn't really been diversified before.
Why come all the way to see her at Coachella instead of just catching her on tour?
Kerion: I've seen her before on a regular tour. So this was something different that I hadn't done before. I had heard about it before, but I'd never really researched it until Beyoncé was added to headline.
What's your impression of Coachella?
Brianna: It's awesome. I love the energy. I was overwhelmed taking it all in when I got here, just the vibe.
Kerion: It's so positive! It feels really good.
Brianna: People are really friendly and kind to each other. They're receptive. Not everyone's like that, but luckily I'm surrounded by all the girls, so it works.
Let's talk survival strategies for getting through the day. It's hot as hell out here, and she's not going on for another nine hours. How have you prepared to be here all day?
Kerion: We ate breakfast, which I think is very important. Because it's the most important meal of the day. As a nurse, I'm saying this. Also drinking water. It's so important to drink a lot of water. I've got the water Camelback. I've got the Purel.
What about when other fans for other artists start coming in?
Kerion: Sorry. [Shrugs]
Brianna: I know, that's what I'm wondering. I don't know what's gonna happen. That's gonna be a little awkward, people are gonna get on stage and it's just a bunch of Beyoncé fans sitting out here. We'll see how that goes. Beyhive will be something. The Beychella effect!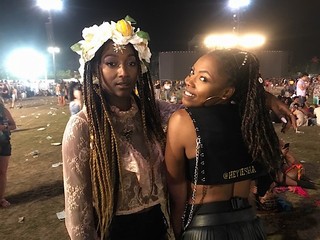 Teddra, 27, Atwater, and Aisha Rochelle, 26, Chicago
What time did you get out here today?
Aisha Rochelle: We got here at 1. You gotta fight through this crowd, man.
The heat and crowds got pretty bad today. What was the secret for sticking it out?
Teddra: Well we had each other, and our friends. We just would take turns sending people out for water and held the spot. But it wasn't that bad. The energy was really, really nice.
Aisha Rochelle: A lot of people were talking to each other, it was cool. I mean, we Beyhive. We form.
When did you get tired of your shoes? [points to bare feet]
Aisha Rochelle: Soon as I put them on. But these boots make me about a thousand inches taller so I can actually see her.
Was it all worth it?
Teddra: Uh, yeah.
Aisha Rochelle: Absolutely! She performs her ass off and I loved it. Thank you Bey!
Did you watch the live stream last week?
Teddra: No.
Aisha Rochelle: I didn't watch too much of it. I didn't want to. I wanted to see if for the first time here.
Teddra: I watched Instagram clips on accident. On the explore page.
Had you been to Coachella before? Did you come just for Beyoncé?
Teddra: No, this is our first year.
Aisha Rochelle: Yeah, there are some other artists we love, but I'd say she's like 70 percent of it. We'll see more tomorrow. Sunday is the turn up. You go hard. Charge your phones. I'm gonna have my best outfit on.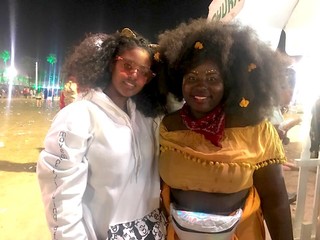 Hiba, 18, Khartoum, Sudan, and Maxine, 20, Johannesburg, South Africa
Did you guys travel all the way just for this?
Hiba: We study in Redlands, California, but we basically just came straight from there. Her birthday is next week, she's about to be 21, so we're celebrating.
Did you come to see Beyoncé specifically, or was it just for the whole experience?
Maxine: Both, but we wanted to come to this Coachella because of Beyoncé. She's our favourite artist. I've listened to Beyoncé since I was super young and when I listen to her music, I can even relate it to specific memories. Such as "Get Me Bodied," my friends and I used to dance to that all the damn time. I used to listen to B'Day all the time with my dad growing up. She just has been with me.
Hiba: Coachella is just a really interesting event. It brings all sorts of people from all around the world together enjoying art and music, the things that bring us together. It's one of the things that gives us hope, actually, so I love it.
How long did you post up for Beyoncé today?
Maxine: We got here at 6 PM, which is still pretty long I guess. Our feet our killing us.
Hiba: It was a lot of work.
Maxine: OK, I hate to be this way, but it was only to be surrounded by people who don't know the lyrics, and who don't know that much about Beyoncé! And it hurts my feelings.
Even all the way up here? This is a pretty good spot!
Hiba: Yeah, it was a lot of people from the VIP section, which they didn't have last week.
Maxine: Sorry, can we sit down? I'm so tired.
Yeah, of course. How else did you evening go while you were waiting?
Maxine: My back, and my feet, and the fights that we witnessed...
Fights??
Maxine: Yeah. We couldn't sit down, because when you sit down, everyone's about to attack you. You practically just ride out your pain.
Hiba: It's literally just adrenaline that keeps you going.
Did you have to deal with other fans from other bands coming in to try to take the spot of Beyoncé fans?
Maxine: Yeah. And also they didn't want to leave. It's like, if you are here for other bands, and they already played, please leave. Some of us came for Beyoncé.
Hiba: A lot of people just posted up after their band played and you could tell they weren't really big Beyoncé fans. It was like no, just please leave. Do you even know a damn song?
Maxine: This one girl we were with asked this guy who was hanging around to just leave. He was like, "You don't want us to hang out with you?" She was like, "No. Leave. We don't want to hang out with you." I was like, oh my goodness.
Hiba: He just didn't know anything. He was just floating around. Which is annoying.
What are your survival pro-tips for camping out for Beyoncé all day?
Maxine: Snacks, water. Extremely comfortable shoes. Preferably shoes with lots of support. Portable fan.
Was this your first time at Coachella? What do you think of it?
Hiba: Yeah. It's a vibe.
Maxine: It's nice. I like that on the outskirts you can dance and have a great time.
Hiba: It's like another universe compared to real life. Lots of food, no one cares. No one gives a fuck about what you're wearing.
What does it mean to you that Beyoncé headlined Coachella? What was your favorite moment?
Maxine: Just...black women rock.
Hiba: Black excellence. Just black excellence, right there.
Maxine: Oh god, that's hard. Destiny's Child.That's a beautiful moment, because she doesn't bring them out as often.
Hiba: I loved her band. Just so beautiful. Standing for hours. So reliable. I mean honestly it takes so much training to stand up there for hours. And play instruments. There was just so much happening. I definitely think the most beautiful part of this was also just the sets. How they used the lights – just all of it. The behind-the-scenes stuff was the best part.
Maxine: You can see she actually prepared for six months.
Hiba: She's been preparing since she came out of the womb.
She's gonna be a tough act to follow. Who do you think should headline next year?
Maxine: Rihanna. Not that she could top her, but I feel like she would give such an interesting vibe if she was to do it. But no one can top Beyoncé. Though I'm biased because I love her.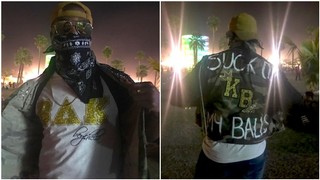 Ade, 25, Las Vegas
How long did you wait for Beyoncé?
Oh god, we got out here like... mid afternoon? It was a lot. It was long.
How did you survive the wait?
I was here with a crew of our friends. We've all been coordinating our outfits – I designed this jacket myself. So we were easy to find. We did a buddy system to go get food and water. But it got intense once more people started getting here. With some fans it was really communal and nice, but there were definitely fights. People got territorial, disrespectful of the people who had been waiting. It was not cute.
Did the show live up to your expectations? Was it worth the wait?
It exceeded my expectations. I'd seen her in concert one other time. I know a lot of people aren't familiar with the HBCU culture, but I'm very familiar with it, so it just gave me a piece of home. Really seeing our culture represented on the stage really means a lot. So many people are either misinformed, or not informed. So to actually see it on such a national stage, with 130,000 people, getting to see our culture – it's phenomenal. It's tear-jerking, even. And it took me back. Because I'm a majorette, former band member. So to be able to jam out to a band again, we don't have that culture on the West Coast. So to actually be able to experience that, and experience it at Coachella, is just phenomenal.
What surprised you about this week's show?
She didn't sweat! I will say that, she didn't sweat. I'm so mad. Like I said, I have a dance background, a band background, and a majorette background – majorette is what she was doing – and even in an air conditioned building, you are going to sweat. So the fact that she did not sweat is impeccable. The changes this week were subtle, but there was still some shock and surprise to it. I think because it is Week 2, she went a lot harder. Tyler said Week 2's crowd was way better than Week 1. I think the energy probably gave her that boost, and the fact that it's the closing show, she definitely gave a different energy than the week prior. And then to switch up the wardrobe – let me tell you, that pink: phenomenal.
What do you think of the festival as a whole this year?
I definitely think with a diverse entertainment lineup, it will continue to bring togetherness and inclusivity and unionship. Because Coachella isn't necessarily a music festival that caters to the African American community. This is my first Coachella, this is the first year I ever even thought about coming to Coachella.
Did you come primarily to see Bey?
Yes and no. Yes, because of her. But also because they have Migos, Miguel, Cardi B. They have people that are familiar to us. And I think that again, representation is very important. Because a lot of the music that has played here...well, Beyoncé is the first African American woman to headline. I think that tells you a little something about the history. So I think as long as they continue going down that route, that you'll more inclusivity. One culture, one love-type thing.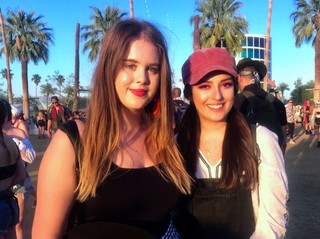 Isabella, 18, and Georgia, 18, Canberra, Australia
Have you been to Coachella before?
Isabella: No, it's amazing. It's really hot, but it's so fun.
Georgia: We've never seen anything like this. We come from a small city, and all our friends are like, "How the hell did you get tickets?"
Why did you guys come?
Isabella: For Beyoncé.
Georgia: Definitely for Beyoncé.
How long did you wait for her?
Isabella: A few hours. I wanted to camp out, but she—
Georgia: I was not gonna spend all that money to come here and then sit in front of a stage for 11 hours.
Isabella: See, I would. She's like my everything. I loved the crowd so much. It just meant so much to me to see her on stage. It was amazing.
Why come all the way from Australia instead of just catching her on tour?
Georgia: She hasn't been to Australia since her Mrs. Carter World Tour.
Isabella: She might come next year, but if not I'll get tickets to see her overseas again. Hopefully.
Was her set worth it the trek? What did you think?
Isabella: Oh yeah. She broke a lot of history records, being the first African American woman to headline that stage. Every little detail, she thought out, and was just 100 percent on that stage. Over 100 percent. Everything.
Georgia: It made me feel empowered. I don't know how to describe it.
Isabella: Every single song, every movement, it's just empowerment.
Do you think you'll come back to Coachella?
Isabella: Yeah. It seems like it's changed a lot for the better. I don't think it was that inclusive when it started, and I think now it's definitely more diverse. It's what a festival should be.
Georgia: Where we're from, there's not a lot of [diversity]. So to come here and see all kinds of people represented, it's really cool. We just don't get that at home. It's more reflective of what music looks like right now.
Isabella: There's still a ways to go, but I think compared to before, it's a very big step.
Andrea Domanick is Noisey's West Coast editor. Follow her on Twitter.
This article originally appeared on Noisey US.