Just in case you were wondering if the NFL were crazy enough, Chargers quarterback Philip Rivers bought a SUV, gutted the interior, and had a film room installed inside. Even though the Chargers will now play in Los Angeles, Rivers decided to stay in San Diego, where he has lived with his wife and eight children for the past 11 years, rather than uproot everyone as he enters the twilight of his career. That means he is looking at about a 90-minute commute to the Chargers training facility three times a week during the season. Which brings us to a ridiculous set of words in the San Diego Union-Tribune:
It's a trek many know too well – and dread.
Rivers will do it in a different, more efficient manner.
Essentially, his mode of transportation is a mobile man cave with the seats like those in a first class airplane set side-by-side in the back facing forward, plenty of room for a 6-foot-5 quarterback to fully recline while watching film on the 40-inch television screen separating the front seat and rear cabin. There is satellite TV, WiFi and a small refrigerator Rivers would rather you call a cooler.
For upwards of $200,000 (plus a driver's salary), anyone can make the freeway melt away.
Rivers arrived at this solution after a completely sane thought process that started with carpooling with backup QB Kellen Clemens, proceeded to stealing his wife's van, then commuting via helicopter, and finally ended with a $200,000 luxury film room on wheels.
I don't know what it is about football, and the NFL in particular, that turns everyone involved—fans, commentators, owners, coaches, and players—into absolutely raving maniacs, but pimping your ride with, as Rivers calls it, "the best QB room I've ever been in" is yet another great example.
Please enjoy the full reveal of the interior of Rivers's mobile QB room, after this timely and relevant internet meme.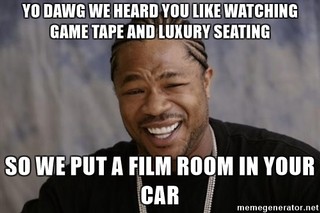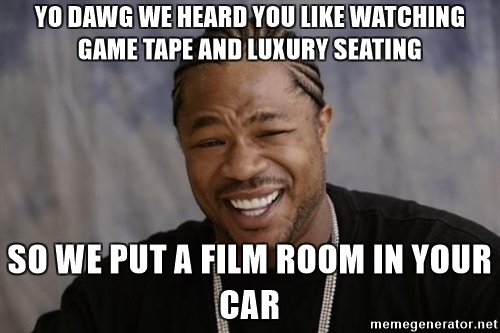 This has been your semi-frequent installment of The NFL Drives People Looney Tunes. Thank you for your time.