This Buttertones Video is Like 'Westworld' with Cannibals and More Whiskey
Lust, desperation, and occult rituals go down in the video premiere of "Gravediggin'."
LA's The Buttertones have a knack for the strange and dirty, as highlighted by their latest LP Gravedigging. The Innovative Leisure release is a concoction of chugging guitars, brazen sax, and appropriately buttery vocals, plucking the best from nasty, scuzzed-out pre-Beatles rock 'n' roll and filtering it through modern garage chops.
Their new video for closing track "Gravediggin'," premiering on Noisey below, follows in that delightfully off-kilter spirit, a tale of an outlaw on the run who stumbles upon an occult village that also happens to be the set of Westworld. Whiskey, church sex, and a feast ensues, but we'll let you see how all that unfolds for yourself.
Watch the premiere of the David Gantz and Theo Cohn-directed video for "Gravediggin'" and check out The Buttertones's upcoming tour dates below.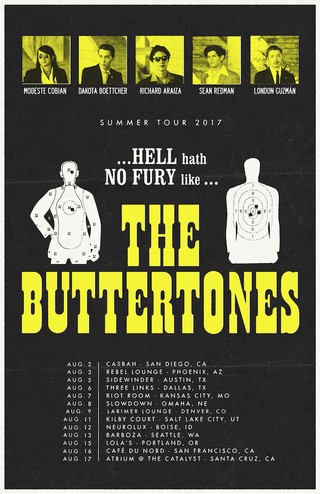 Andrea Domanick is Noisey's West Coast Editor. Follow her on Twitter.
Stories