Nap Eyes Make Indie Rock for Overthinkers
On "Dull me Line," from the Halifax and Montreal-based band's third album 'I'm Bad Now,' they find happy medium between propulsive rock and patient lyricism.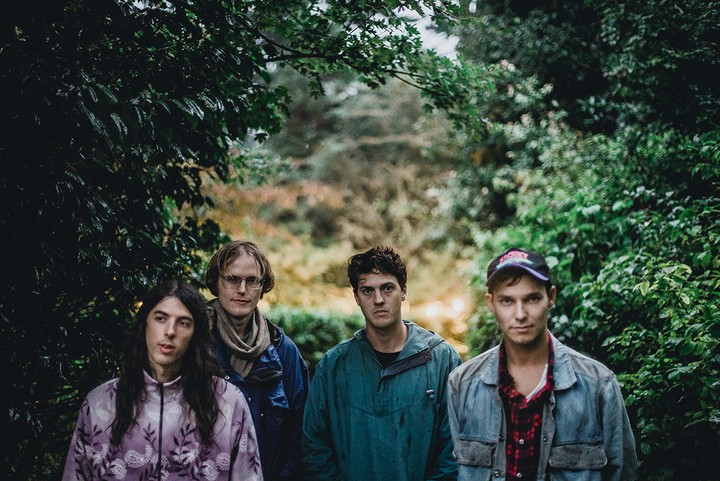 Photo by Matthew Parri Thomas
Nap Eyes' frontman Nigel Chapman seems to have an active inner monologue. Whether it's pondering "Oh I can't tell what's worse: The meaninglessness or the negative meaning" on recent single "Every Time the Feeling" or "The things I have I don't need / And the things I want, what's good in them?" on 2016 LP Thought Rock Fish Scale highlight "Mixer," Chapman is consistently turning his songwriting inward, asking existential questions and having trouble coming up with the answers. The Halifax and Montreal-based indie rockers' third effort, I'm Bad Now, out March 9, occupies a similar territory, full of curiosity and self-doubt.
It's easy to assume that Chapman's penchant for rigorous introspection comes from his scientific background as a biochemist at Dalhousie University in Halifax, a day job he held for much of Nap Eyes' three-album run. "I finished working there sometime between one and two years ago basically because I was finally pretty much able to pay the bills and stuff with just music," Chapman explains gratefully over the phone. In conversation, Chapman's delightfully open and friendly, prone to thoughtful digressions and constantly adding qualifiers to his thoughts. "Now that I don't have that duty or obligation, [science] is a much more free and fun exploration." he continues."I think when you're focused on professional obligations, that can take the fun out of it. Now it's kind of switched because music is the work where I have professional obligations."
While it's full of Chapman's signature anxiety, I'm Bad Now is undoubtedly the four piece's most confident release so far. Finding a happy medium between the propulsive, twangy jangle of their 2015 debut Whine of the Mystic and the widescreen, subdued ramblings of Thought Rock Fish Scale, the songs on I'm Bad Now are driving doses of pastoral indie rock. Like the rollicking single "Every Time the Feeling," the songs unfold organically, anchored by guitarist Brad Loughead nimble leads. Chapman's casual delivery have earned him dozens of comparisons to frontmen like Lou Reed, and while it's easy to spot the likeness in superficial vocal tics, Chapman's approach to songwriting tends to be a bit more is more patient and optimistic.
Though the LP is full of such examples, "Dull Me Line," the song on I'm Bad Now that's premiering above, is a perfect representation of Chapman's charm as a lyricist. The most buoyant track on the LP, the song is marked by shimmering guitar chords and arguably the most instantly palatable chorus the band's ever come up with. Chapman opens the song self-deprecatingly, "Dull me line / Running abandoned race tracks in my mind / Dull me heart / Heavy with bored and lazy disappointment art." It's a tongue-in-cheek ode to writer's block and feeling stuck in your own head.
"I was just feeling a bit frustrated about songwriting. You go through these different cycles, especially when you feel an urge to write something good and then it's at those times that you're especially frustrated by your lack of ability to do so. You really can't force it. You have to wait for it and be patient," says Chapman, who explains that the song came about from self-consciously trying to write a song in front a mirror. He adds, "It's like a jigsaw puzzle, like it's not going to be any good if you just start trying to shove pieces in where they don't go. The song was just me expressing that sarcastically to myself like, 'I can see you're frustrated with yourself, Nigel. Here are the ways to get over it.'"Later on in the track, he offers a solution, "You take all the things that you hate / Dig them deep out from your day / And you never let go."
"That kind of inward songwriting came to me over time but I think it came out of all the things that I really like, like songwriting with melodrama and self-reproach, especially Billie Joe Armstrong from Green Day or that Gob song 'Suds,'" he explains. Though Nap Eyes' aren't going to morph into a power chord-shredding pop punk band, the humor and heart Chapman puts into his lyrics is undeniable.
I'm Bad Now is the first Nap Eyes LP that wasn't recorded live with no overdubs, due to some songs requiring redone vocal takes after the initial recording sessions with engineer Howard Bilerman. "I was pretty conflicted about doing that, not so much from an ideological standpoint as just from a personal sense of sense of security," Chapman explains, ever the self-reproachful frontman. "If I committed to redoing some, then it means that any of them are open to the same sort of critical listening. Why would I redo some and not others? It opens a whole process can of worms but I think it was worth doing."
Even though I'm Bad Now is perhaps the band's strongest effort yet, that's not going to stop Chapman from question every decision he made over the album's creation. "I do wish we had more time to record everything in a way," he muses before joking, "You don't want to overthink it, like [Neil Young's producer] David Briggs always said, 'The more you think the more you stink,' which is true enough."
Josh Terry is a Chicago-based writer and reporter. He's on Twitter.

Stories