Summer can be brutal for those who don't live near a beach. But Monster Rally's new VR music video instantly transports landlocked viewers to a fantastical, tropical escape—complete with surf guitar, pulsing waves, and colorful botanicals. All that's missing is a fruity drink.

Monster Rally, a.k.a. Ted Feighan, makes music that is equal parts infectious rhythm and nostalgic samples of 60s Polynesian daydreams. Earlier this month, Feighan premiered the 360-degree video for "In the Valleys," a song off his album Mystery Cove, released in November. Watching the video is like spending the day at a surrealist beach that comes to life with hand claps and drum beats.
"There's a whole story arc with the album," Feighan tells Creators. "It's generally about this young couple on honeymoon at the 'Mystery Cove,' a weird supernatural island that's part resort from the 60s, part that place from Avatar."
All the imagery in the video is taken from Feighan's own surreal, technicolor artwork. Using images from vintage books, Feighan hand-cuts collages in which birds of paradise and women in vintage bikinis blossom from rare and vibrant flowers. His imagery, along with the music sampled, gave birth to the dazzling "Mystery Cove," a place where Feighan says there are "weird plants that might eat you" and "restless witch doctors."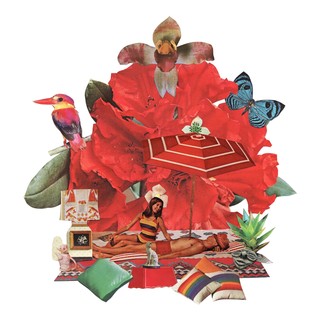 The video was made in collaboration with Albert Cook, Feighan's brother-in-law. After discussing the album together, Cook came up with the idea of placing viewers directly inside of Fieghan's fantasy world. "I wanted to make it sort of like you're in one of his collages," Cook says. "I have a ton of his artwork in my house, so I'm always absentmindedly staring at it. And I thought it would be cool to be in that world."
Hidden within the beachy world is a "working" TV, a magic carpet that changes patterns with the beat, and birds that fly around and bob their heads. Cook explains that viewers can get the full impact by watching the video on their phones or through VR headsets.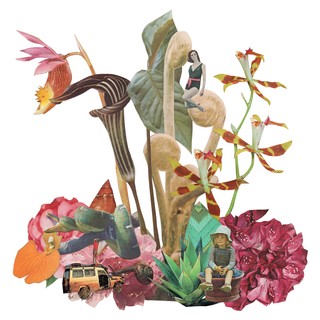 "What I like is how it almost feels like the video itself is one living thing," Feighan says. "The way it's pulsing, it's almost breathing. If you watch it a couple times, you see something new every time, which is something Teddy does in his collages," Cook adds.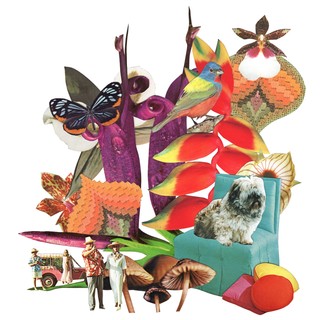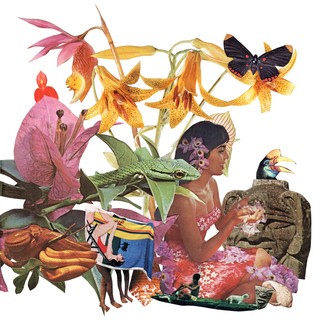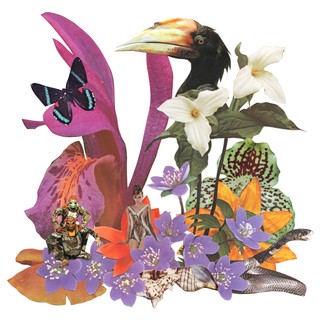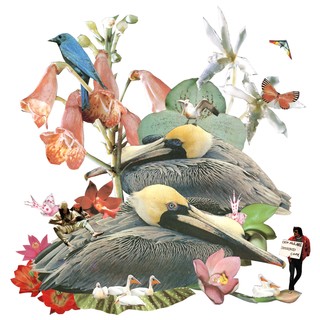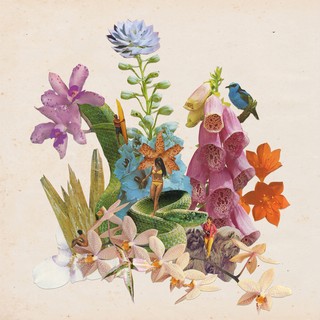 Monster Rally's discography is available on Soundcloud and Bandcamp. You can see more of Feighan's artwork on his website.
Related:

Become a Dust Particle in This VR Performance

Tumble Around a Giant Alien Balloon Animal in This Psychedelic CGI Music Video
[NSFW] Tropical Pixel Art Harks Back to the Days of Gameboys and NES