Photo by Jerome Miron-USA TODAY Sports
There were 171 goals scored in the 2014 World Cup. 171 screamers, howlers, shockers, and pens. Fourteen of them humiliated Brazil; six made a star of James Rodriguez, and one was enough to end the tournament. But before Mario Gotze's tournament-winner, 170 goals came first—and I, like an idiot, watched them all.
My plan was to dive deep, reviewing every goal scored in the tournament in search of goals, ugly and beautiful, that otherwise might have slipped through the cracks. With pathetic optimism, I built a rinky little spreadsheet, on which I would categorize and annotate, rank and re-rank. Where others might point to Robin Van Persie's Superman header against Spain as the goal of the tournament, I would look askance, unwilling to accept that the best goal had been scored by one of the game's most marketable players. I would have evidence, facts, and grade school math. My decisions would be definitive.
At first, I felt quite clever for tricking my editor into paying me to spend all day watching goals, but I was hardly into the group stages before my eyes began to cross. The goals bled into each other, and my notes devolved into a stew of clichés, fetid with meaningless phrases like, "lovely team goal" and "rocket strike off the crossbar" and, so help me, "buries it in the back of the net."
Somewhere around Italy vs. Uruguay—won by what I imaginatively described as an "exceptionally strong header" by Diego Godín—I noticed that I'd given almost every single goal a five, six or seven out of ten. Van Persie's header got an eight. Penalties got a three. A ten would have required an assist from Christ the Redeemer. A one would have been a goal so unimpressive that all future World Cups would be replaced by badminton tournaments.
Divorced from its context, a goal tells no story. Godín's strong header came just a moment or two after the Luis Suárez biting incident, one of the strangest moments of the tournament, but the highlight makes it look like just another goal. Watch two or three or five dozen such goals, and you will become numb to their beauty. But watch 171, and like a TV cop staring at a corkboard covered in string and mugshots, you will begin to see patterns. All goals are beautiful, but only by singling out an arbitrary few can we see why. And so, though a definitive list has eluded me, here are the ones that stick in my mind.
---
In the 63rd minute of their opening match against Spain, the Netherlands turned a tight game into a rout. On an ordinary free kick, three attackers pushed through the back line of the defending world champion, but only Stefan de Vrij got to the ball. A defender by trade, he had never scored for the national team, and he did all he could not to score here. De Vrij headed the ball straight down, where it rolled along his leg and into the goal. It was a fluke, a bit of clumsy brilliance that De Vrij capped by slamming his genitals into the post. He did not seem to feel the pain.
---
After more than an hour of being walloped by Croatia, a dejected Cameroon had given up defending in favor of daydreaming about Ferraris or neck tattoos or whatever it is footballers dream about. While they stood still, Mario Mandžuki? tiptoed past them, to tap home a rebound for his second goal of the match. Cameroon were playing with only ten men, and by all rights Mandžuki? should have been embarrassed for scoring so easily. He wasn't.
---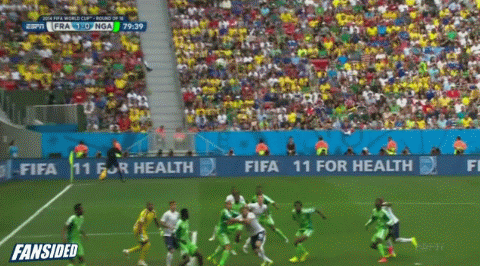 I marked eighteen cruel goals in this tournament—the ones that shattered the hopes of underdogs, that turned a bad loss into humiliation, that made the people at home turn off their TVs. The cruelest, of course, was Varela's equalizer against the United States, but I see no reason to watch that again. For the second-cruelest, then, I'll take Paul Pogba's late winner against Nigeria, who were praying for extra time, but had their hopes dashed a half hour early instead.
---
THE BEST MEANINGLESS GOAL
When the winner of three straight major tournaments is eliminated in the first round, there is no question of saving face. And so David Villa's backheel, in a game between two forgotten teams, has no meaning other than what it gives itself. It is a sweet little thing—a bon bon, a meringue, a tiny whimsical pastry—to be popped in the mouth, swallowed, and forgotten.
---
A free kick is awarded, five or ten yards from the box. Dramatic close-ups, hands on hips, a run-up—and the ball is sent flying into the stands. By my count, of all the dramatic free kicks staged in the 2014 World Cup, only three actually scored. David Luiz looped one in against Colombia, Blerim Dzemaili snuck one in on the ground, and Messi did a Messi-type thing. It's absurd that teams keep attempting these near-impossible shots, but it is nice when one goes in. If all free kick goals are flukes, then Dzemaili's is my favorite, because it's the flukiest of all.
---
One thing this experiment taught me: most headers are boring. A corner comes in, a defender leaps, but the attacker leaps a little higher. Even Van Persie's Superman dive loses points for being too close to Tim Cahill's own candidate for header of the tournament. But Shinji Okazaki's goal against Colombia was far from routine. It came from open play—the same attribute that made Van Persie's and Cahill's stand out—but Okazaki had to work against a serious disadvantage: he wasn't facing the goal. Physics be damned, he popped into the air and whipped the ball in anyway. Stupendous.
---
Beauty is in the eye of the beholder, and since I'm the one who's been doing all the beholding, I hereby declare that no goal is lovelier than a volley—the sort of goal that, in a moment, transforms the chaos of the pitch into a perfect arc. This tournament produced a few sublime volleys—Tim Cahill's against the Netherlands seemed to stop time, and James Rodriguez's against Uruguay had a Ronaldinho quality, but Julian Green's extra time shot against Belgium is the one I see when I close my eyes. The 19 year-old's first goal for the national side led to fifteen or so minutes of nauseating excitement, and beauty is nothing without an element of fear.
---
THE GOAL OF THE TOURNAMENT
But as pretty as the lightning strike of a volley can be, a bit of build-up makes a goal that much finer. Team goals can be inspiring, like the famous 25 pass goal Argentina scored in 2006, which showed all of the coherent build-up play that was missing in yesterday's final. Even better is an odds-defying long run, whether it's Maradona in 1986 or Ryan Giggs in 1999, the sort of thing that looks completely impossible until you realized that it happened. Gervinho's spectacular run against Colombia lacks the distance and body hair that make Maradona and Giggs' so memorable, but it's a jaw-dropping goal nonetheless, and the only one in my whole spreadsheet to merit a 9. And if we can't be scientific about this kind of thing, then what's the point of having a spreadsheet at all?
***
W.M. Akers is a Tennessee playwright who lives in New York. A features editor for Narratively, he is good at Twitter.