Amigo the Devil's Murder Folk Mixes Southern Gothic with Doom Vibes
Stream 'Everything Is Fine,' the spine-chilling new album from the hard-drinking backcountry dark folk project.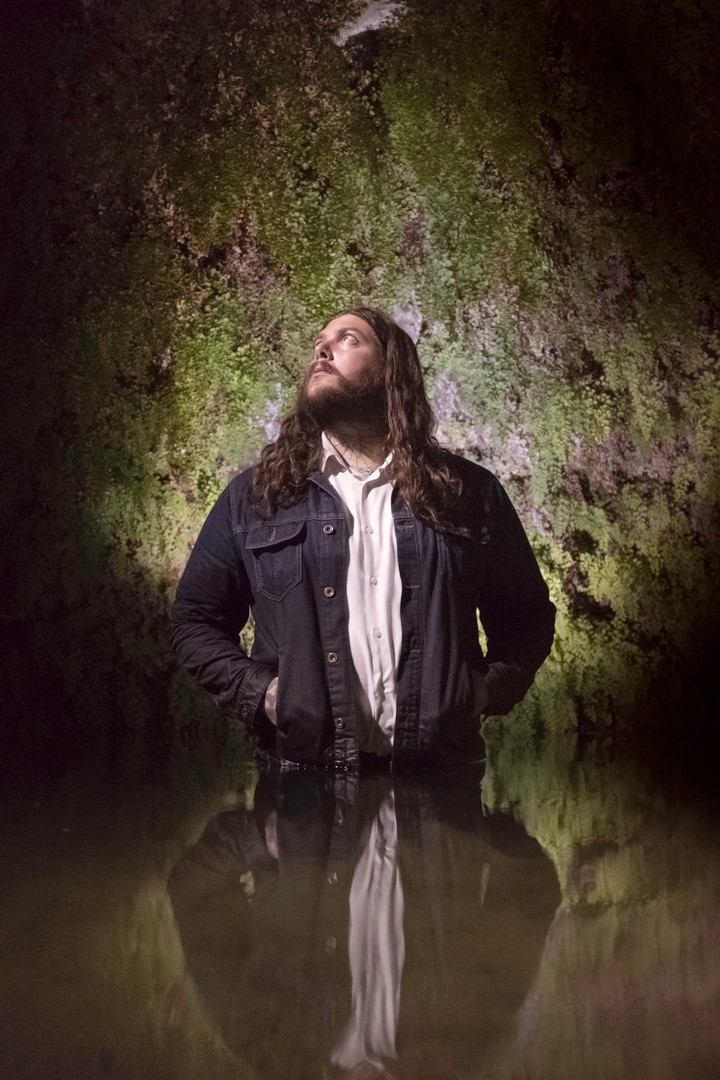 Photo courtesy of Amigo the Devil
Amigo the Devil is a strange, hard-to-define entity that hovers like a slightly vengeful ghost around the peripheries of metal, dark folk, and Americana, claimed by none but with roots in all three. I've seen the singer-songwriter's work described as "murder folk" in more than a few places, which is both delightful and apt, since his output camps out at the crossroads of Devil Makes Three, 16 Horsepower, and Danzig, and his lyrics concern themselves with murder as often as they do love, libations, and self-loathing.
Despite his allegiance with the scene itself, the only real heavy metal influence at work here is in the devilish atmosphere and an overall pit-dark vibe that's a few shades past Southern gothic, and had landed him on lineups with outright doom bands more than once. It's a curious position to occupy, but Amigo the Devil and his waitin'-around-to-die music makes it seem natural.
Everything Is Fine marks the project's first proper full-length, and in spite of its downhome, rough-hewn feel, comes stacked with highfalutin credentials. Produced by Ross Robinson (Korn, Slipknot, At The Drive In, Glassjaw), its percussive elements shaped by drummer Brad Wilk (Rage Against the Machine, Audioslave, Prophets of Rage), and recorded at Valentine Studios on original 70s-era gear, the album is ultimately a backcountry nightmare, soundtracked by raspy, slightly unhinged vocals and an overall apocalyptic bent ("I Hope Your Husband Dies" is a standout, as is the absolutely miserable bluegrass ballad "Cocaine and Abel").
We're streaming the album in full below; it's out today via Regime Music Group.
Catch Amigo the Devil on tour in North America and Europe:

North America:
10/14 - Sacramento, CA @ Monster Energy Aftershock Festival - Discovery Park
10/14 - Sacramento, CA @ Goldfield Trading Post (aftershow party for Aftershock)
10/18 - Houston, TX @ White Oak Music Hall
10/19 - Dallas, TX @ Three Links
10/20 - Austin, TX @ Mohawk
10/22 - Mesa, AZ @ The Nile Theater
10/23 - Los Angeles, CA @ Echoplex
10/24 - San Diego, CA @ Brick By Brick
10/25 - Tustin, CA @ Marty's on Newport
10/26 - San Francisco, CA @ Three Parkside
10/27 - Los Osos, CA @ Sweet Springs Saloon
10/28 - Las Vegas, NV @ Beauty Bar
10/30 - Denver, CO @ Marquis Theater
10/31 - Denver, CO @ Marquis Theater
11/1 - Kansas City, MO @ The Riot Room
11/2 - Chicago, IL @ Beat Kitchen
11/3 - Hamtramck, MI @ The Sanctuary
11/4 - Cleveland, OH @ Grog Shop
11/5 - Toronto, ON @ Sneaky Pete's Concert Venue
11/7 - Millvale, PA @ The Funhouse at Mr. Small's
11/8 - Rochester, NY @ Flour City Station
11/9 - Allston, MA @ Great Scott
11/10 - Brooklyn, NY @ Saint Vitus
11/11 - Philadelphia, PA @ Kung Fu Necktie
11/13 - Baltimore, MD @ Metro Gallery
11/14 - Richmond, VA @ Strange Matter
11/15 - Nashville, TN @ The High Watt
11/16 - Asheville, NC @ The Mothlight
11/17 - Atlanta, GA @ The Masquerade - Purgatory
11/18 - Orlando, FL @ Soundbar
Europe:
12/04 - Paris - La Boule Noire
12/05 - Amsterdam - Melkweg
12/07 - London - Borderline
12/08 - Nottingham - Bodega
12/09 - Newcastle - Think Tank
12/11 - Glasgow - Stereo
12/12 - Manchester - Deaf Institute
12/13 - Bristol - Thekla
12/14 - London - Oslo
Kim Kelly is all folked up on Twitter.