Collage from Wikimedia Commons and Marcell Rév/HBO
The memory of former Penn State head coach Joe Paterno is grotesquely tainted by his involvement in a blatant cover up of assistant coach Jerry Sandusky's rampant sexual abuse of children. Now, that memory is going to be rehashed in an HBO-produced drama, starring Al Pacino.
And would you just look at how they transformed Pacino for the role:
The resemblance to Paterno, who died in 2012 is uncanny—almost haunting. The liverspots, the hair, the glasses, the hunch. It's unclear how much work the makeup crew did on him, but wow. Just take a look up top for a side-by-side comparison.
And here's a photo that's a bit more costume-matching (glasses, jacket, tie):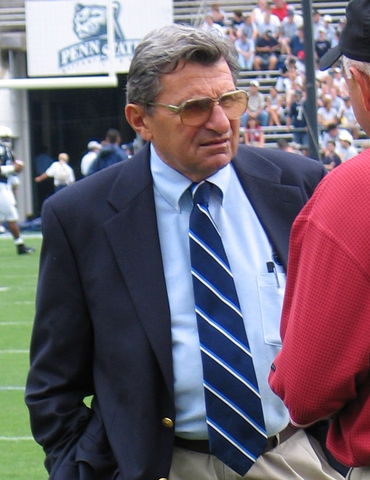 The currently-untitled film will be directed by Barry Levinson and does yet not have a release date. But HBO describes of the film as such, per Deadline:
"The film centers on Joe Paterno, who, after becoming the winningest coach in college football history, is embroiled in Penn State's Jerry Sandusky sexual abuse scandal, challenging his legacy and forcing him to face questions of institutional failure regarding the victims."
Let's just hope HBO made the right decisions with handling his legacy.
*Correction: An earlier version of this story referred to HBO's movie as a biopic. HBO clarified that the film only covers a portion of Joe Paterno's life as it relates to the Jerry Sandusky sexual abuse scandal.