Image: Saul Loeb/Getty Images
Would You Trust These Men With a Massive Surveillance Dragnet?
America's top intelligence officials had a shady day in Congress.
Image: Saul Loeb/Getty Images
The Senate Intelligence Committee hosted a bizarre hearing Wednesday. Ostensibly, the hearing served to make the case for straight reauthorization of Section 702, the law permitting NSA to spy on foreigners with the help of US companies. Along with telling stories about the terrorists 702 had helped catch, America's most senior intelligence officials and most committee members boasted of how compliant the program was. In response to a question from Sen. Marco Rubio, for example, NSA Director Mike Rogers reeled off these claims:
Have we had compliance incidents? Yes. Have we reported every one of those to the Court? Yes. Have we reported those to our congressional oversight in Congress? Yes. Have we reported those to the Department of Justice and the Director of National Intelligence? Yes.
Effectively, Rogers, Director of National Intelligence Dan Coats, Deputy Attorney General Rod Rosenstein, and Acting FBI Director Andrew McCabe argued that Americans should not worry about the government's massive dragnet because it is run by forthright, diligent men.
But the rest of the hearing showed that these men have been anything but forthright and diligent.
Dan Coats should know the government can and will collect entirely domestic communications under 702
Most remarkable was an exchange between Ron Wyden and Coats, one that hearkens back to a similar famous exchange in 2013 between Wyden and Coats's predecessor, James Clapper, in which Clapper claimed NSA could not "wittingly" collect the communications of millions of Americans.
"Can the government use FISA Act Section 702 to collect communications it knows are entirely domestic?" Wyden asked in this go-around. "Not to my knowledge," replied Coats, who would have had to sign a certificate accompanying the yearly Section 702 certificate application, vouching that the targeting procedures were reasonably designed to target foreigners. "It would be against the law."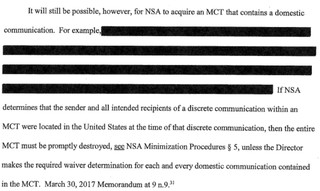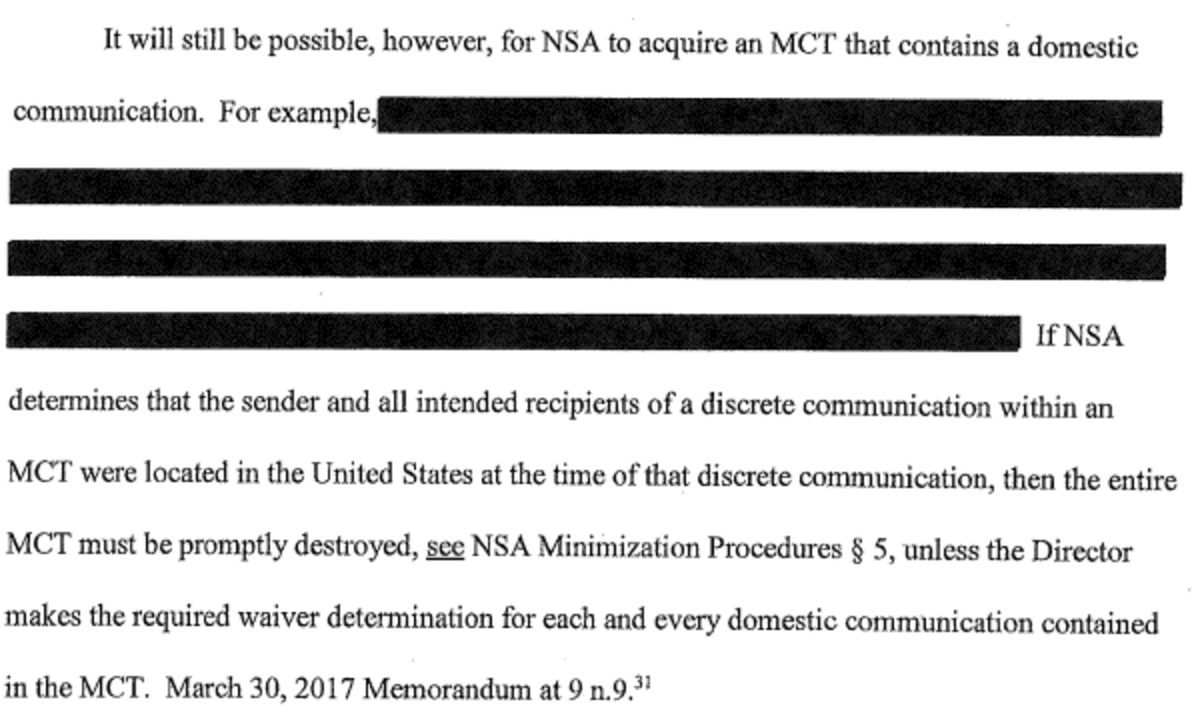 But Dan Coats should know the government can and will collect entirely domestic communications under 702. In her opinion approving 702, FISA Court judge Rosemary Collyer noted that under the new collection rules, "It will still be possible for NSA to acquire [a bundled communication] that contains a domestic communication." Collyer's description of how that would happen was entirely redacted in the publicly released version, but surely wasn't in the copies Coats has access to. To substantiate that claim, Collyer cited the March 30, 2017 application to the court, the very document that Coats would have had to certify. So either Coats didn't read the application he signed off on, or he's not telling the truth.
When contacted about this exchange, an ODNI spokesperson explained, "Section 702(b)(4) plainly states we 'may not intentionally acquire any communication as to which the sender and all intended recipients are known at the time of acquisition to be located in the United States.' The DNI interpreted Senator Wyden's question to ask about this provision and answered accordingly."
But Collyer's opinion clearly states—see the screenshot above—that domestic surveillance under 702 is indeed possible and at times can even be legal with a waiver.
Similarly, earlier in the hearing, Oklahoma Sen. James Lankford walked Rogers though an explanation of how the NSA had been forthcoming about the problems with "about" collection— communications selected based on a selector that appears in the content of a communication rather than the metadata of it—that had led to a shut-down of that collection earlier this year.
In his explanation, Rogers admitted that the NSA had first told the FISA Court about the problems in October. What he didn't admit was that that was weeks after the government had originally applied for these 702 certifications—and in the application for those certifications, the government had made no mention of the problems. Indeed, Collyer's opinion reveals the gravity of the problems were first identified in January 2016. She also described how, in an October 26 hearing about the problems, she berated the government for a "lack of candor" about the problems earlier in the application process. Elsewhere in the opinion—describing another violation of the rules that went unmentioned, this time for eleven months—she said, "Too often, however, the government fails to meet its obligation to provide prompt notification to the FISC when noncompliance is discovered." And yet Rogers claimed in official testimony to Lankford that NSA had been forthcoming.
The Senate Intelligence Committee keeps having these hearings where they try to convince Americans to stop worrying about the dragnets. But given the dodgy testimony of the two men running that dragnet, Americans should have more worries than ever before.