The cool-wave R&B vibes laid down on "From The Otherside," the new single from the Stones Throw Records act, The Steoples, are beautifully illustrated in a new animated music video directed by Japanese based filmmaker Alan Algee. The dynamic scenery throughout the short music video looks like wavy expressionist paintings that capture beautiful natural landscapes and intimate scenes of romance. Algee says the video tells "a story of how surrendering to love can unlock powers and visions that unite all living souls to one understanding—the beauty of being at peace," and originally shot the video a 5K anamorphic format. Algee, however, felt that the footage had an element of realism that didn't fit well with the dreamlike delivery of Yeofi, one-half of The Steoples duo. In order to remedy this initial shortcoming, Algee needed to find a way to make the video feel lighter and more poetic, "as if Yeofi was reading a children's watercolor storybook to its listeners."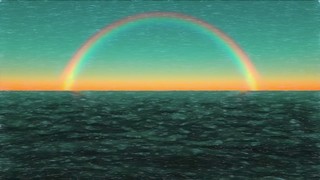 The director went to work on converting a certain selection of clips into scenes with more of an animated, painterly texture. Algee says he had trouble finding a video filter that felt authentic without being cheesy. so he practically transformed each scene frame by frame. "If I had more time, I could have done a stronger representation, but all in all I'm happy to have made something that isn't of the normal music video presentation." The final product is a rich textural piece that adds an enhancing new layer to the song's soulful soundscape. Check out the video in full, below:
Listen to more of The Steoples on Bandcamp and be sure to check out more work by director Alan Algee on Vimeo.
Related:
Dive into Deep Dream Infinity in These Trippy Music Videos [Premiere]
'Pikazo' App Lets You Paint Neural Network Art Masterpieces
This Artist Is Teaching Neural Networks to Make Abstract Art