The Polaris Prize may not exactly be a household name in the U.S. but, for a lot of musicians, music writers, DJs and industry people in Canada who closely follow the nominations, the prize always forms a highly anticipated and contentious moment every year.Polaris aims to crown the single best Canadian album of the year as decided by a jury of 200 music journalists. They vote with strict disregard to anything but the artistic merit of the recording itself, which of course means neglecting sales, charts, buzz, live performances, genre, or any kind of affiliation–the jury just listens. Although most prizes (including the Grammies) would make the same claim to pure meritocracy, Polaris is actually one of the most prestigious music awards in Canada and has gained a lot of its distinction in part by having a cash prize that looks comparable to an arts grant ($30,000) and making it possible for less established artists to compete with big commercial stars like Feist and Arcade Fire.
The mix of obscure and mainstream artists sitting side by side is one of the things that makes the prize different than what we're used to in the States and commands respect, but it's also led to some controversy about the aim and meaning of prize. A grand prize of $30,000 would seem to place the award more in the sights of up-and-coming artists who need it, but in recent years the prize has gone to established artists who end up just donating the money to charity. You can see how Polaris has at least succeeded in getting a lot of Canadians debating about more than their favorite album.
Some think the prize has become a husk–another industry self-promotional showcase that fails to support the artists that need it–while others, such as the prize's founder Steve Jordan, claim that the spread of artists is just an indication of the commercial and aesthetic vitality of the Canadian music scene, and that their inclusion is testament to the prize's concern purely with artistic value. Questioning the institution that gives out the award is just as much fun as questioning the virtue of any given winner.
I went up to the annual award gala this year held at The Carlu in Toronto, a fancy venue from the 1930's, where I started my night by working my first official press scrum (basically where you try to grab artists for a photo and a few words) with reporters who had much bigger microphones than me.
Metz. "We waited a really long time to even make a record, so it's kind of amazing that the first one has made it this far."
Whitehorse. "So, wait, you two are from Ontario?" "Yeah, well, we're actually in Ontario right now."
Purity Ring.
Young Galaxy. "David Lee Roth once said money can't buy you happiness but it can by you a really big boat and allow you to cruise right up to happiness and say 'hey, how's it going?' "
Zaki Ibrahim. "Will you take a picture of me with my mom?" "Sure."
Metric.
A Tribe Called Red. "3 minds, one mouse."
Once the show started one thing I realized right away is that unlike scrums I do enjoy a "gala". These are where rather than having assigned theatre style seating you just have a bunch of individual dining tables that you and your friends sit at together and watch the show more or less doing as you please. The format of the show went like this: each nominee is introduced by a special presenter who spoke from a platform in the crowd before the bands went on stage to perform two of their songs.
Colin Stetson was maybe one of the most favored artists - solo, experimental, improbable and who else can even do this?
Metz is a live band, and now a studio band, and just a good band.
Zaki Ibrahim brought the choreography and a masked cellist +1000pts
Since the backdrop of the whole evening is ultimately a contest of sorts, the show can feel like a kind of competition, but don't get confused, this is Canada, not America. Somewhere in the building far from the primally distracting influence of live musical performance, the Polaris grand jury is pacing a room as they select a winner.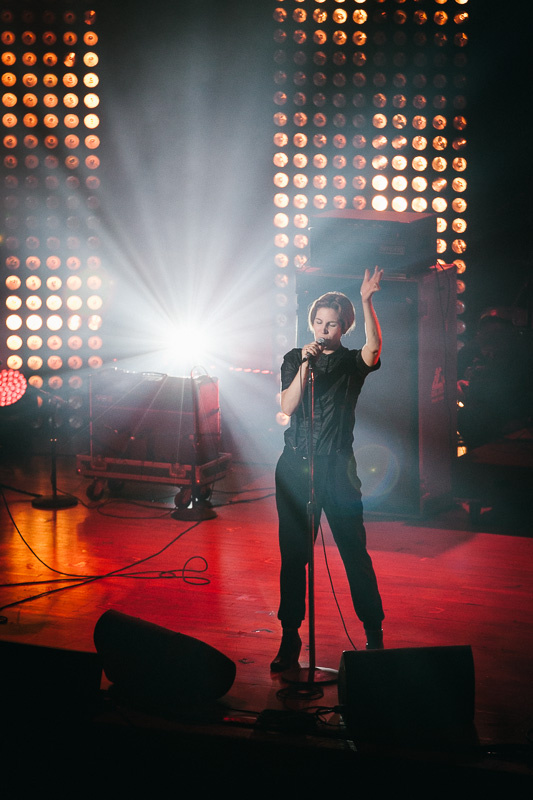 After about three and a half hours all the presenters and performers finished up and Feist–last year's Polaris Prize recipient came out to announce the winner. You have to hand it to Polaris for building anticipation. After months of voting and almost four hours into the award show, we finally get to hear the one and only award for the one and only category, decided upon minutes before and freshly sealed behind closed doors, the winner still a total mystery to the jury and the announcer…
That Godspeed You! Black Emperor (henceforth "Godspeed") won for Allelujah! Don't Bend! Ascend (henceforth "album") was met with two audible gasps on the gala floor, the first just as Feist made the announcement, the second, less of a gasp and more of a applause-murmur-gasp as the co-founder of Godspeed's long-time label Constellation took the stage to explain that the band would be donating all prize money to buy musical instruments for prisoners in Quebec.
Steve Jordan Explaining things on the step-repeat.
What followed was a self-described "awkward" press conference with Polaris founder Steve Jordan who defended the decision of the jury as well as the bands prerogative not to attend. This is after all, he explained probably for the thousandth time, a merit based award for recorded music, not a talent award for live performance. And he's right: although possibly a bit anticlimactic for some–especially the attendees–how could it be wrong for this type of award to go to a band that didn't play? The performances, although maybe at times accidentally channelling the much beloved vibe of a celebrity juried talent competition, really are just purely ceremonial and meant to celebrate and showcase the year in music. Still the awkwardness of the press conference and the tangible uneasiness in the air about Godspeed's win might have had less to do with the band's absence or stand-in announcement and more to do with what felt like a pretty obvious, though implicit, criticism of Polaris. This funny feeling would of course materialize fully the following morning in the official thesis Godspeed left nailed to the front door of the Internet.
Godspeed's post-prize statement is, in reality, many statements, and in true no-caps manifesto spirit it goes between kicking some serious ass to nodding off on an uncomfortable park bench. Polaris, like pretty much every award, clearly has an identity crisis–if not internally then at least outwardly. Their mission statement gets confused as being anything from a startup grant for the marginal and independent artist, to being just a glorified blog post paid out primarily in PR and prestige (even Godspeed calls the prize a "novelty-sized cheque"). Yet another offbeat understanding of the award reads it as an "idol" style talent contest created "just so musicians can compete against each other".
To their credit, Godspeed seems to have found a way to accept the prize that addresses all three levels of confusion: don't participate in the show, route the money into the hands of those who will truly benefit from it (amen!), and use the marketing cloud to say a thing or two or ninety-nine. In the end, two things can be said for sure: everyone–and I mean everyone–still loves an award show and, yes, the musical-industrial complex is still a big, imperfect tangle. Whether facets of an industry that is centered around art commerce and finds itself in a moment of a constant and fundamental restructuring needs to reform and re-imagine goes without saying. I'm sure Godspeed would dismiss the idea that their letter is intended as any kind of coherent proposal for the problems it outlines in bullet points and line breaks, but as part of a larger organized political action with some gain on the wire, I can't say it counts for much in making sense of an industry that is desperately trying to make sense of itself. In any case, in addition to entertaining Godspeed on the relationship between Canadian musicians and the polar ice caps, there's now an official consensus that it's worth giving them a solid 53:07 of your undivided attention on Allelujah! Don't Bend! Ascend.
Kevin is gala vanting and lancing free @KevinSheaAdams