How does one dress to tour with Miley Cyrus? In the case of Icona Pop, the weirder the better. For their opening slot on the Bangerz tour, the Swedish duo of Caroline Hjelt and Aino Jawo tapped avant Danish designer, Ann-Sofie Madsen (a favorite of Oh Land) to create custom dresses, eye-popping enough to be seen in the nosebleed seats of the arenas they're playing. Madsen came up with mesh flesh-toned dresses stenciled with alien markings, the group's name, and harness-like embellishments. Caroline's dress was even 3D with a ribcage apparatus affixed to the hem. In other words, Madsen's creations were just what Icona Pop needed—kooky outfits that manage to stand out alongside Miley's Instagram baiting wardrobe of sparkly bodysuits and the not so subtle oversized tee with her tongue face blown up and plastered to the front and the back. No easy feat! We caught up with Icona Pop to discuss their leftfield style, meeting Miley, and how making an album can be like a fashion show.
Noisey: How did you get involved in the Bangerz tour?
Aino: We heard that Miley was going on tour and we love her. We think she's such an amazing artist. We kind of made it happen.
Caroline: We told our people we really want to do this and they reached out and talked to her people. We met her for the first time at the EMAs. She's really cool. Both Miley and Katy Perry, who we've gone on tour with, are strong women. So I'm very happy that we got to be a part of this amazing tour.

Was Miley involved in putting together your set or did you have free reign to do whatever you want?
Caroline: It's totally up to us what we do. We created some new stuff and it's one hell of a party.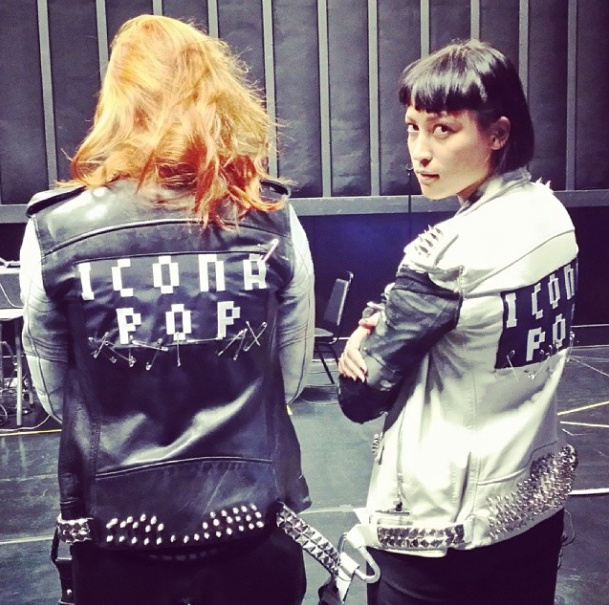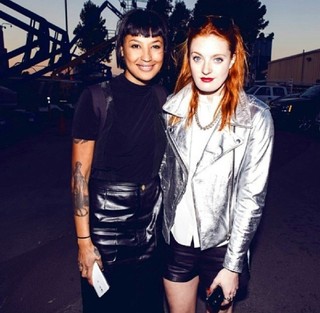 What's aesthetic are you going for with your stage clothes?
Caroline: It's a very strong look and it's skintight. We look like two Amazon women. We are wearing custom dresses from a great Danish designer called Ann-Sofie Madsen and shoes from Stella McCartney. Our Icona Pop jackets are from BLK DNM and our friend and stylist Christopher Insulander pimped them up with studs.

Is there one theme that runs throughout all of your outfits?
Aino: We change our mind all the time about what we want to wear but it always comes down to one thing and that is expressing yourself.
Caroline: We might not be following all of the trends but we're very good at expressing ourselves. We always want to feel strong, powerful, and gorgeous on stage. We like to be involved when it comes to making our own clothes. We usually do custom outfits for the stage so we can get them exactly how we want.

Where do you find visual inspiration?
Aino: We like to look at a lot of upcoming Scandinavian designers. We think there's a lot of good fashion coming out of there. We like a lot of Swedish brands as well.
Caroline: We usually look back. There's so many fashion icons like Patti Smith, David Bowie, Prince, and the Rolling Stones. We also love looking in magazines and going to fashion shows. We love the whole idea of going to fashion shows because it's almost like making an album: Someone is working a whole year to make everything happen and there's always chaos backstage but then the models go out there showing the collection. It's perfection for five minutes and then you start all over again.


Icona Pop the day before the Bangerz tour kicked off.
How close is your off-day clothing to what you wear on stage?
Aino: It's always different depending on what we play, how we're feeling that day. Sometimes I go up on stage wearing a pair of jeans and a t-shirt and feel like a rock star in those clothes. It's all about how we're feeling that day but usually we express ourselves and go even more when we're on stage because we want the people in the back of the room to see what we're wearing and we want to have things that extend our movements.
Caroline: When we're off stage, as musicians, we express ourselves 24 hours a day and some days it's no makeup and a pair of jeans and we walk around. Other days, we're playing around with different fabrics and a lot of makeup and a lot of heel. It's always so different. I think that's the beauty. If you listen to our music, there's a lot of freedom in there. We mix a lot of different genres and feel free to do it—it's the same when it comes to our style. We don't have any rules.
Marissa is a writer based in LA and she's on Twitter - @marissagmuller.
Icona Pop Tour Dates
03/06 - Omaha, NE - CenturyLink Center*^
03/07 - Chicago, IL - Allstate Arena*^
03/09 - Milwaukee, MI - BMO Harris Bradley Center*^
03/10 - St. Paul, MI - Xcel Energy Center*^
03/12 - Dallas, TX - American Airlines Center*^
03/13 - Tulsa, OK - BOK Center*^
03/15 - San Antonio, TX - AT&T Center*^
03/16 - Houston, TX - Toyota Center*^
03/18 - New Orleans, LA - New Orleans Arena*^
03/20 - Tampa, FL - Tampa Bay Times Forum*^
03/22 - Miami, FL - American Airlines Arena*^
03/24 - Orlando, FL - Amway Center*^
03/25 - Atlanta, GA - Philips Arena*^
03/29 - Montreal, QC - Bell Centre*^
03/31 - Toronto, ON - Air Canada Centre*^
04/02 - Boston, MA - TD Garden*^
04/03 - East Rutherford, NJ - IZOD Center*^
04/05 - Brooklyn, NY - Barclays Center*^
04/07 - Charlotte, NC - Time Warner Cable Arena*^
04/08 - Raleigh, NC - PNC Arena*^
04/10 - Washington, DC - Verizon Center*^
04/12 - Detroit, MI - The Palace Of Auburn Hills*^
04/13 - Columbus, OH - Schottenstein Center*^
04/15 - Kansas City, KS - Sprint Center*^
04/16 - St. Louis, MO - Scottrade Center*^
04/18 - Nashville, TN - Bridgestone Arena*^
04/19 - Louisville, KY - KFC YUM! Center*^
04/22- Philadelphia, PA - Wells Fargo Center*^
04/24 - Uniondale, NY - Nassau Veterans War Memorial Coliseum*^
05/07 - Belfast, UK - Odyssey Arena^
05/08 - Belfast, UK - Odyssey Arena^
05/10 - Newcastle, UK - Metro Arena^
05/11 - Nottingham, UK - Captial FM Arena^
05/13 - Birmingham, UK - LG Arena^
05/17 - Glasgow, Scotland - The SSE Hyrdo^
05/20 - Manchester, UK - Phones 4 U Arena^
05/21 - Liverpool, UK - Echo Arena^
05/23 - Sheffield, UK - Motorpoint Arena^
05/27 - London, UK - The O2^
05/28 - London, UK - The O2^
05/30 - London, UK - The O2^
05/30 - London, UK - 02 Arena^


*Headline show w/ K.Flay & Sirah
*^ Bangerz Tour w/ Miley Cyrus
^Prismatic Tour w/ Katy Perry