PREMIERE: Via Vengeance's 'Harsh Conditions' Is a One-Man Doom Avalanche
Stream the burly new album from this one-man Arizona doom metal machine.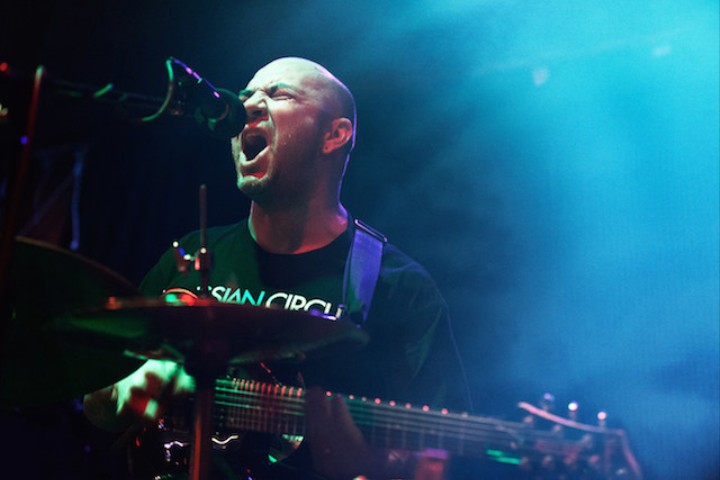 Via Vengeance is the brainchild of one person, Shane Ocell, who also plays in a (multi-person) outfit called Sorxe that he formed in 2012 in the midst of a lull with his main project. Sorxe ended up doing well and taking up quite a bit of time, so the solo album that Ocell had recorded in 2010 was tucked away on a back burner for a few years to allow Sorxe room to grow. Now, though, Via Vengeance is back, armed and ready with Harsh Conditions.
Harsh Conditions sees Via Vengeance double down on the sludgy, burly, atmospheric doom that's been the band's bread and butter since 2006, and also introduce a few unexpected new sonic playthings—piano, guest vocals from A Storm of Light's Josh Graham (who also handled the gorgeous cover art), and even vocal harmonies from Ocell's grandmother. It's got a warm, organic feel to it, and never feels rushed or lacking—a quality made all the more impressive by the fact that Ocell writes, records, and plays everything himself (even onstage!).
Preorders for the super-limited CD are available here, and the album itself is out via Battleground Records on March 11. Stream it in its entirety below.
Catch Via Vengeance on the 3 Man 2 Band tour with Gomi, kicking off with an album release show on March 11!

3/11/2016 The Greenroom – Flagstaff, AZ
3/12/2016 Triple Nickel Tavern – Colorado Springs, CO
3/13/2016 Tennyson's Tap – Denver, CO [3-7pm happy hour show]
3/14/2016 The Jackpot Music Hall – Lawrence, KS
3/15/2016 Livewire – Chicago, IL
3/18/2016 The Happy Dog – Cleveland, OH
3/19/2016 The Owens Travelers Tavern – Akron, OH
3/26/2016 Pub Rock – Scottsdale, AZ *CD Release Show w/ Black Tusk, Holy Grail [no Gomi]