Illustration by Jessica Butler
Photography by Thomas Keelan
Riverfront Park in Wilmington, Delaware doesn't look the typical setting for a music festival. Forget rock-hewn amphitheatres, idyllic Chicago parks or endless desert vistas—Wilmington's first rap festival ever takes place in the shadow of a massive Chase bank, punctuating the monochromatic skyline of the "Corporate Capital of the World" with a splash of blue. The main stage sits in the center of a patchwork of manicured lawns and sycamore-lined parking lots, sprawled along the banks of a river. You've spent dozens of afternoons sucking down Capri Suns in places just like this.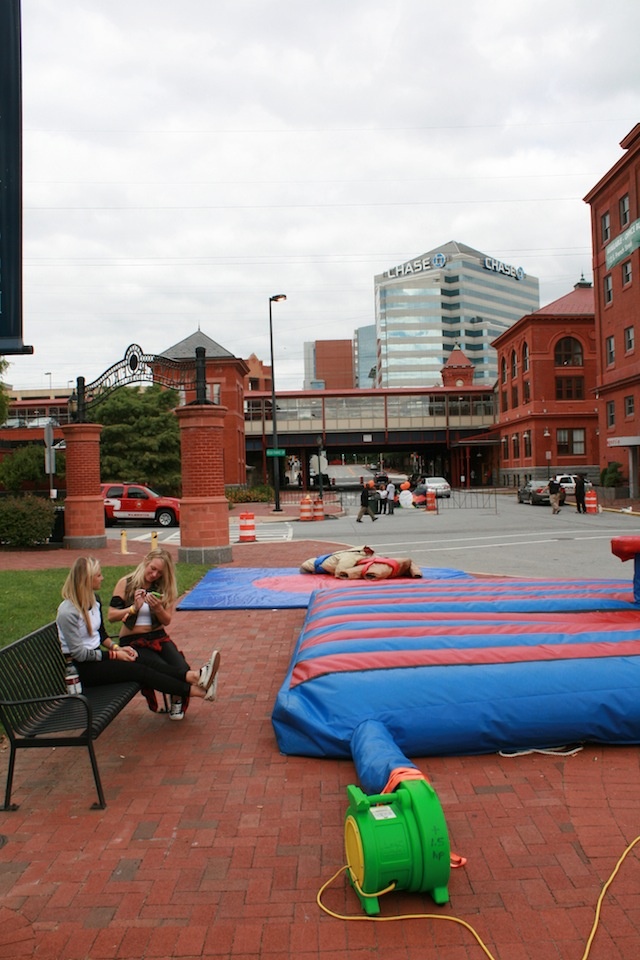 Note the familiar crayon tones of this bounce castle, unattended and unloved by Foxtail's main gate, flapping on the ground like a beached jellyfish. Behind it, several dozen teens cluster in front of the stage, engaged to some degree by the local rappers and DJs in front of them. Music festivals usually market themselves on escape from places like Wilmington—corporate attempts to regularize the texture of suburban aesthetics require the counterbalance of exotic rural playgrounds where you can spend a month's allowance on Nitrous balloons and Red Hot Chili Peppers merch. That night, as Machine Gun Kelly licked the breast of a teen girl on stage, I looked back at the Chase building. The park's sodium-vapor lamps reflecting off its planar smoked glass surface seemed like a caricature of a Coachella palm tree. Unlike Wilmington's inhabitants, capitalism keeps its internal organs out of sight.
Nowadays, "mainstream" is elusive territory. Its form hides beneath "weird" aesthetics adopted by consumers and creators at the speed of iOS7. At a time when labels have commodified teenage desire for distance from an imagined center (consider the chorus of Lorde's white-hot "Royals": "That kind of luxe just ain't for us/We crave a different kind of buzz") Machine Gun Kelly stands out for his refusal to play the game of winking self-awareness. He's fast, loud and without ambiguity when he raps about the paramount importance of partying, boobs, and believing in yourself. Like Foxtail Festival, marketing escapism in the most boring place of all time, he's an outlier. Foxtail seemed like a rare chance to glimpse the paradigm in motion, inscribed in the people who paid to see this man perform in an office park.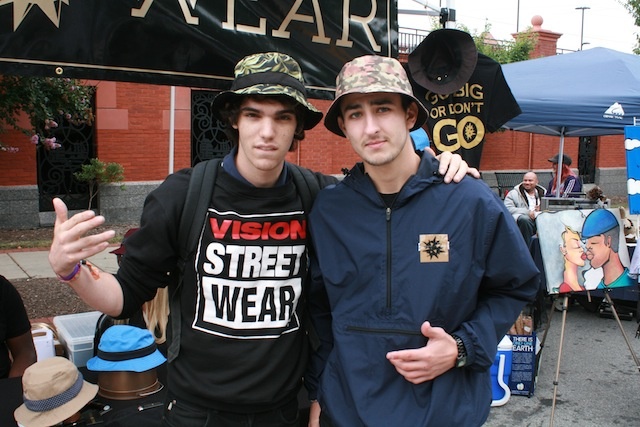 A street lined with booths ran through the grounds, the festival's commerce aisle. Tucked between vendors selling complex multi-valved bongs, dab paraphernalia, and legalization literature, I met Austin. He's 19 years old, from Philly, and six months ago he began producing a line of bucket hats. He likes the area—although there's "not much of a rap scene," business is booming. His best-selling designs have been the camo print and my favorite, the weed-leaf-like fern print. One could spend a while pondering the internet's repackaging of urban culture for suburban consumption—I'm not mad, though. Bucket hats look cool, and they provide sun protection for teens at music festivals who probably forgot sunscreen.
A few yards from the main stage a group of teens enjoy themselves in a timeless way—fucking with old people. They cluster around solitary grown-ups, pressing around them and dancing until their confused prey leave or awkwardly try to join in. One kid caught my eye with his energetic "rap hands," pistoning in time with the beat. The back of his t-shirt read "#trapstyle." "Time to make friends," I tell my photographer, and join the fray, rap hands raised to Valhalla.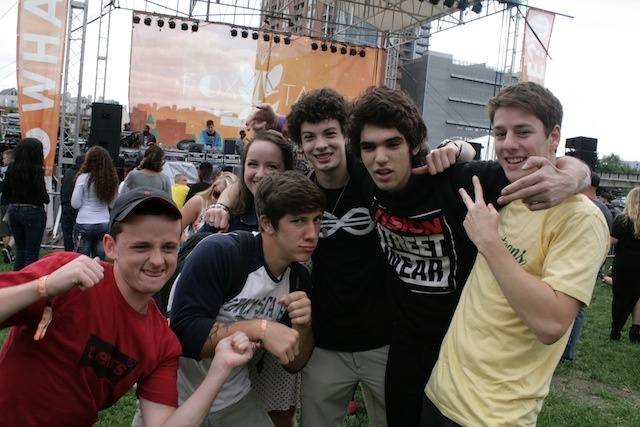 Oliver Hamlin is 17, and claims to have been producing trap for two-and-a-half years. To him, the genre offers an easy way to "have fun. You don't have to dance, just vibe, turn up, whatever you have to do. I wake up, listen to trap while I shower, get home, listen to trap while I work, and then start to work on trap while I have free time." Does he consider trap art? "Of course. It's a great way to express yourself as an electronic musician or a rap artist. It's something that everybody can get into." I turned 21 last month, and I've never felt so old.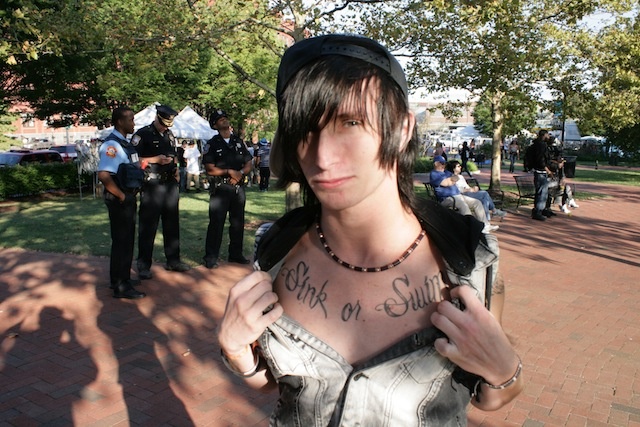 Standing a few yards away from the swag-lords I met a different flavor of MGK fan. Brendan is 18, from Maryland, and plays death metal. Shy at first, his confidence grew as we talked about his favorite rapper. "His music is so motivational. He had a lot of shit in his life and he pulled through. He talks a lot about following his dreams. I'm a musician myself. Even though I play metal and he's a rapper it still motivates me to do what I want to do. I like the party songs, but I like the fact that he can do all that and still be serious with other songs." What do all MGK fans have in common? "We've all been through something in our lives, that draws us together through his music."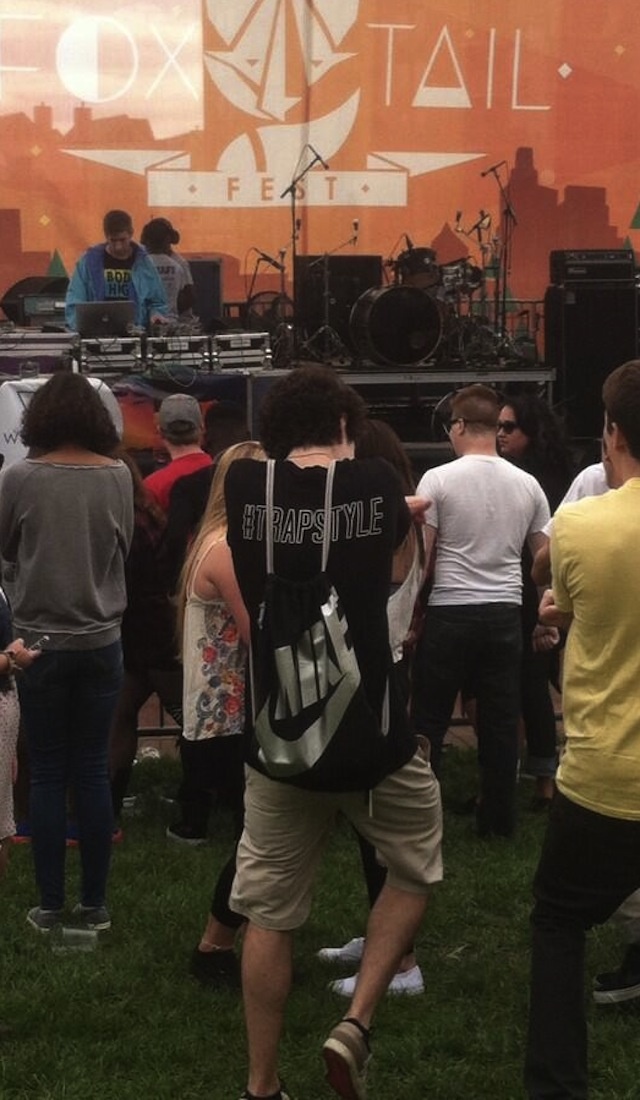 As MGK's evening set drew closer I noticed the festival's seemingly meager attendance. While over 5,000 people were expected, the actual number seemed much lower. One person who appeared un-stressed was Brandon Potter, who I spoke to over beef skewers backstage.
"I'm happy with the attendance," he told me, gazing proudly at the crowd clustered in the falling dusk. "I think we have a good baseline to grow from." Potter's the founder of What Scene?, an events company based in Wilmington. Foxtail is its first event. "There's never been anything like this for kids in the area before. We've had people driving up from Philly, Baltimore and even Tennessee. I want this festival to start something in Wilmington."
His ambitious plans claimed a surprising casualty on Friday, when Potter's mother Velda Jones-Potter resigned from her position as "chief strategy advisor" to Wilmington Mayor Dennis P. Williams. According to Delaware Online, "the upheaval on Williams' staff came after 20 Wilmington police officers staffed the Foxtail Fest last Saturday as part of a last-minute call to bolster security for the event….on the taxpayers' dime." Various groups accused Jones-Potter of using her position to benefit her son's for-profit event. "I won't accept lying and throwing curveballs at me. You will be fired right on the spot," stated the mayor. Brandon sent me the following explanation:
"Many people are being mislead by inaccuracies on Delawareonline/The News Journal, posted by one man with a political agenda. When you go through the event permit process, the City tells you how many paid off-duty Wilmington Police Department officers you need for security. We were told that 20 officers were needed—which we were fully prepared to pay for—but for whatever reason only one officer signed up to work our event. At the same time, we had private security guards prepared to work. Given the city's perception of our demographic with it being a hip-hop oriented event, they were uncomfortable with us only having private security. I have no idea why 20 officers were sent in addition to our 15 paid private security that day. We never asked for anything for free. The fact of the matter is, young people in attendance at Foxtail Fest had a great time and are looking forward to the next thing What Scene? has to offer; I wish feuding politicians would do the same."
I called the mayor's office for comment—his secretary told me that the mayor was about to release a statement on the issue, which she promised to send me. I gave her my email address and never heard back from her.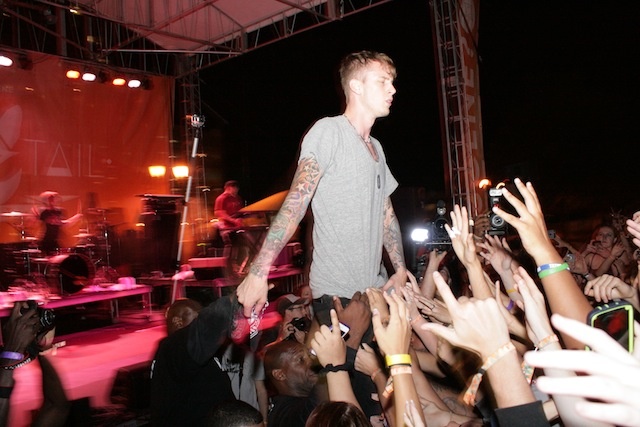 Local politics were far from my mind as night fell over Foxtail. I stood near the back of a crowd of teens sloshing with excitement at the appearance of Machine Gun Kelly. On stage, he's magnetic—Kelly is the last rap-rocker standing, an amalgamation of vintage Fred Durst's snotty hubris and modern Eminem's stadium-sized sincerity. "I'm glad that I don't have to prove anything to y'all tonight," he declared, bounding on stage against a background of gleaming condo developments across the river. "This isn't a huge show filled with random weirdos—everyone here is here for me, we're all family."
He asked the audience to raise our middle fingers. "Okay, turn that negative energy around, and stick out your thumb." A sea of L's blossomed over my head.. "Now, what do we say?" he asked; "Lace up!" roared back the crowd. My photographer snapped a pic of a shirtless bro with two L's up, sweat glistening on his Philly skyline tattoo. He saw the flash, turned around and screamed "Lace the fuck up!" MGK launched into "See My Tears," a piano-driven stadium-rap track about the inspiration he draws from being a stadium-filling rapper. By the end some audience members seemed close to tears themselves.
The thing about an MGK show is that no mood—whether maudlin, bellicose, or Bacchic—lasts longer than five minutes. Immediately after "See My Tears," MGK announced: "Last night I played at a Christian college, and they wouldn't let me swear or bring females on stage. Well, I just want to say, FUCK! That felt good." He picked a selection of girls from the audience, all seemingly between the ages 15 and 20. "I see a lot of testosterones in the crowd, a lot of horny people. One thing I believe is if you can go to a concert, you should be able to get laid. Am I white or am I right?" "Right!" roared the crowd. "White," corrected Kelly. "Now, can I see some titties?" The DJ dropped straight into the chorus of "Ocho Cinco"—"Give me head, Ocho Cinco!"—and the crowd sang along. "Boobs!" yelped Kelly. "I like boobs. Everyone likes boobs. They're just boobs." He sidled over to one of the girls on stage. She took off her top, revealing a tan bra. "Now, hold on," sneered Kelly, brushing a strap to the side. "Boobs are the thing underneath the thing over the boobs. Let me lick your titties!"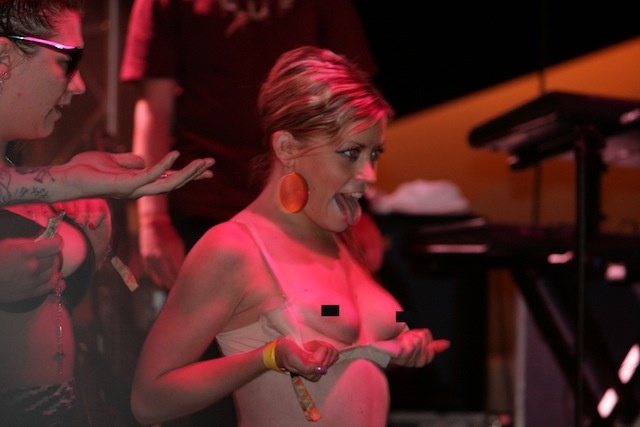 I've never been to a strip club or a monster truck rally, but I doubt the crowd's reaction to Kelly fishing a breast from its cup and briefly suckling upon it would have been out of place at either location. Several other girls lost their tops in quick succession. Each subsequent flash brought an accompanying round of cheers, as if fireworks were bursting on stage. The display climaxed when Kelly sat down on stage and told the girls to gather around him. They surged forth. For a moment Kelly might have been the happiest person I've ever seen, a minor deity basking on his inverted throne of flesh. "These are some crazy titties," he whooped, microphone un-muffled within the living, nubile dome.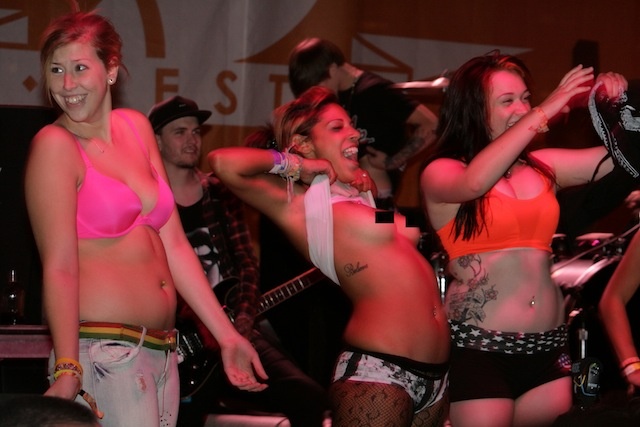 Eventually the menagerie was hustled from stage with hugs from Kelly and packets of merch. I spoke with one of the girls, a 19-year-old named Caroline from Connecticut. She told me that sharing a stage with her idol was "incredible, a dream come true." What does she like most about him? "He's down to Earth, he represents the little people." Her ideal date with him? "Just hanging out."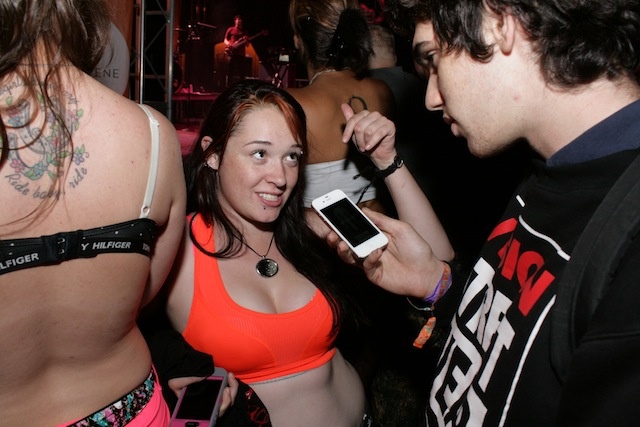 The rest of the show continued at the same schizophrenic emotional pace. After "Wild Boy," which incited easily the most violent mosh pit I've ever seen, the band dropped straight into a cover of "Swing Life Away" by Rise Against. I've always loved this particular anthem, and it was only improved when augmented with 808 drums, a few hundred screaming teens, and one shirtless man rapping very fast about the importance of believing in yourself. Kelly followed the song with a short speech about engaging fully in the present moment. "All we got is right now. So lace up!" Behind him, a drawbridge rose over the river into the night. Its stately, mechanized ascendance struck an eerie contrast with the human chaos in its shadow.
MGK has achieved considerable success by catering to a broad range of experience. He's a fratstar, a hoodrat, a wild boy, a bringer of disabled fans onstage, and a voracious titty fanatic. Some might argue that his stage antics are vile, exploitative, and potentially illegal, and they're not wrong. Regardless, he gave one of the most electrifying performances I've ever seen. Swooning suburban girls, straight-edge metalheads, and fledgling hypebeasts triangulated a delirious common ground in his presence. Foxtail Festival, stained with the feral energies of sex and local politics, placed a jagged crack in Wilmington's mirrored, planar surfaces, through which you could, briefly, percieve the visceral engines of desire driving modern capitalism. Lace the fuck up.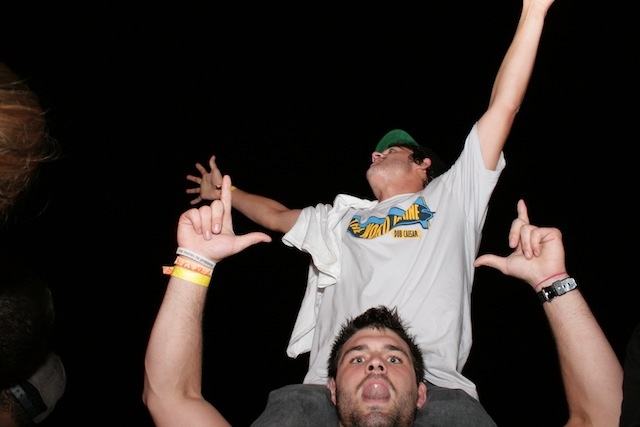 Ezra Marcus is a Contributing Editor at Noisey. He's on Twitter - @ezra_marc
Thomas Keelan is a photographer and budding human meme. He's on Twitter - @tomexists