PUP's Debut Album Is a Perfect Ten
The Toronto four-piece have made a record that is more addictive than the crack that their hometown mayor is so publicly fond of. Listen to the whole thing here.

Photos by Rebecca Reed
The four members of PUP all quit their jobs on the same day, went to a shitty tiki bar, and celebrated by getting blackout drunk.
It happened in 2012 and it happened suddenly. Within the span of four days, the Toronto band sent in the demo recordings for their debut album, got offered a big tour, and collectively made the decision to go into PUP full force. Zack, the drummer, had a steady government job. Nestor, the bassist, worked at a sound studio. Steve, the lead guitarist, taught guitar lessons. And Stefan, the singer/guitarist, worked at a record label. On the same day, they all put in their respective notices. And now, they are about to release their first album in the US, which you can stream in its entirety right here:
Generally, assigning some arbitrary ranking system to albums is a waste of time. As a music listener, you have enough people in your life telling you what your opinion should be. You don't need another music writer jackoff who couldn't cut it as a musician telling you what to think. In the case of PUP, a rare exception could be made, because their debut album is flawless. By the laws of Pitchfork's nerdy algebraic backroom formula, it should receive a 10.0. On The A.V. Club's elementary school-style letter grading system, it merits an A+. On Playboy's rating scale, it deserves five titty tassles or whatever the hell they use over there. In other words, it's a perfect album.
If Weezer made a punk record somewhere between the blue album and Pinkerton, this would be it. Or if the Bronx covered Modest Mouse songs. Or if… look, there are about a hundred ways to describe this record. All of them sort of make sense, but none of them do it justice. Right off the bat, the opener "Guilt Trip" immediately shows off what PUP does best: ripping guitar riffs, infectious hooks, cathartic, angst-ridden screams, and four-part gang vocals as they all shout, "Woah-oah-oh-oah!" And it's all packed into a frenetic delivery that sounds like it could burst apart at the seams at any second, but somehow manages to stay tight with pinpoint accuracy. It's more addictive than the crack that their hometown mayor is so publicly fond of.
You would think that for four dudes who took a leap of faith to go all in for their band and for this album, they'd be taking it seriously. And they are. Sometimes. But not right now. No, right now, they have just spotted a skeeball machine in the corner of the bar, cut themselves off mid-sentence, and are running towards it, yelling, "Oh shiiiiiit yeah!"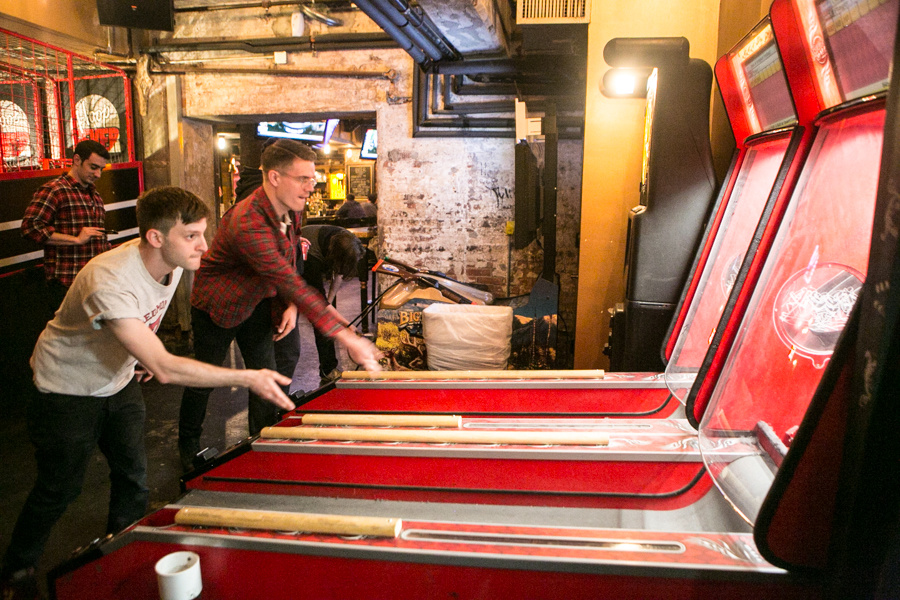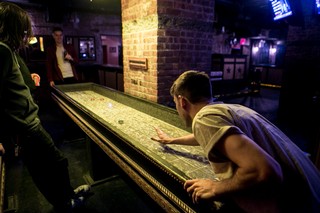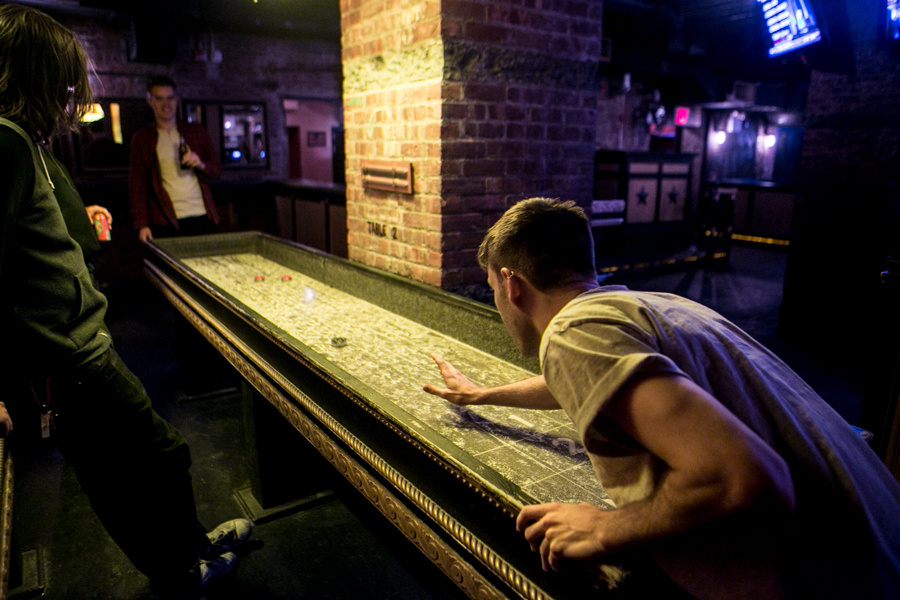 That's been the way PUP's tour—their first one in the US—has gone: part hustling to get their name out there, part plain ol' fucking around. Right now, they are in plain ol' fucking around mode—playing skeeball, Buck Hunter, shuffleboard, and arcade basketball in the back of this Brooklyn bar. Last night, they took in a Leafs game in New Jersey, they've also been hiking in Arkansas, ridden bumper boats at a San Diego waterpark, and have fit rap karaoke in whenever they can. (Their jam of choice is "Forgot About Dre.")
As they try to break their high score in skeeball, they explain that they really only have one goal for 2014: to play 200 shows. And they're well on their way. Despite having taken the entire month of January off, they've got almost 70 already under their belt, with one later tonight in Brooklyn and the final one of this tour the next day in Manhattan. "It's been a nice boot camp for us," explains Stefan, while sipping on a beer he earned by rolling a 450. "Every crowd is different. You've got to be prepared to be the shithead punk band at a pop show and then the poppy little brother at the metalhead show." They've played with everyone from Fucked Up to Cancer Bats to Billy Talent and got some attention at SXSW this year when they played Vice Records' showcase with OFF!.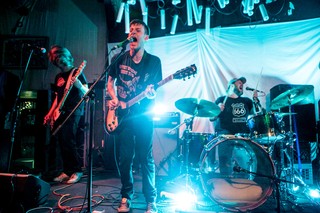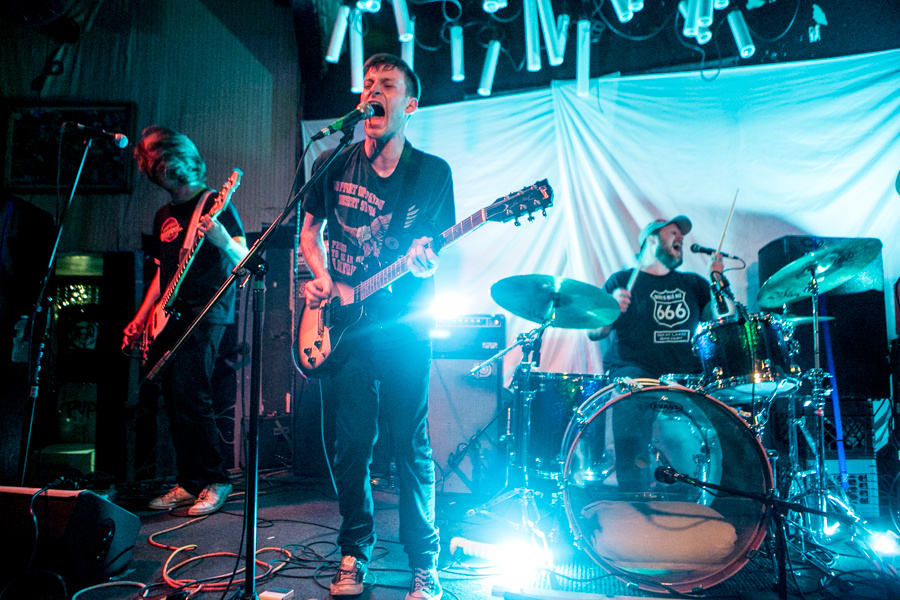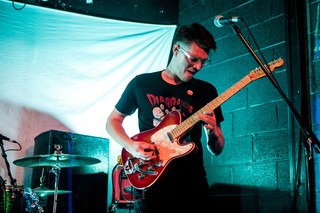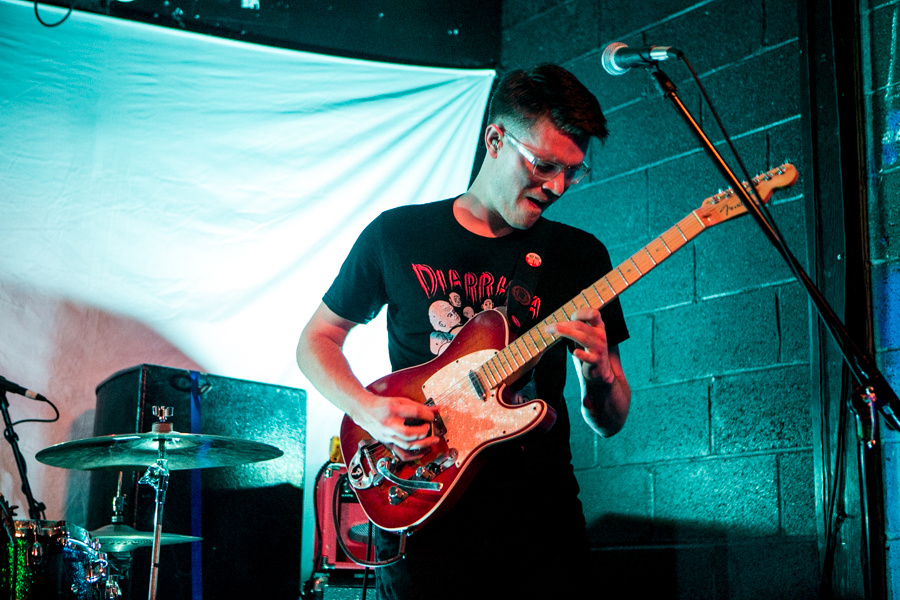 But touring through the US to support a debut record which hasn't even been released here yet has been tough. Last month, PUP played in Brooklyn to a half-filled room. Stefan had to politely ask everyone in the place to gather in front of him so that he could stagedive during the band's cover of "Too Drunk To Fuck" and not crack his skull on the floor. Tonight is not much better. A few blocks down the road from the bar, they're playing Glasslands for another sparsely-attended Monday night show.
The band doesn't seem to care how many people turn out to see them. "We're called PUP," Stefan tells those in attendance, "...Like a little dog." That pretty much sums up the band's live show—they are small, but tenacious, capturing the raw intensity of the record. "I would rather play music every day to five kids who wanted to see us than work some shit-ass little day job. So I can't really be bummed out about touring ever. I can only be stoked," Stefan later explains.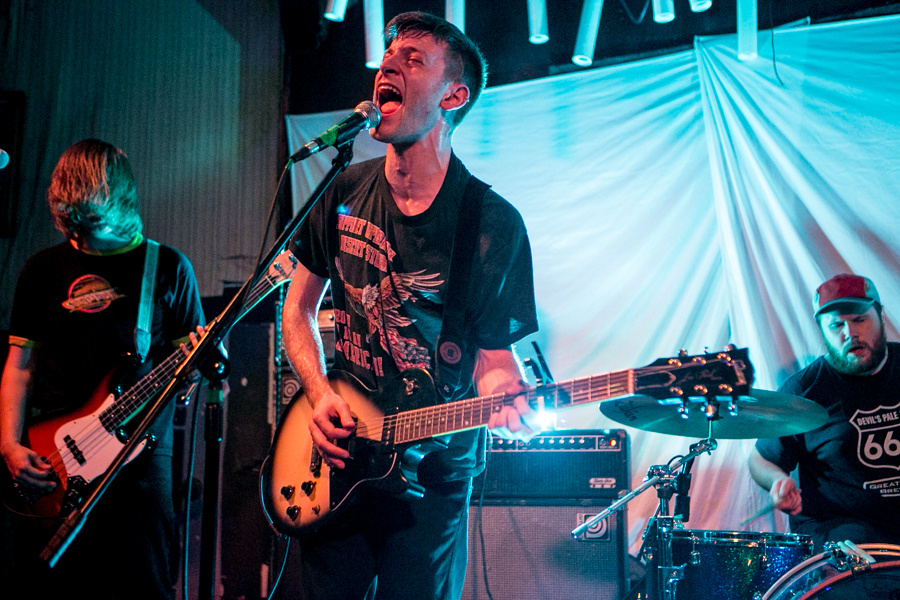 Next week, their album will be released in the States and they've already booked another tour supporting a big, yet-to-be-announced punk band. It's hard to imagine that the next time PUP come through New York, they won't have made a ton of new fans. Their album is too instantly likeable not to. But even if they somehow don't, it doesn't seem to matter. As long as the band can find time on tour to play laser tag, ride roller coasters, or just plain ol' fuck around, they'll be pretty stoked on it. "This is the most fun I've ever had in my life," says Stefan. "What is there to be bummed about?"

PUP's self-titled album will be released April 8 via SideOneDummy and you can pre-order it here. Stream the entire thing above. They are playing the Brooklyn Night Bazaar on April 12 and will be touring throughout the UK in May with Pure Love.