When our Founding Fathers founded this great country, how did they hope we would one day party? Did they decree that it should be shirtless? Were they counting on the invention of the sorority and the fraternity? Could they have imagined that someday it would be possible to wear a pair of American flag print swim trunks on which the stripes were made of solo cups and the stars were ping pong balls? Would they have chanted "USA" without any prompting?
If so—and why don't we go ahead and assume it's so?—they would have been amped about Ragecoach Day Three, the bro-iest, youngest and possibly most crowded day yet. After two days of building a base tan (it's genuinely shocking that in a crowd of this many white people standing shirtless in direct sunlight, there was hardly a sunburn in sight), everyone showed up more excited than ever to show off their Greek-lettered fanny packs, their American flag print cowboy boots and, in at least a couple guys' cases, their T-shirts that read "Titties and Beer, thank God I ain't Queer," which I am by no means suggesting that the Founding Fathers or anyone else would or should ever endorse. I'm just saying: bros.
People also showed up early because the 2:30 Sunday slot was the festival's biggest scheduling miscalculation: Florida Georgia Line, who are currently the only country group with two Top 40 singles but also the only mainstage act at the festival with only two singles in their discography. Even though their album has only been out for four months, they drew a massive crowd because they fucking rule. While in the Coachellasphere, songs where the instruments are, like, a windchime and a synthesizer pass for good "party music," at Ragecoach good party music involves massive guitar parts, huge hooks and lyrics that mention basically every kind of alcohol that exists (beer, tequila, double shot of Jack, Fireball whiskey, moonshine, Bacardi black, more beer, but in longneck form). Florida Georgia Line is major party music, and pretty much all of their songs say so.
All of their covers did too: While most artists at the festival showed off the country chops by covering people like Kenny Chesney or Charlie Daniels (more on him later), FGL played a rap medley that included "Tipsy," "Wanna Be a Baller," "In Da Club" and, since it was the hottest day so far, "Hot In Here" (worth noting: They have a song with Nelly). One might assume that country versions of these songs would be the worst thing ever, and, in less capable hands, they probably would be. But FGL honest-to-god love rap, which, although it may seem terrifying to those who would never let the two mix, is actually pretty normal. Especially in the South, where both are pop music.
It was a welcome shake-up after two days of music that stuck to a narrow set of rules, but really there's no reason why there shouldn't be a group in America whose primary influences are pop country, hard rock and hip-hop, considering that's basically what half the people in this country listen to. To quote Lil Wayne, "We are not the same, I am a Martian." To quote Dierks Bentley, "We're not the same, but that's what makes us strong." To quote Kid Rock, "Bawitdaba da bang a dang diggy diggy diggy." Basically, FGL was the ragingest of Ragecoachers, coming out into the crowd to alleviate the awkwardness of the reserved premium seating situation, sparking one of the festival's biggest sing-alongs with their main single, "Cruise," and generally delivering an incredibly tight set. They are going to be huge. Also they look kind of like Nickelback, so they are definitely going to be hated.
Later in the afternoon at the Def Country Jam: Legends of Country Stage (formerly the Old School Countryholics Real Country Shit Stage, formerly the Chill Celebrity Side Project Stage, formerly the Palomino Stage, formerly the Coachella Sahara Stage), the heat continued, although the raging was substantially more subdued. Blue Sky Riders, a group made up of accomplished Nashville songwriters Kenny Loggins, Georgia Middleman and Gary Burr, were the extremely cool parents of festival, with both excellent harmonies and laid-back stage banter in spades. Burr made what was possibly the festival's only reference to acid, and Loggins asked everyone to share the band's music on Facebook, which, since they were so cool, I'll mention that you can do so here.
The band also had the group of older women in front of me losing their shit while they put lipstick on each other, which was awesome. When I asked to take a picture of one's flag-print boots after the set, she pulled up her dress twice to make the point that she should have worn flag-print underwear so she could show me that, too. Then she kissed me, proving that the Ragecoach mentality is universal, even when you think you've wandered into Stagechill instead.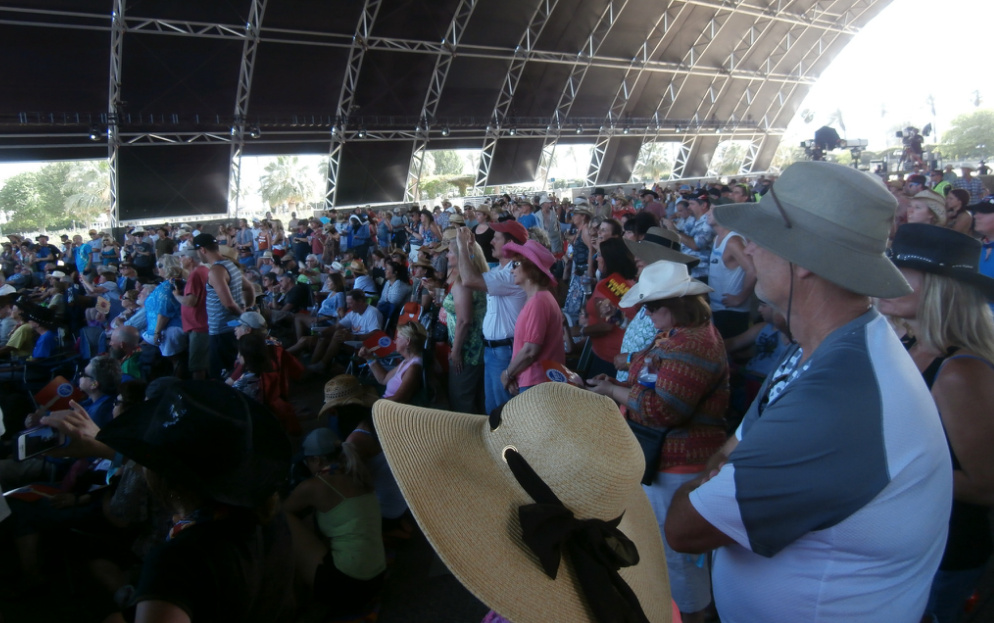 That said, the ultimate Stagechill set of the entire festival was a gorgeous performance from the legendary Don Williams, a tiny cowboy bro who played his guitar perched in a high chair. His grinning acknowledgment of the crowd's excitement involved a reedy declaration of, "Man, y'all are too much," and love songs like "If Hollywood Don't Need You (I Still Do)" and "I Believe In You" were some of the most deeply sincere moments of a festival full of earnestness. Underscoring the complex crowd dynamics at play, one of his biggest cheers was for the lyric "I believe in old folks." There were a ton of old folks.
Further underscoring said weird dynamics were the guys back at the main stage who seemed incredibly amped about penises. One guy was walking around wearing a cardboard sign advertising "free pulled pork" below the waist, while a different guy—I am one hundred percent telling the truth—was wearing a completely white shirt with a photo print of a large, erect dick protruding from where a real dick would protrude. Most reasonable people might consider this the kind of shirt that, if they chose to own it rather than burn it, they could only justifiably wear if they were literally down to one T-shirt and it was too cold to go entirely shirtless. But this guy was actively going around and pointing his shirt out to people.
On the other hand, by that point of the weekend, I was so tired and so thoroughly shock-and-awed that I wouldn't have been surprised if someone's schtick had been to drive a tank around the festival. I didn't bat an eye when the O. G. (Original "Devil Went Down to Georgia" Guy) Charlie Daniels got a massive cheer for a lyric about not letting our guns get taken away. It was all I could do to weakly bro down during Zach Brown Band's closing set.
Speaking of which: ZBB has entered the bro canon alongside artists like Dave Matthews and John Mayer, both of whom they covered, and their shows can get real jammy real fast. They literally have a song about drinking Jager. But, like pretty much every other great thing that happened all weekend, their sincerity and obvious passion made their show pretty awesome. For one, they had some motherfucking ill fiddle solos. Also, a lot of their songs are about really fun stuff like boating, and their biggest single, "Chicken Fried," is almost the platonic ideal of a country song. The chorus is "Cold beer on a Friday night/A pair of jeans that fit just right/And the radio on," and there's also a verse about the stars and stripes.
It was the perfect way to close Ragecoach—a little bit of chicken fried, a little bit of bro, a lot bit of singing along. The two chants right before Zach Brown Band played it were for the song itself and also one for "USA," which you're allowed to chant whenever you need something to chant. At Ragecoach, everybody joins in.
Kyle Kramer is, if you could not tell, from the South. He's on Twitter - @kylekramer