Hysterical Records Are Reclaiming What it Means to be a Hysterical Woman in Punk
A new Melbourne label is proving that compassion and punk are not mutually exclusive.
This article originally appeared on Noisey Australia.

It doesn't take long to realise that there's a whole lot of aggression, carelessness, and competition within the underground garage punk scene. Tired of being ignored, pigeonholed and sexualised, Amanda Vitartas, Jenny McKechnie, and Grace Kindellan, decided to do something about it—by starting Hysterical Records, a label that addresses the gender imbalance of the scene. To them, "Hysteria" is not a dirty word anymore, rather it's embraced as a counterattack to the punk patriarchy.

Jenny and Grace are the founders of the annual, female/GNB festival Wetfest—which just recently had its successive third year. 'Hysterical Records' is boasting a lineup that is equally as impressive, representing a lot of the Wetfest crew, including newcomer punks Shrimpwitch, the enigmatic Hexdebt and of course, the founders themselves: Wet Lips.
Ahead of their label launch on the April 7 we had a chat to Grace, Amanda, and Jenny about the genesis of the label, the climate of the Australian garage punk scene and what artists out there are killing it.
Noisey: What's so 'hysterical' about the label?
Jenny McKechnie: The name is a bit tongue in cheek. In punk music particularly femme performers are categorized as cute, fuckable, or hysterical screeching banshees (I've been told I "screech" on multiple occasions). It's indicative of a refusal to take femme music seriously and pigeonhole it away where you don't have to think about it too much. We want to start on the front foot by reclaiming that word and making people think about the way they describe our art or us, as people.
Grace Kindellan: We also take pride in being emotionally moved by music and aren't embarrassed to cry or laugh or dance around at a gig if that's what we feel like doing. Whether you like standing up the back quietly sipping a pint or getting involved up the front, we want to crest a space where people can openly enjoy music. We think it's cool to be hysterical about bands we love.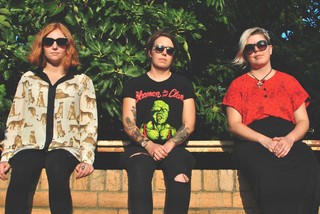 With a diverse and inclusive range of performers at the launch, what can we expect from Hysterical Records?
Amanda Vitartas: You can expect much of the same! There's a huge lack of representation in the female/GNC-garage-punk community which we're apart of and we're really looking to be able to provide a home and voice for a diverse range of artists that we love, many of which we're surrounded by and inspired by.
Grace: We have three vinyl releases planned this year, starting with a 7" EP from Shrimpwitch and a full length album from Wet Lips. The last one is still a secret and we hope to announce more things later in the year!
What inspired you to start Hysterical?
Amanda: I've worked in touring and publicity for the past eight years. I've always been inspired by US female garage-rock bands having toured the likes of The Coathangers, The Courtneys, Chastity Belt and so on, I really wanted to continue supporting and inspiring females/NC/trans people to pick up an instrument or at the least, be inspired creatively. I've dreamt of starting a label since I began working in the industry, but it's always came down to the lack of money… As with everything!
I dipped my foot into releasing records with The Courtneys; doing a tour edition release and also helping Screaming Females with their tour edition release. However (and ironically), it wasn't until Grace and I had a drunken conversation at BIGSOUND last year about Wetlips' new album, record labels and the gap in the record label representation within our scene, it started us really considering setting up a label together.
Grace: Wet Lips have been playing for almost five years and starting a label is another way for us to use the skills we have gained to support newer bands.
Jenny: We recorded our album and had a think about releasing it on some local labels but we didn't really fit onto any of them very well. There was a hole that needed filling so we're doing it.
What does Hysterical Records hope to counteract in the Australian music scene?
Amanda: We want to creatively inspire and challenge societal and industry truisms, while helping create some of the best records from Melbourne and hopefully Australia in years to come.
Grace: Sometimes it feels like there's still quite a narrow view of Australian garage punk that is focussed on aggression, carelessness, and competition. We want to create an alternative to that, where femininity and compassion and punk are not mutually exclusive. We want to put on gigs where people look after each other and feel included.
Jenny: We also want to counteract the idea that music is only worth something when an industry "tastemaker" puts their stamp of approval on it. We don't need your approval because the music coming out of our community is incredible. We say 'bye Filipe' to any bro that wants to tell us otherwise.
What artists are out there kicking arse right now?
Amanda: There are so many bands out there kicking arse in their own right, it's really had to name a few, but for the sake of the question and without being bias, I'm going to say Wet Lips! There are so many artists, musicians, and even people behind the scenes really helping, providing their time for the love of music and most of them don't get recognized.
Jenny: There's way too many to name. Have a look at the last three WETFEST lineups.
'Hysterical Records' label launch is April 7, at The Old Bar in Melbourne.