Tactical Guide to Machida vs. Anders
UFC Fight Night 125 is a battle of knowns vs. unknowns, headlined by the veteran Lyoto Machida and former college football player Eryk Anders.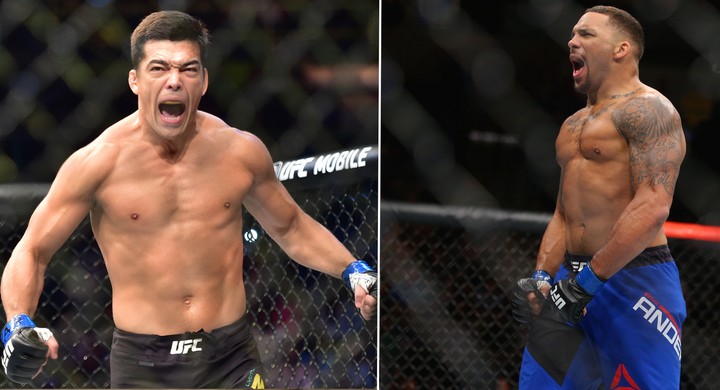 Photos by Jason Silva and Brad Penner-USA TODAY Sports
During the early days of PRIDE FC's Bushido brand they themed events around the two sides of the card. You had Japan vs. Brazil, Japan vs. Gracies, Chute Boxe vs. Brazilian Top Team and the like. If you look at the poster for this weekend's UFC Fight Night in Belem, Brazil, you could be forgiven for thinking that the UFC had adopted the theme of "Team Established Names vs Team Who?"

The stand out odd match on this card is Valentina Shevchenko vs. Priscila Cachoeira. Cachoeira looks out of place partly because she is the only person on the poster without a glossy official UFC head shot, but perhaps the MMA fan will look at this poster and concede that they don't know much about the women's weightclasses outside of the UFC and that maybe Cachoeira is good enough to debut against Shevchenko. In one sense they would be right—Tapology ranks her as the No. 30 flyweight in the world. FightMatrix has her all the way up at number nine! But then her only viewable fights are grainy recordings from regional events on Youtube… and they aren't impressive. Pushing forward with her chin up in the air, Cachoeira takes as many punches as she throws and looks exhausted from the third minute onwards. Putting her in with a fighter like Shevchenko—a counter puncher to the point of paralysis if her opponent doesn't lead—seems like a blatant tune up.
Hands down, head stationary until it is pulled straight back at the sight of a jab, swinging from the knees, eating counters and already breathing hard a minute into round 1? Probably a good match up for a well conditioned counter striker like Shevchenko.
But on the other extreme of that equation is the main event between Lyoto Machida and Eryk Anders. The double edged sword of name value is that when you get old, the UFC will use you to headline events in your home country but for the most part they won't pitch you softballs. This leads to an awkward silence and a rapid evacuation of the stadium the moment that Mauricio Rua or Vitor Belfort gets starched in the main event. Belem is the Brazilian Lyoto Machida's hometown and as such he is the star of the show, but Eryk Anders—despite being largely unknown amongst the less hardcore viewership—is a tough test for the old dragon.
Machida's trials are well known by now. He was an undersized marvel at 205 lbs., relying on his minimalist counter striking game and frustrating opponents into overcommitting and stepping onto his reverse punches. He moved down to middleweight and became more active on offense— scoring a couple of sensational knockouts with his sharpshooting kicking game at range. Machida gave us one of the most compelling middleweight title fights in history in his barnburner with Chris Weidman, but was ultimately unable to win his second UFC belt. Suffering devastating losses to Luke Rockhold and Yoel Romero, Machida was forced out for two years after alerting USADA to his use of a dietary supplement which it turned out was on their ban list. Upon his return to the UFC in October of 2017, Machida was matched against Derek Brunson. The most cautious striker in the UFC was quickly knocked out by the most reckless striker in the UFC and everyone was left hoping that Machida would retire.
Eryk Anders is a peculiarity in MMA. A promising college football player making the switch to fighting, he spent a whole lot of time and effort fighting just for the sake of fighting after he gave up the hand-egg. He has only ten professional fights to his name, but Anders took over twenty amateur fights before he even began drawing a professional paycheck. That is a deceptively large amount of in ring experience for an up-and-comer.
After the briefest of stints in Bellator—he knocked out his only opponent in twenty-three seconds—Anders moved on to LFA. On June 23, 2017 he won their middleweight title and less than thirty days later he was in the UFC. Still sore from a twenty-five minute fight, Anders looked a little softer around the edges. Anders fought on the counter—attempting to time Rafael Natal with counter left straights.
Herding Natal into the cage, Anders feinted his way in on the quickly tiring veteran before knocking him stiff with a couple of left straights.
Five months later, Anders returned to the UFC to take on Markus Perez. Between his ponytail and his desire to throw jump spinning kicks any time Anders got close enough, Perez seemed to be fighting out of a different era. Clean shaven and considerably trimmer, Anders looked better than ever as he cut the cage on Perez and applied constant pressure. Perez spun often, missed, and wound up against the cage. In the first round it was enough for Anders to force clinches and make Perez work. By the second round Perez was more static and each time he stood still by the fence, Anders would crack him with a couple of punches and tie up again.
In the third round Perez was desperate and kept shooting takedowns which Anders sprawled on effortlessly, using the quarter nelson and lining up hard elbows and knees off it.
The quarter nelson in action.
Hypothetical Gameplans
While Eryk Anders has shown himself to be wild at times—he tends to run for that extra swing when he has his man off balance or just escaping off the fence—he doesn't normally burst into a sprint and run straight for his man off the bat as Derek Brunson does. In fact, watching Anders fight he does seem very much like Derek Brunson if Derek Brunson had a fight IQ and some regard for his own safety. On one hand, drawing the charge for the counter gyaku-zuki will probably be tougher. On the other hand, at least he isn't going to sprint forward and catch Machida cold.
For Machida, this writer recommends exactly the same thing he did for the Brunson fight. Switch stances to orthodox and keep the open guard dynamic. Closed guard (southpaw vs southpaw) exchanges do not favor Machida because he drops his lead hand to his hip like a traditional karateka every time he punches. He's rarely the bigger hitter and he can't take a shot like he used to, so against fellow southpaws he can eat left hands and get himself hurt. It's far, far too late for him to learn how to box and it will continue to cost him, but by changing stances to remain in open guard he can hide most of those flaws.
Throw straight, drop hand, eat counter.
Machida's willingness to change stances also helps him against good ring cutters, and against Weidman he showed excellent awareness of his ring position, changing direction multiple times and faking escapes along the fence in an attempt to get Weidman overcommitted in one direction. We discussed this at length in Ringcraft: The Fall of Ronda Rousey.
It will be interesting to see if Machida can use direction changes to stay off the fence against Anders. Anders has done well pressuring opponents to the fence and teeing off on them when they stop moving—good misdirection and ring awareness can make that a lot trickier. Anders is also a little one-handed in his herding—looking for the left hand constantly and often allowing the opponent to circle away from it freely as he throws it.
Lovely follow up though.
An especially important point for Machida to keep in mind is Anders's defensive position with that rear hand. Watching his fights with Natal and Perez you will notice that it is awkwardly close to his chin and body. When opponents have thrown body kicks into that open side he has looked especially uncomfortable and over-reacted. If Machida fights orthodox he will be kicking with his less dextrous leg but he should be able to snipe with his round kicks and knees between Anders's advances.
Luckily Perez was not a particularly smart fighter.
The way that Anders squirms and crunches his body over in reaction to any body kick he takes, and the fact that he holds his left fist almost flush against his chin throughout the fight, means that there is also a great chance of a classic Machida high kick if he can stay off the fence and set the trap with a couple of body kicks.
For Anders, his usual pressure might be a good look, provided he doesn't get out of his stance or start throwing wild. Low kicks have always been a great tactic against Machida and The Dragon doesn't often lash out off the fence so Anders can probably take his time. Keeping Machida near the fence so that he must keep moving laterally will also shorten his stance and keep his feet moving—taking away those telegraph free kicks.
Chris Weidman did a great job of making Machida burn energy by staying on him along the fence and simply letting him try to dance his way out. Weidman's feints also did more in that fight—in moving Machida to the fence and making him second guess his usual counter opportunities—and Anders has also shown that he understands the value of feinting his way in slowly along the fence. That was how he laid out Natal and clipped off nice combinations on Perez.
Much of Machida's takedown defense has been done with his feet, but by bringing the fight towards the fence and ducking in for Machida's hips, Anders could force Machida to fight off the takedown with his hips and hands. Anders did a great job against Perez of working up and down, coming up with strikes off of takedown attempts when he met resistance. Reaching for a single and coming up with strikes along the fence could be a tremendous way to hurt Machida as both his hands and feet would be out of his usual striking position.
As Lyoto Machida is the writer's favorite fighter, it is getting a little hard to watch him get in the cage with young, well equipped fighters and get beaten up. But with what Anders has been able to show so far ,a victory over Machida would do wonders to get eyes on him and could lead to his arrival as a much-needed young(ish) contender in the aging middleweight top ten. And of course, there is always the chance that Machida can do something magical...
Jack wrote the hit biography Notorious: The Life and Fights of Conor McGregor and scouts prospects at The Fight Primer.
Stories